Somaly Mam: a message peace - AFESIP News 2006/02/17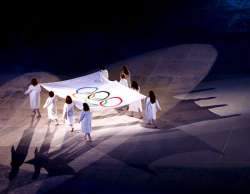 Somaly Mam: "On this special occasion and with this great honour given to me, I would like to take this opportunity to express my dream for this world. My dream is that this world should be one of peace, freedom and dignity for all. I hope for a better world with no war, suffering and pain. I will continue to give my life to help those in pain and suffering and respectfully call upon all those who have love to give, to give wholeheartedly for those less fortunate. On this great occasion of the Olympics, when each corner of the world is represented and the sacred and symbolic ceremony of the opening ceremony, representing the undeniable unity of this world, I call upon all those who share this dream to actively strive towards it. Let us join hands to make this world a better place for our children, women and men, where social justice is held as an inalienable core value in our communities."
Somaly Mam, President and Co-founder of AFESIP (Agir pour les Femmes en Situation Precaire) was given the honour to be one of the 8 Olympic flag bearers at the opening ceremony of the Torino Winter Olympics on 10 February 2006. The other seven women were Sophia Loren (Actress, Italy) Susan Sarandon (Actress, USA), Wangari Maathai (Nobel Peace Prize Winner for her Environmental work, Kenya), Isabel Allende (Writer, Chile), Manuela Di Centa (Olypmic gold medal winner Athlete, Italy), Nawal El Moutawakel (Olympic gold Medal winner, Morocco) and Maria Mutola (Olympic Gold medal winner, Mozambique).
These 8 women, from different backgrounds and countries carried the symbolic Olympic flag around the stadium to the flagpole. This is the first time in history that 8 women were specially invited to carry the Olympic flag to the pole.