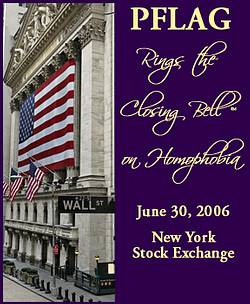 PFLAG Rings the Closing Bell on Homophobia!
Learn more about this event!

See the schedule for June 30, including an exclusive luncheon and reception before The Closing Bell.

Find out more about tickets and sponsorship opportunities.

PRESS/MEDIA: Get more details, schedule interviews, arrange to attend the event, get fast facts on the economy and more.

COMING SOON! Read the press statement about PFLAG on Wall Street.
The struggle for real equality cannot be fought alone!
Throughout history, all struggles for civil rights gained momentum, and ultimately achieved success when the majority joined forces with the oppressed.
PFLAG believes that when straight people come to the defense of gay, lesbian, bisexual and transgender (GLBT) family members and friends, equality for all will finally be achieved.
Many corporations already understand how important GLBT diversity is to their bottom line. They have implemented policies to ensure that they can recruit and retain the best employees. And they know how significant the GLBT buying power is to their business, including the buying power of parents, family members, and straight allies.
Through support, education, and advocacy, PFLAG unites the voices of parents, family members, straight allies, and GLBT people together to advance fairness, justice, and equality in local communities around the country.
During The Closing Bell event, learn how PFLAG is moving equality forward with an exciting and unique initiative, Straight for Equality.
Straight for Equality will create opportunities for straight fair-minded individuals to step up and speak out for GLBT equality.
Your support of PFLAG will make this initiative a reality.
No one is requesting special rights, just the end of special wrongs.
The New York Stock Exchange (NYSE)