(Photo) A drag queen takes part in a street party, on the day Spain's parliament legalized same-sex marriages, in Chueca, Madrid's gay area, June 30, 2005. Spain is the latest country to legalize same-sex marriages on Thursday, drawing a stinging rebuke from Spain's powerful Catholic church which urged the faithful to oppose the law 'by all legitimate means'. Picture taken June 30, 2005. Photo by Andrea Comas/Reuters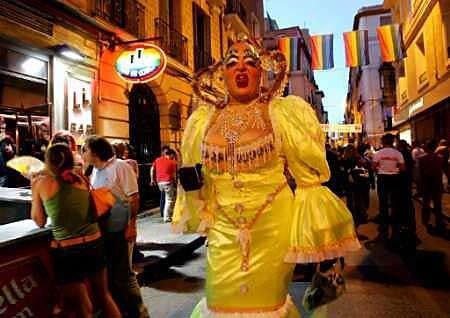 Thousands celebrate gay marriage in Spanish march
Sat Jul 2, 2005 9:08 PM BST
By Daniel Flynn
MADRID (Reuters) - Hundreds of thousands of people paraded through Madrid on Saturday in Spain's largest annual gay pride march, celebrating a decision to legalise gay marriage which comes into force this weekend.
Waving rainbow flags and behind a banner reading "We Go Forward, Now For Transsexuals", gays and lesbians danced in the sun following parliament's decision on Thursday to approve a law giving same-sex marriages the same status as heterosexual ones.
"I am here to support the march and to celebrate what we have achieved," said Rafael Hernandez, 35, a nurse. "There is still some discrimination in Spain, but now it is less."
Several banners attacked Spain's powerful Roman Catholic Church, which had strongly opposed a law it said could harm the fabric of society. "Vatican = Inquisition" read one, while other said "Stop Homophobia. Secular Society Now".
Many marchers wore badges or waved flags in support of Spain's ruling Socialist Party which pushed through the law despite fierce criticism from the centre-right Popular Party.
"Thanks to the Socialists. They have made our dream reality," said one organiser via loudspeaker, to applause from the crowd.
The law takes effect from Sunday, making Spain only the fourth country in the world to have legalised same-sex marriages after the Netherlands, Belgium and Canada.
Gay rights groups do not expect the first marriage to take place for several weeks, due to the bureaucracy involved.
Drenched but delighted party-goers danced under a rainbow as Madrid firemen doused marchers with high pressure hoses from atop a red fire engine, creating a sparkling version of the gay pride symbol.
"This is a first step by the Spanish government to end differences. In Portugal, we are still a long way from achieving this," said Nuno Lomba, 32, who travelled from Lisbon.
"But I would not get married myself. I don't need a piece of paper to tell me I love someone," he said.
Regional flags from around Spain peppered the crowd, which organisers said totalled more than 1 million people.
State radio put the figure at hundreds of thousands, while police estimated 97,000 people took part in the march itself.
With a carnival atmosphere Madrid's streets, revellers bounced a giant inflatable penis above the crowd.
Several marchers dressed as nuns to mock the Spanish Catholic Church, which called on the faithful this week to oppose the law "by all legitimate means".
The reform, which opinion polls suggest had the support of 70 percent of Spaniards, gives same-sex unions the same status as heterosexual ones, including adoption and inheritance rights.
The Socialists' liberal agenda is a major break with the past: Spain was ruled from 1939-1975 by Catholic nationalist dictator Francisco Franco who banned homosexuality and divorce.