Live 8 Fails to Catch on in Japan
- By ERIC TALMADGE, Associated Press Writer
Saturday, July 2, 2005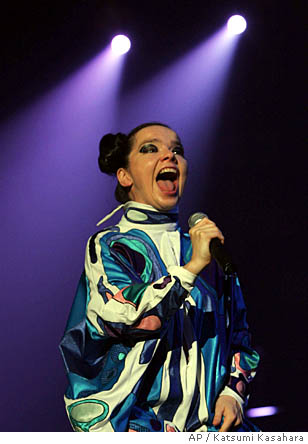 Bjork performs on the stage during the Live 8 Japan concert at Makuhari Messe in Makuhari on the outskirts of Tokyo, Saturday. Associated Press photo by Katsumi Kasahara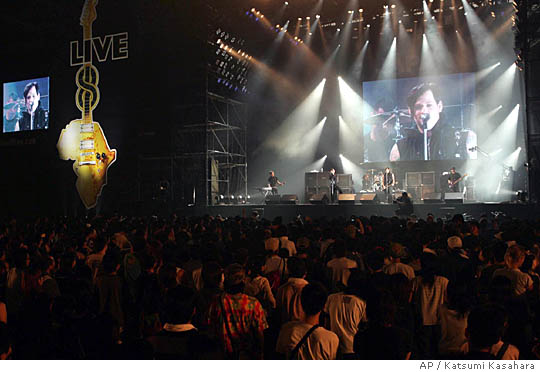 Rock group Good Charlotte performs on the stage during the Live 8 Japan concert at Makuhari Messe in Makuhari on the outskirts of Tokyo, Saturday. Associated Press photo by Katsumi Kasahara
(07-02) 08:29 PDT MAKUHARI, Japan (AP) --
Live 8 got off to an anticlimactic start in Japan on Saturday, as Bjork and Good Charlotte joined local bands in a concert to promote awareness of poverty in Africa that failed to generate much interest in Asia's only G-8 nation.
Added to the list of worldwide concerts at the last minute, the concert in Japan drew only about 10,000 people, all of whom were selected in a lottery. The venue in this Tokyo suburb normally holds about 20,000.
Even so, given less than a month to prepare in a country where charity events are still something of a rarity, organizers said they were happy with the turnout of about 10,000 people in this Tokyo suburb.
"There's no precedent for this," said Lily Sobhani, one of the event's coordinators. "This was done mega-quick. It's absolutely amazing that this is happening in Japan."
Live 8 aims to push aid for Africa high on the agenda of the Group of Eight major industrial nations when they hold their annual summit in Scotland next week.
Performers said they were glad to be part of the larger event.
"It's a good event for Africa, a good event for the world," said Jesse, the lead singer for Rize, a Japanese hard rock/rap band. "We'd play even if it was just for one person."
"It's encouraging they got something together," Joel Madden, Good Charlotte's lead vocalist, told The Associated Press. "Maybe next time they'll get twice as many people."
Japan became the kickoff point because it is in an earlier time zone than the other host cities around the world. Organizers say Live 8 will bring 100 artists on stage in nine countries and reach an audience of more than 5.5 billion people.
"People are willing to go out of their way, because we believe passionately in what this is about," said Icelandic singer Bjork, who was making her first live performance in two years. "Just the acknowledgment of the problem is an important step."
It failed to create much of a buzz here, however.
Japan's lineup, announced just a week ago, was a far cry from U2, Madonna and Paul McCartney, who will be performing in London, or Stevie Wonder and Destiny's Child, who will be among the stars on stage in Philadelphia.
But organizers said the inclusion of Tokyo was significant because Japan is the only Asian country hosting Live 8, and is also the only Asian country in the G-8. Prime Minister Junichiro Koizumi will be traveling to Scotland next week to attend the summit.
"Japan is an economic powerhouse," said Claire Lewis, of the British development and relief agency Oxfam which is helping organize the event. "We feel Japan should be represented and there should be a voice from Japan saying we want to have an end to poverty."
The other Live 8 concerts will be held in Britain, France, Germany, Canada, the United States, Russia, South Africa and Italy.
"So many people are going to be watching it on their televisions — that's what really matters," said Harry Judd, of the British band McFly.