Women becoming new face of AIDS in Asia
Mon Jul 4, 4:30 AM ET - AFP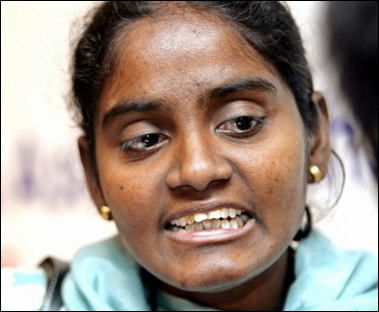 (Photo) HIV positive Periasamy Kousalya, coordinator of the positive women network of south India, speaks with an AFP reporter during the 7th International Congress on AIDS in Asia and the Pacific (ICAAP) in Kobe, western Japan. Even after contracting HIV through no fault of her own and enduring discrimination, Periasamy Kousalya manages to stay cheerful as she relates the plight of Indian women like herself.(AFP/Yoshikazu Tsuno)
Even after contracting HIV through no fault of her own and enduring discrimination, Periasamy Kousalya manages to stay cheerful as she relates the plight of Indian women like her.
"My husband was infected. Through him, I got the virus," the petite 32-year-old said with a wide smile that disguises her plight as a housewife-turned-HIV activist.
"There are more and more women coming out, talking to media, talking to people so that there will be less stigma against HIV," she told AFP at a regional AIDS conference.
Often stereotyped as a disease for gay men or drug users, AIDS in Asia is increasingly taking on a female form. Women are being infected at a greater rate than men -- and some are now leading activism to fight the disease.
Female infections in Asia have risen 20 percent since 2002 to 2.3 million, compared with about 17 percent for the population as a whole, UNAIDS said at the Seventh International Congress on AIDS in Asia and the Pacific being held in Kobe, Japan.
Worldwide about 40 million people are infected with HIV, the virus which causes AIDS, of whom about 8.2 million, or roughly 20 percent, live in Asia, according to UNAIDS.
Of that 5.1 million are Indians, two million of them women, said Kousalya, a native of the southern state of Tamil Nadu who leads Positive Women Network which groups 5,000 Indian women with HIV.
Asian women with HIV are put in particularly weak positions because Asian culture tends to tolerate male dominance, experts said.
And horror stories are everywhere.
Frika Chia Iskandar, an Indonesian with HIV and representative of the Seven Sisters nonprofit group for people with the virus, said she has occasionally been denied medical care, with one of her friends with HIV denied treatment for a broken bone by physicians.
Iskandar said she feared further discrimination at home because she was so outspoken about her HIV status overseas.
"But I am still standing here," she told the opening of the conference. "I am a new face of HIV in Asia."
Kousalya, the Indian activist, said in her country children with HIV have been thrown out of school and some babies have died from delayed care when doctors hesitated to treat HIV-positive pregnant women.
Kousalya found out about her infection in 1995 after her husband -- a truck driver brought to her through an arranged marriage -- tested positive for HIV from having sex with another woman.
"My husband died. He died in 1996. That time, there was no information at all. He was 28. He suicided himself. That is common in India," she said.
"Because of lack of information, people will suicide, a whole family suicide. They fear for stigma. They fear for the future," said Kousalya.
"Economically, culturally, socially, women are disadvantaged," she said. "They lack access to support systems for HIV."
Discrimination in Japan is more subtle, said an HIV-positive Japanese woman in her 30s who learned of her infection 11 years ago and has yet to apply for government benefits.
"Social welfare is available for Japanese patients with HIV. But I live deep in the countryside, and if I apply for benefits, everybody in the community will know about my HIV infection," she told AFP, calling herself only "Nancy."
"Japan has good treatments available, good welfare systems," she said. "But those systems are made by someone at the government, without inputs from people with HIV.
"We want to make our voices heard so that our thoughts and requests will be reflected in decisions of policymakers," she said.