Japan tries to make condoms fun
Tue Jul 5, 3:56 AM ET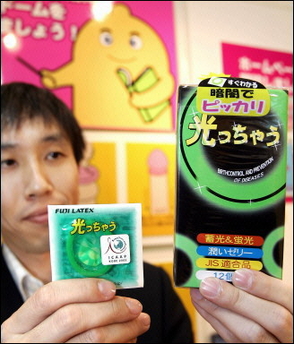 (Photo) Japan's condom maker Fuji Latex employee Toru Katsumata displays a flourescent-colored condom as part of Japan's Condom Association efforts to educate people about sexually transmitted disease at the 7th International Congress on AIDS in Asia and the Pacific in Kobe.(AFP/Yoshikazu Tsuno)
KOBE, Japan (AFP) - With bare-skinned porn stars providing a negative example, Japan is trying new tricks to get men to put on condoms, making rubbers that are thinner, thicker or glow in the dark.
A regional conference here on AIDS has largely focused on how to promote condom use in developing and conservative societies. But host nation Japan has seen condom sales shrivel.
Japan for the first time recorded more than 1,000 new HIV or AIDS cases last year, which is low by global standards but is at odds with most of the industrialized world where the number of new infections is decreasing.
"Since the mid-1990s, we have seen industry-wide sales plateau or slightly decline, mainly due to decreased use of condoms among young men and to young couples who do not have sex," said Akira Tsukamoto, salesman at Japan's top condom maker Okamoto.
The company occupies more than 60 percent of the 10 billion yen (90 million dollar) a year domestic condom market.
The use of condoms in Japan peaked in the early 1990s after a series of HIV cases led to a sense of emergency, Tsukamoto said.
"But that time has passed, and we are now seeing many young people who are used to watching porn videos and fantasizing, misunderstanding sex," Tsukamoto said.
"Young men nowadays say they get more pleasure without condoms. They prefer not to use condoms because they see porn stars are not using condoms. Because Japan does not have full and proper sex education for students, they just believe what they see," he said.
The Japan Condom Association, an industry group of eight Japanese manufacturers, showed off its new wares aimed at making condom use exciting.
Tsukamoto said his company has seen a hit with a super-thin condom, introduced in 2003 that is 0.03 millimeter (0.0012 inch) thick, even though at 2,000 yen (18 dollars) a dozen it is twice the price of the standard 0.05 millimeter ones.
"We spent eight years for research and development of the super-thin condom," he said.
But for those who would rather have the opposite sensation, Okamoto has also developed a "hard play" condom that is 0.1 millimeter thick, which Tsukamoto said can help stop premature ejaculation.
And then there is a condom meant to prevent another problem -- fumbling around in the dark.
"We have glow-in-the-dark condoms available. It is easy to see, so it is easy to wear in the dark," Tsukamoto explained.
Behind the gimmicks, though, he said the special condoms had a serious point. More young women are falling pregnant because of men who believe withdrawal before ejaculation can prevent pregnancy and diseases, he said.
"Condoms are necessary. We must get our message to young people," Tsukamoto said.