Posted 7/6/2005 11:24 PM
Japan contemplates princess taking throne
By Paul Wiseman, USA TODAY
TOKYO — At 3½, she's a tree-climbing, top-spinning, harp-plucking, origami-making, kite-flying, singing, dancing threat to centuries of Japanese tradition.
She's Princess Aiko, and it looks more likely that she will one day become the reigning empress of Japan. This fall, a government commission is expected to recommend that Japan scrap a law that forbids female heirs from taking the Chrysanthemum Throne — a move that would clear the way for Aiko's ascension, provide a symbolic victory for women's rights in Japan and enrage the country's small but influential nationalist right wing.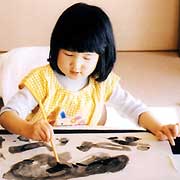 "This is serious business for these people," says Kenneth Ruoff, director of the Center for Japanese Studies at Oregon's Portland State University and author of a book on Japan's monarchy. At stake is "the far-rightest view of what makes Japan unique, with a capital U."
Japanese traditionalists believe that their monarchy's "unbroken bloodline," supposedly dating back 26 centuries, would be severed if Aiko married a commoner and gave birth to a child who eventually took the throne. The traditionalists believe the bloodline should pass through a male heir.
"If Princess Aiko becomes empress and has a child with an outsider, the bloodline will be broken," says Hidetsugu Yagi, a conservative professor of regional studies at Takasaki City University of Economics. "This has never happened in history. Some say (Aiko's child) would lose legitimacy. Could we call such a person emperor?"
Most Japanese aren't sweating it: In a poll by the Nihon KezaiShimbun newspaper in February, 81% of Japanese adults surveyed said they wanted to see the Imperial House Law revised to let Aiko take the throne.
No male heir in 40 years
Japan doesn't appear to have much choice. The royal family hasn't produced a male heir in 40 years and probably won't: Aiko's mother, the Harvard-educated Princess Masako, is 41. "Now we have a problem," says Akinori Takamori, a historian at Takushoku University. "It was bound to happen."
Long ago, Japan solved royal reproductive problems by importing concubines to produce a son or by adopting one from the extended royal family.
Imperial concubines are a definite no-no these days. And after World War II, the royal family's far-flung branches were pruned, their members reduced to living as mere commoners. Yagi recommends reviving the defunct branch families and reeling in a male heir from one of them, but that would involve supporting an expanded royal family with taxpayer money.
Japan has been debating female succession since Dec. 1, 2001, when Aiko was born to Masako and Crown Prince Naruhito, 45, the son of Emperor Akihito, 71. Japanese Prime Minister Junichiro Koizumi is on record supporting a female empress.
What's more, there is historical precedent: Japan has had eight empresses. The most recent was Empress Go-Sakuramachi, who abdicated in favor of her nephew in 1771. But "never has one of these empresses given birth to a child who went on to ascend to the throne," says Ruoff, author of The People's Emperor: Democracy and the Japanese Monarchy 1945-1990. "These empresses were caretakers, and then the throne reverted to a male born to a father who had imperial blood."
Only in 1947did the Imperial House Law officially ban women from the throne.
A long, secretive process
So what's the holdup now?
The royal family is a delicate issue in Japan, shrouded in secrecy, ritual and myths of divine origins. "People say Japan is different, the Japanese Imperial family is different and the 'Chrysanthemum curtain' should only be lifted very slowly," says Yoko Komiyama, an opposition member of Japan's House of Representatives and an outspoken advocate for women's rights. The Chrysanthemum is on the emperor's coat of arms.
Contentious legislation always takes time in Japan. Task forces must be formed, experts consulted and consensus sought.
The expert panel that Prime Minister Koizumi called to study imperial succession began meeting in January. The panel will likely weigh in this fall. The Imperial House Law could be revised next year, Japanese media outlets have reported.
The royal family already has shaken things up. The current Empress Michiko was the first commoner to marry into the imperial family.
Crown Prince Naruhito and Princess Masako have struggled to modernize royal traditions. They have clashed with the secretive and conservative palace bureaucracy that oversees their lives.
In an unusual display in May 2004, Naruhito took their complaints public. He said his wife was suffering from exhaustion from the stress of adjusting to royal life and the pressure to produce a male heir.
Last year, the palace released a video of Princess Aiko, offering an unusually intimate glimpse of her home life. The tape showed the then-2-year-old princess plucking at a harp and dancing with her mother. The palace also has revealed that Aiko likes origami, playing with tops and kites and climbing trees.
The princess's father has become a role model for Japanese fathers, who traditionally have left child-rearing responsibilities to their wives.
After the crown prince bought Children Learn What They Live by parenting expert Dorothy Law Nolte, the book became a best seller in Japan, according to The Japan Times.
"Crown Prince Naruhito has been a hands-on father," Ruoff says. "In fact, he has become a symbol of a new style of fatherhood." Which, he says, raises a question: If a father can help raise children, then why can't a girl grow up to be a reigning empress?