Gays fired up for Pride march
50,000 expected in Rome for day of celebration and protest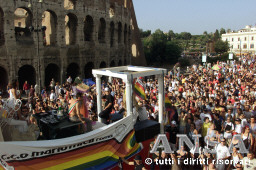 (ANSA) - Rome, July 8 - Gays, lesbians and bisexuals were geared up on Friday for the capital's annual Gay Pride parade, just days after a political row flared up again over same-sex unions .
This year's Gay Pride is expected to draw some 50,000 people from across the country, with a string of floats blending political activism with a festive, carnival atmosphere .
A float featuring "gay greats" such as Leonardo da Vinci, Michelangelo and Oscar Wilde will head the parade, which kicks off at 5pm from Rome's main train station, Termini .
Surrounded by dancers, street artists and marchers, it will travel down Via Cavour and wend its way past some of the capital's most famous monuments, including the Roman Forum and the Colosseum, before wrapping up at the Mouth of Truth .
But despite the elaborate costumes, vibrant music and riot of colour, the marchers will be pushing their call for equal rights .
"The key issue here is the fight against discrimination," said Andrea Giuliani, spokesman for the Mario Maieli circle, which is organizing the event .
"We'll use the chance to present the government with a collection of signatures calling for legislation outlawing discrimination against gays, lesbians, transsexuals and bisexuals." The demonstration will also urge parliament to approve a bill that would give gay and unwed partners living together a series of legal rights enjoyed by married couples .
Similar to France's Civil Solidarity Pact (PaCS), it would formalize a number of administrative and money-related obligations and benefits, such as mutual pension and inheritance rights .
The issue of same-sex unions has been at the centre of a row in Italy this week, after leading political figures criticized Spain's new gay marriage law .
Senate Speaker Marcello Pera described the law as "a triumph of secularism that seeks to transform desires, which are occasionally just whims, into human rights." House Speaker Pierferdinando Casini, a top figure within the National Alliance (AN) party, said it was "egotistical" .
The remarks drew support from other members of the centre-right governing coalition but came under fire from the opposition and gay rights groups. "It's simply ridiculous to declare that the Spanish law is a whim but it becomes outrageous when the person making the comment is Italy's second highest institutional figure," said the Senate whip of the opposition Green party, Stefano Boco .
The head of Italy's largest gay rights group, Arcigay, said it was a "dark day for Italian institutions" .
The Spanish law, which the lower house approved last week over the Senate's objections, makes Spain the third country in the world after the Netherlands and Belgium to legalize gay marriage .
Canada's lower chamber greenlighted a similar bill last week, which the Senate is expected to okay later this month .
Pope Benedict XVI, meanwhile, has made it clear that his papacy will bring no changes to the Catholic Church's stance on homosexuality .
In a clear condemnation of all same-sex unions at the start of last month, he described such forms of "pseudo-matrimony" as "anarchic" .