Italy gay march falls silent to honour UK victims
Sat Jul 9, 2005 7:38 PM GMT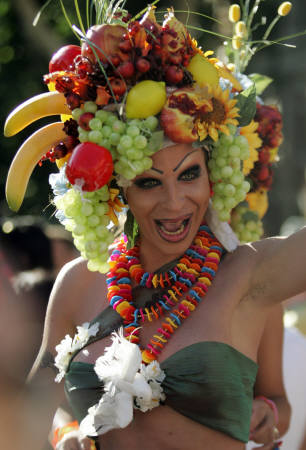 Supporters of gay rights marching through Rome's historic centre stopped on Saturday for a minute's silence to honour victims of Thursday's London bombings. A participant waves to the crowd during a gay pride parade in Rome July 9, 2005. REUTERS/Chris Helgren
ROME (Reuters) - Supporters of gay rights marching through Rome's historic centre stopped on Saturday for a minute's silence to honour victims of Thursday's London bombings.
Dance music was cut, floats stopped, and protesters of all stripes -- including drag queens wearing flowing white gowns -- bowed their heads or stood quietly to remember the attacks. Some of the marchers, numbering in the thousands, wore black armbands.
"We are here for freedom and against terrorism. Terrorism is the son of intolerance and discrimination," said Fabrizio Marrazzo of gay rights group Arcigay.
"So we're here to protest for our rights, and (we're) in mourning."
After the one-minute silence, the crowd erupted into a big cheer and resumed its annual celebration. Among the protesters was a bare-chested man on stilts, wearing nothing but a kilt and a red bishop's cap.
Revellers called for Italy to legalise same-sex marriage, as Spain did last month, in defiance of the Roman Catholic Church. A float dedicated to Spain's same-sex marriage law featured dancing drag queens in wedding dresses.
Just kilometres away at St. John's Cathedral last month, Pope Benedict condemned gay marriage as fake and an expression of "anarchic freedom" that threatened the future of the family.
Opponents of gay marriage left signs in downtown Rome on Saturday, reading "Peverse!" and "No Thanks!". Marchers, who included many heterosexuals supporting gay rights, ripped the signs down.