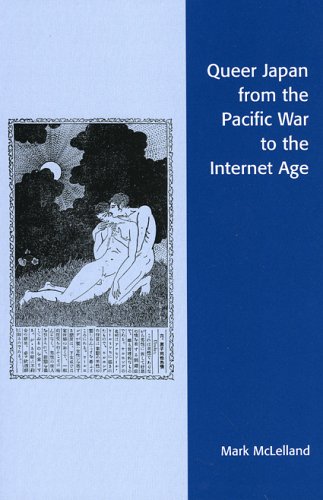 THE ASIAN BOOKSHELF
QUEER WAYS IN JAPAN
Coming out of the linguistic closet
By DONALD RICHIE
QUEER JAPAN FROM THE PACIFIC WAR TO THE INTERNET AGE, by Mark McLelland. Lanham: Rowman & Littlefield, 2005, 248 pp., 15 b/w photos, $34.95 (paper).
Japanese homosexuals face a peculiar problem. There is a true confusion among terms for sex, gender, sexual orientation, and gender expression. As one scholar expressed it, "there isn't even linguistic space to exist in."
Like Europe, which had no real word for the orientation until "homosexual" was hobbled together in the last century, Japan has never had a nuanced vocabulary on the subject. This is because there was no need to have one. Sex with another man, or with another woman, was something you did, not something you became. Same-sex sex was more like a verb than a noun.
In our polarized, politically conscious times, however, nouns are needed -- one must be labeled. In the West the term "gay" was invented, in a kind of lingual desperation, though its use bashed a perfectly good word that had usefully combined "happy" and "cheerful."
Since homosexuals are sometimes led to see their lives as somewhat more somber, the frivolous "gay" epithet does not suit all cases and, in any event, it is particularly inappropriate for political orientation. Much more to the Western view is the taking of a term of opprobrium, "queer," and using it to make political points, and, in so doing, restore its respectability.
In Japan, however, words remain few. "Danshoku" is obsolete and in any event refers only to males, and the rest are attributes without a rubric. "Tachi" is a "top" and "neko" a "bottom" and in the middle there is "dondengaeshi," "reversibles."
Such a linguistic arrangement may correspond to what has been called "the currently canonical trinity of 'heterosexuality,' 'homosexuality,' and bisexuality.' " but such simplicities as these cannot account for the varied aspects of sexual experience. In Japan, people living between doseiai (same-sex love) on one hand and okama ("faggot") or rezu ("dyke") on the other, exist in a narrow linguistic space indeed.
Mark McLelland, author of the present volume, advises that being hentai might be considered the equivalent of queer. Both then are useful terms in that they describe "a range of nonheterosexual and gender-variant identities, practices and communities," and thus allow us to discuss them.
He is concerned about terminology because there is much confusion in the field and, as he points out, there has been little scholarly work in authentic queer life in Japan. Many Western scholars (and some Japanese) have followed a Western mode concerned with the triumphal progress of sexual minorities, those who (in the words of one scholar) see sex as "a brave expression of thwarted energy waiting for release [and] authentic self-expression."
In Japan, McLelland maintains, things are more complicated. Here homosexual acts remain unregulated by law, and both Buddhist and Shinto leaders fail to interest themselves in same-sex sexuality. Further, there is a long and more or less approved history of homosexuality (priest/acolyte, older and younger samurai). There is also a "don't ask/don't tell" public attitude, which punishes only when the subject fails to observe it. This perhaps should simplify things, but what it also means is that the narrative of "queer" life in Japan is quite different from that in the West. There was no Stonewall "revolution" because there was no need for one, yet self-outings remain rare because social punishment is fairly certain in the straight world -- not so much because the deviance is sexual but because it is deviant.
It is this story that interests McLelland, which he amply recounts. His historical frame being from wartime to now -- more than half a century of changing terminology -- a full description of what one Japanese scholar called "the dynamics of ambiguity."
Author of the authoritative "Male Homosexuality in Modern Japan: Cultural Myths and Social Realities" (Curzon, 2000), McLelland first discusses the emergence of the category of sexuality within Japanese discourse, then looks at the vast and neglected field of magazines and other periodicals that began to appear postwar. From this he writes of the various types and representatives ("gei boi") that came into being. A result is that an identifiable "homo" culture evolved -- one with its own social rules, its own folklore, its own politics.
To politicize is to identify, even though to identify is to limit. There have been several Japanese attempts to socially emerge from an agreed-upon invisibility, yet when one informant indicates that it is dangerous to state his true identity in public, it means that he has confined his identity to his sexuality.
Perhaps this is among the reasons that the Internet is playing such a role in liberating/unleashing sexual identity all over the world. (Or not since you can always lie in an e-mail or on a Web site). As the author says of the conclusion of this detailed and interesting account, it could be said that "the Internet has been particularly important in creating a new space for queer desire to be articulated and for new alliances to be formed."
Find information on acquiring this volume at
www.rowmanlittlefield.com
The Japan Times: July 10, 2005
amazon.co.jp