Female condoms to help prevent disease
By Liu Li (China Daily)
Updated: 2005-07-11 05:29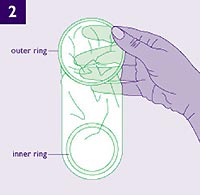 You cannot just slot in a coin for it to pop out of the vending machine; nor can you go to your neighbourhood family-planning centre for a free refill.
But a female condom (FC) could make its way to China for general usage if the efforts of a global health foundation dedicated to women's health come to fruition.
FCs are already being tested on a limited scale among sex workers in Southwest China's Yunnan and Sichuan provinces.
At a recent FC workshop in Beijing, the Female Health Foundation said why the FC is helpful in HIV/AIDS and unplanned pregnancy prevention.
The FC is the only woman-oriented way to use a block to prevent unplanned pregnancies and HIV/AIDS.
When a male partner refuses to wear a condom or is drunk and abusive, women need self-initiated methods.
The FC is on the WHO/UNAIDS Essential Products List.
The FC has received regulatory approval in the United States, Europe, Australia, Japan, Canada and regulatory registrations in multiple countries.
The number of female HIV carriers is rising, said Zhao Pengfei, co-ordinator for HIV/AIDS/STI and Reproductive Health with the China office of the World Health Organization.
Among the current 42 million HIV carriers in the world, half are women, according to Zhao.
And over half are female among the newly-emerged virus carriers, he said.
However, the Family Planning Commission (FPC) and the China Disease Control and Prevention Centre (CDC), while endorsing FCs, did not seem wildly enthusiastic about widespread acceptance.
The main reasons are cost, acceptability by both women and men and methods of usage.
"There are various products in China to prevent unplanned pregnancies. The FC is not the main choice," Jin Anrong, an official with the National Population and Family Planning Commission said.
"A FC is much more expensive than a male condom (MC). If we adopt the FC, government investment in family planning will increase a lot," she said.
Each MC costs 16 fen (2 US cents), while the FC is 8 yuan (US$1), according to Jin.
Furthermore, the ineffectiveness rate of the FC is reported to be 7 to 20 per cent as it is not easy to use, according to the official.
She concluded that it is difficult for the FC to be involved in the Chinese Government purchase list.
But she recommended the FC's function of preventing HIV/AIDS.
The FC has been submitted to the State and Drug Administration for registration in China, according to Patricia Weisenfeld, programme manager with the Female Health Foundation.
The FC was first introduced to Europe and the United States in 1992 and 1993, according to Weisenfeld.
It was introduced to Asia in the past five years.