New report shows HIV/AIDS increase in South Africa
Mon Jul 11,12:42 PM ET - AFP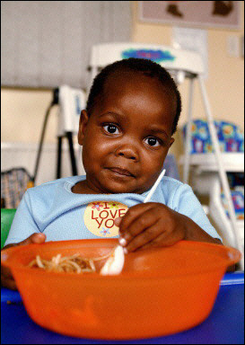 A HIV-positive toddler eats spaghetti at a baby sanctuary in Johannesburg. More than 6.2 million South Africans were infected by HIV or AIDS by last year, an increase of 700,000 from 2003.(AFP/File/Alexander Joe)
More than 6.2 million South Africans were infected by HIV or AIDS by last year, an increase of 700,000 from 2003.
Though women in their mid- to late-20s were the hardest hit by the pandemic, "it was observed that there have been increases in prevalence across all age groups between 2003 and 2004," a new health ministry report said Monday.
The findings of the annual survey cast doubt over other statistics on HIV and AIDS by government's official supplier Statistics South Africa (StatsSA) on the country's most pressing health challenge, with a difference of more than 1.5 million.
The annual survey based on blood samples from more than 16,000 pregnant women nationwide showed that between 6.29 million and 6.57 million people were living with AIDS or HIV in the country of 47 million.
Nearly 40 percent of women aged between 25 and 29 years are HIV positive while women in their early 20s and early 30s show prevalence rates of around 30 percent, it added.
"Higher rates of increase between 2003 and 2004 are observed among women aged from 25 to 34 years," the report said. "This age group is also associated with higher fertility and the time when the majority of women begin to have children."
South Africa has one of the world's biggest AIDS caseloads with the UN AIDS agency estimating in 2003 that 5.3 million people were infected, or one in five adults living with the HIV virus or full-blown AIDS.
Based on its latest survey, the health ministry said 29.5 percent of pregnant women attending government clinics last year were HIV positive, up from 27.9 percent in 2003 and 26.5 in 2002.
"This suggests that although HIV prevalence has tended towards stabilisation in recent years, there is still a minor increase," it added.
But health ministry spokesman Sibani Mngadi said government was "definitely worried that there has been such an increase."
"We need to see how we are going to address this," he told AFP, adding that government had scaled up its AIDS budget by 45 percent and increased the number of treatment sites for anti-retrovirals to 143 nationwide.
South Africa's most influential AIDS lobby group, the Treatment Action Campaign, described that latest figures as a "disaster" and called for an urgent meeting of all parties to try to stop new infections.
"It really is a disaster when we are now talking about 6.5 million people with HIV infection," TAC spokesman Mark Heywood told AFP.
"This is an indictment of the whole of South African society: government, business, trade unions, ourselves..."
The total was far higher than the estimate of 4.5 million given by StatsSA.
Health spokesman Mngadi attributed the discrepancy in government figures to a "difference in methodology used by the Health Department and StatsSA."
Study: 6.5M South Africans May Have HIV
Mon Jul 11, 1:02 PM ET - AP
More than 6.5 million of South Africa's 47 million people could be infected with HIV, according to a government report released Monday, a sharp increase from previous estimates.
A 2004 Health Department survey of more than 16,000 pregnant women attending antenatal clinics indicated between 6.29 million and 6.57 million South Africans were infected with the virus that causes AIDS, compared to 5.6 million in 2003.
The state statistical service, Statistics SA, put the figure this year at 4.5 million.
Officials quoted by the South African Broadcasting Corp. blamed differences in methodology for the discrepancy.
President Thabo Mbeki's government has been criticized for its sluggish response to HIV/AIDS, with activists accusing it of seeking to play down the crisis. Until last year, the government refused to provide life-prolonging anti-retroviral drugs through the public health system, citing cost and safety concerns.
The annual National HIV and Siphilis Antenatal Sero-Prevalence Survey found 29.5 percent of pregnant women tested positive for HIV in 2004, compared to 27.9 percent in 2003.
Prevalence increased among all age groups between the two years, but was highest in women aged between 25 and 29 — nearly 40 percent of whom tested HIV-positive.
S. Africa health dept sharply hikes AIDS estimate
By Andrew Quinn
Mon Jul 11,11:19 AM ET - Reuters
New figures from South Africa suggest that more than 6.5 million of the country's 47 million people may now be HIV-positive. The figure is a sharp jump on previous estimates and is likely to fuel debate on the extent of the country's HIV/AIDS pandemic.
The Department of Health, releasing a 2004 study of women at antenatal clinics, said results indicated that between 6.29 and 6.57 million South Africans now carry the HIV virus against 5.6 million at the end of 2003.
The figures contradict a May study by Statistics South Africa, the state statistical agency, which estimated that about 4.5 million South Africans were infected with HIV - a toll which would drop South Africa behind India as the country worst hit by the global pandemic.
Extrapolations from data at antenatal clinics, where pregnant women have their blood tested, form the basis for most estimates of HIV prevalence in Africa, home to more than 25 million of the estimated 39 million people infected with HIV worldwide.
But the method has been criticized in some African countries as exaggerating the spread of HIV/AIDS on the continent.
Debate flared last year with a study purporting to show that U.N. estimates of AIDS prevalence in Kenya were inflated and cutting the projected number of Kenyan adult HIV infections to 1 million from as many as 3 million.
UNAIDS, the United Nations AIDS agency, dismissed the study's conclusions as unfounded, saying differences in methodology could account for different numbers and standing by its original forecasts.
FIGURES QUESTIONED
South African officials including President Thabo Mbeki have also questioned the severity of the HIV/AIDS crisis, infuriating activists who blame the government's slow response for increasing numbers of AIDS deaths in the country.
The Department of Health study said that 29.5 percent of the pregnant women surveyed nationwide were HIV positive, up from 27.9 percent in 2003. In KwaZulu-Natal, the worst affected province in the country, the HIV prevalence rate among pregnant women was more than 40 percent, it said.
The department acknowledged that its latest estimates for national prevalence assumed that HIV prevalence among all pregnant women was the same as that for those visiting antenatal clinics, and that HIV prevalence for all women between the ages of 15-49 was the same as that in pregnant women.
Some statisticians questioned the results.
Professor Rob Dorrington, head of the Center for Actuarial Science at the University of Cape Town, said the department's new estimates were "undoubtedly too high," although he told Business Day newspaper the mixed messages from government were complicating South Africa's response to HIV/AIDS.
"Is it any wonder the public is confused when the same government offers estimates that differ by between 2 million and 2.5 million?" he said.