Women in China becoming infected with HIV/AIDS at faster rate
AFP - Mon Jul 11, 6:30 PM ET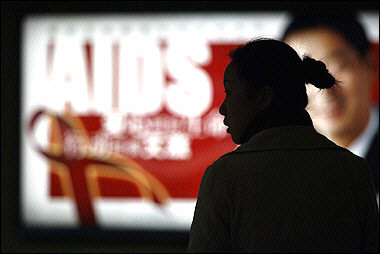 A woman waits for a subway train in front of a poster to promote AIDS awareness. Chinese women are becoming infected with HIV/AIDS at a faster rate than before, government statistics show, raising alarm about the shift in ratio of male to female infections, state media said.(AFP/File/Peter Parks)
Chinese women are becoming infected with HIV/AIDS at a faster rate than before, government statistics show, raising alarm about the shift in ratio of male to female infections, state media said.
Data in China shows that the male to female ratio of infections has changed dramatically in just a few years, from 5:1 in the 1990s to the current 2:1, the China Daily said.
In some areas, the ratio has reached 1:1, it said.
"Most of the recent infections in women have been sexually transmitted. Some of them belong to the high-risk group of prostitutes, while others are just ordinary housewives or career women, infected by their husbands," said Wei Jian'an, an official with China's AIDS Prevention and Treatment office.
Many women also became infected from selling blood in the 1990s.
Most female HIV carriers are of child-bearing age.
If the epidemic among this group does not receive timely prevention and control, more babies will be infected, a document released by the Ministry of Health, the National Population and Family Planning Commission and the All China Women's Federation said, according to the report.
Experts stressed the importance of gender equality in stopping the spread of the deadly virus to women.
"Poverty and inequality also fuel the acceleration of HIV infections because women lack the power to negotiate their personal safety," Thoraya Ahmed Obaid, executive director of the United Nations Population Fund was quoted as saying.
In an attempt to combat the rapid spread of HIV/AIDS in China, the National Population and Family Planning Commission, which normally enforces the country's one-child policy restricting excess births, plans to add prevention of HIV/AIDS to its work, the report said.
China has an estimated 840,000 people infected with HIV, including 80,000 with full-blown AIDS, according to official figures. International groups believe the real figure is much higher.