Japan's sexual slavery focus of museum
Activists aim to remember 'victimizers,' even if new textbooks don't
By KEIJI HIRANO - The Japan Times: July 16, 2005
In a bid to keep wartime sexual violence against women in people's minds, female activists in Japan are set to open a museum in Tokyo to collect and display materials mainly about those who were forced into sexual slavery for the Imperial Japanese Army during the war.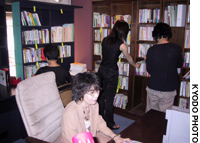 (Kyodo Photo) Members of the Women's Active Museum on War and Peace, Japan's first resource center on wartime sexual slavery, prepare for its Aug. 1 launch at its library in Tokyo's Shinjuku Ward.
The Women's Active Museum on War and Peace, established by public donations, will present videos and written materials in which former "comfort women," as they are euphemistically called in Japan, from the Asia-Pacific region testify about their suffering. Historians put their number at around 200,000.
The museum, due to open Aug. 1 as Japan's first resource center on the crime, will also provide visitors with information about other wartime atrocities through its collections of books, photo panels and other documents, including court materials, said Rumiko Nishino, chief of the institution.
Former sex slaves have been waging legal battles in Japan, demanding apologies and compensation from the state, but with little success.
In one case, the Supreme Court dismissed an appeal in February by seven former sex slaves from Taiwan against a lower court rejection of their demands for an apology and 70 million yen in damages from the state.
"We are also planning to exhibit materials to show violent acts against women are still continuing in the world's conflict areas," Nishino said.
The Women's Fund for Peace and Human Rights, a nonprofit organization that founded the museum, decided to launch it to coincide with the 60th anniversary of the end of World War II.
"We feel concerns that the negative legacy of Japan's wartime past has been distorted, with most school history textbooks removing descriptions of Japan's wartime atrocities, including sex slavery, and postwar compensation," Nishino said.
Protests have mounted in Asia over government-approved textbooks that gloss over Japan's wartime aggression, while a June remark by education minister Nariaki Nakayama praising the removal of references to comfort women from textbooks further fueled anti-Japanese sentiment.
Given such circumstances, "It is necessary for us to pass the memory about what Japan did during the war down the generations," Nishino said. "Otherwise, Japan cannot get along with other Asian people."
The establishment of the museum owes much to the late journalist and women's rights activist Yayori Matsui, who actively covered women's issues and human rights for the daily Asahi Shimbun.
Matsui, who succumbed to liver cancer at age 68 in December 2002, is also known for organizing a mock trial called the Women's International War Crimes Tribunal in December 2000 in Tokyo, which concluded that the comfort-women system constituted a crime against humanity, found wartime Emperor Hirohito guilty and urged the Japanese government to take legal responsibility.
"The victims are aging, and we strongly hope they could see the Japanese government admit to its legal responsibility for their hardships and reflect this in its policies and in education so the women can find relief during their lifetimes," Nishino said.
There are now plans to set up resource centers on Japan's wartime sex slavery in Seoul and Shanghai, and the Tokyo museum will promote information exchanges with these counterparts.
But the Japanese side "must not ignore the point that we were victimizers," Nishino pointed out.
For information, call (03) 3202-4633.