For Poor Women, An AIDS Safety Net
By Ilene Wong
Friday, July 15, 2005; Page A23 - Washington Post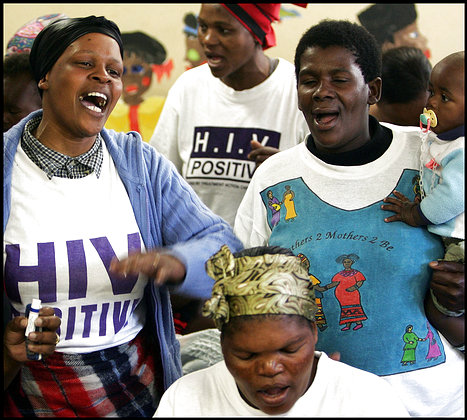 HIV-positive mothers in Cape Town, South Africa, sing after a visit by First Lady Laura Bush on Tuesday during which she praised a program to prevent AIDS-infected babies. (Mike Hutchings -- Reuters)
In my nightmares, I see the women we have failed to protect from AIDS.
Women in South Africa do almost everything. When they cook, they harvest spinach, carrots and cabbage from vegetable gardens they have planted themselves. When they clean, they use brooms made from dried grass they walked miles to harvest. They wash their entire family's laundry by hand, wringing out clothes heavy with soapy water with hands that could break the neck of a chicken in one twist.
The one thing women don't do in South Africa, however, is tell their husbands to use condoms. When I taught AIDS awareness in a rural area near Mozambique, even virgin schoolboys posited that prophylactics were passe. "You can't eat a sweet in the wrapper," they would say shyly in their broken English.
In many cultures, men give "bride prices" (
labola
) and tacitly expect a maid, a cook and a sexual servant. Women who request condoms are invariably considered suspect. Yet in Zimbabwe 60 percent of women who have AIDS report being married and monogamous.
Young women around the world need a prevention tool they can control, and since the late 1990s a small number of discerning researchers have explored one possibility: an effective microbicide -- that is, a drug that women can apply directly to their vaginas to reduce the spread of HIV. Antiretrovirals can hold back the tide of AIDS once a person is infected, but they're costly and not a true cure. HIV vaccines are years, possibly decades, away from widespread rollout. Which brings us back to prevention.
The "ABCs" of prevention are abstinence, being faithful and condom use. But we've seen women slip through the cracks with these methods. Microbicides would be a lifesaving safety net and could even theoretically prevent HIV transmission after rape if applied daily. Yet very few members of the general public -- indeed, very few health professionals -- know what they are. Why?
In a world where vaccines are the rock stars of HIV prevention, microbicides are the street musicians -- egalitarian, resourceful and poorly paid. The International Partnership for Microbicides estimates that an annual $280 million investment (a fraction of the world budget for vaccine research) for the next five years could generate an effective microbicide by 2010.
Yet microbicide researchers, typically nonprofits and academics, are struggling on only $100 million a year. Certainly the microbicide world has suffered losses in momentum from products that have failed to fulfill their promise. Additionally, potential microbicides are embarrassingly low-tech, with one formulation being derived from seaweed and one from lime juice.
But one gets the impression that pharmaceutical companies would be more persistent in their efforts if the main beneficiaries of microbicides were not impoverished African women -- women such as Grace, a quiet, God-fearing housemaid I knew who worked seven days a week for three different families. She found out a month after her husband's death that she had AIDS. Then there was Mimi. When her migrant worker husband abandoned her, she took up with a new boyfriend to support her three children. Until he died, after infecting her, she had no idea that he had AIDS. I especially think about how microbicides could save women such as Joan, who became infected when she was raped at the age of 16 by an assailant with AIDS. She's one of the lucky ones, enrolled in a clinical trial of antiretrovirals in Johannesburg. But what if she, and the 50,000 yearly rape victims in South Africa, had access to a microbicide they could put on before leaving the house or before a trip to a bar? No telling how many lives could be saved. No telling until we have a microbicide in hand.
As our administration funnels more and more AIDS funding to faith-based nongovernmental organizations, I despair for my sisters in Africa, who know that abstinence is rarely an option for the powerless and poor. Rather, it's a luxury for those confident that they will eat tomorrow. A truly comprehensive and farsighted global AIDS program would recognize that women need their own weapons against HIV. They need microbicides.
The writer, a physician at Stanford University Hospital and Clinics, has done AIDS work in Africa. She will be available to answer questions at 1 p.m. today on http://www.washingtonpost.com.