Spouses of HIV patients in Singapore to be informed
Fri Jul 15, 5:23 PM ET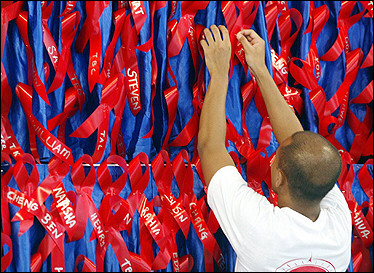 A volunteer pins up ribbons bearing the names of people who died of HIV/AIDS, during Singapore's AIDS Candlelight Memorial in 2003(AFP/File/Roslan Rahman)
SINGAPORE (AFP) - The Singapore government will make it compulsory for the spouses of HIV patients to be informed that their partner has the disease, a senior health official said in published remarks.
Under the new law, the infected person's consent is not required before his or her condition is made known to the spouse, the first time the government has given the green light for physicians to breach patient confidentiality.
Minister of State for Health Balaji Sadasivan was quoted as saying by the Straits Times newspaper that the new measures were necessary to protect the vulnerable.
"The Infectious Diseases Act will be adhered to and the spouse will be informed," Balaji told an audience of doctors at the launch of a compulsory medical ethics course for trainee specialists on Thursday.
"Where the law requires a physician to act in a specific manner, the physician must follow the law. No doctor is above the law."
To avoid doctors having to tell the spouses directly, the task will fall to personnel at a yet-to-be established HIV Prevention Unit.
The new moves come amid a sharp rise in HIV/AIDS infections in Singapore, with official statistics showing a record 311 people in Singapore contracted HIV in 2004, 28 percent more than the previous year.
There are now more than 2,000 confirmed HIV or AIDS patients in Singapore.
Last year, the city-state included non-compulsory HIV testing as part of a routine medical checkup for pregnant women in a bid to stem the rise of new infections.