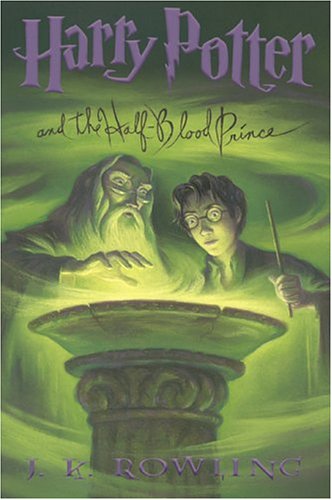 July 16, 2005
Harry Potter Works His Magic Again in a Far Darker Tale
By MICHIKO KAKUTANI - New York Times
In an earlier Harry Potter novel, Sibyll Trelawney, divination teacher, looks at Harry and declares that her inner eye sees past his "brave face to the troubled soul within."
"I regret to say that your worries are not baseless," she adds. "I see difficult times ahead for you, alas ... most difficult ... I fear the thing you dread will indeed come to pass ... and perhaps sooner than you think."
In "Harry Potter and the Half-Blood Prince," that frightening prophecy does in fact come true - in a thoroughly harrowing denouement that sees the death of yet another important person in Harry's life, and that renders this, the sixth volume of the series, the darkest and most unsettling installment yet.
It is a novel that pulls together dozens of plot strands from previous volumes, underscoring how cleverly and carefully J. K. Rowling has assembled this giant jigsaw puzzle of an epic. It is also a novel that depicts Harry Potter, now 16, as more alone than ever - all too well aware of loss and death, and increasingly isolated by his growing reputation as "the Chosen One," picked from among all others to do battle with the Dark Lord, Voldemort.
As the novel opens, the wizarding world is at war: Lord Voldemort and his Death Eaters have grown so powerful that their evil deeds have spilled over into the Muggle world of nonmagic folks. The Muggles' prime minister has been alerted by the Ministry of Magic about the rise of Voldemort. And the terrible things that Ms. Rowling describes as being abroad in the green and pleasant land of England read like a grim echo of events in our own post-9/11, post-7/7 world and an uncanny reminder that the Hogwarts Express, which Harry and his friends all take to school, leaves from King's Cross station - the very station where the suspected London bombers gathered minutes before the explosions that rocked the city nine days ago.
Harry, who as an infant miraculously survived a Voldemort attack that killed his mother and father, is regarded as "a symbol of hope" by many in the wizarding world, and as he learns more about the Dark Lord's obsession with his family, he realizes that he has a destiny he cannot escape. Like Luke Skywalker, he is eager to play the role of hero. But like Spider-Man, he is also aware of the burden that that role imposes: although he has developed romantic yearnings for a certain girl, he is wary of involvement, given his recognition of the dangers he will have to face.
"It's been like ... like something out of someone else's life, these last few weeks with you," he tells her. "But I can't ... we can't ... I've got things to do alone now."
Indeed, the perilous task Professor Dumbledore sets Harry in this volume will leave him with less and less time for Quidditch and hanging out with his pals Ron and Hermione: he is to help his beloved teacher find four missing Horcruxes - super-secret, magical objects in which Voldemort has secreted parts of his soul as a means of ensuring his immortality. Only when all of these items have been found and destroyed, Harry is told, can the Dark Lord finally be vanquished.
There are a host of other unsettling developments in this novel, too: the Dementors, those fearsome creatures in charge of guarding Azkaban Prison, have joined forces with Voldemort; Draco Malfoy, Harry's sneering classmate who boasts of moving on to "bigger and better things," appears to vanish regularly from the school grounds; the sinister Severus Snape has been named the new teacher of defense against the dark arts; two Hogwarts students are nearly killed in mysterious attacks; and Dumbledore suddenly turns up with a badly injured hand, which he declines to explain. One of the few bright spots in Harry's school life appears to be an old textbook annotated by its enigmatic former owner, who goes by the name the Half-Blood Prince - a book that initially supplies Harry with some helpful tips for making potions.
The early and middle sections of this novel meld the ordinary and the fantastic in the playful fashion Ms. Rowling has patented in her previous books, capturing adolescent angst about boy-girl and student-teacher relations with perfect pitch. Ron and Hermione, as well as Harry, all become involved in romantic flirtations with other students, even as they begin to realize that their O.W.L. (Ordinary Wizarding Level) grades may well determine the course of their post-Hogwarts future. As the story proceeds, however, it grows progressively more somber, eventually becoming positively Miltonian in its darkness. In fact, two of the novel's final scenes - like the violent showdown between Obi-Wan Kenobi and Anakin Skywalker in the last "Star Wars" movie, "Revenge of the Sith" - may well be too alarming for the youngest readers.
Harry still has his wry sense of humor and a plucky boyish heart, but as in the last volume ("Harry Potter and the Order of the Phoenix"), he is more Henry V than Prince Hal, more King Arthur than the young Wart. He has emerged, at school and on the Quidditch field, as an unquestioned leader: someone who must learn to make unpopular decisions and control his impetuous temper, someone who must keep certain secrets from his schoolmates and teachers.
He has become more aware than ever of what he and Voldemort have in common - from orphaned childhoods to an ability to talk Parseltongue (i.e., snake speech) to the possession of matching wands - and in one chilling scene, he is forced to choose between duty to his mission and his most heartfelt emotions. In discovering the true identity of the Half-Blood Prince, Harry will learn to re-evaluate the value of first impressions and the possibility that his elders' convictions can blind them to parlous truths. And in embracing his own identity, he will discover his place in history.
As in earlier volumes, Ms. Rowling moves Harry's story forward by chronicling his adventures at Hogwarts, while simultaneously moving backward in time through the use of flashbacks (via Dumbledore's remarkable Pensieve, a receptacle for people's memories). As a result, this is a coming-of-age story that chronicles the hero's evolution not only by showing his maturation through a series of grueling tests, but also by detailing the growing emotional wisdom he gains from understanding more and more about the past.
In addition to being a bildungsroman, of course, the Harry Potter books are also detective stories, quest narratives, moral fables, boarding school tales and action-adventure thrill rides, and Ms. Rowling uses her tireless gift for invention to thread these genres together, while at the same time taking myriad references and tropes (borrowed from such disparate sources as Shakespeare, Dickens, fairy tales, Greek myths and more recent works like "Star Wars") and making them her own.
Perhaps because of its position as the penultimate installment of a seven-book series, "The Half-Blood Prince" suffers, at moments, from an excess of exposition. Some of Dumbledore's speeches to Harry have a forced, summing-up quality, and the reader can occasionally feel Ms. Rowling methodically setting the stage for developments to come or fleshing out scenarios put in play by earlier volumes (most notably, "Harry Potter and the Chamber of Secrets," with its revelations about the young Voldemort, a k a Tom Riddle).
Such passages, however, are easily forgotten, as the plot hurtles along, gaining a terrible momentum in this volume's closing pages. At the same time, the suspense generated by these books does not stem solely from the tension of wondering who will die next or how one or another mystery will be solved. It stems, as well, from Ms. Rowling's dexterity in creating a character-driven tale, a story in which a person's choices determine the map of his or her life - a story that creates a hunger to know more about these people who have become so palpably real.
We want to know more about Harry's parents - how they met and married and died - because that may tell us more about Harry's own yearnings and decisions. We want to know more about Dumbledore's desire to believe the best of everyone because that may shed light on whom he chooses to trust. We want to know more about the circumstances of Tom Riddle's birth because that may shed light on his decision to reinvent himself as Lord Voldemort.
Indeed, the achievement of the Potter books is the same as that of the great classics of children's literature, from the Oz novels to "The Lord of the Rings": the creation of a richly imagined and utterly singular world, as detailed, as improbable and as mortal as our own.
amazon.co.jp