California matchmaker seeks to pair gays for life
Mon Jul 18, 2005 8:07 AM ET
By Lisa Baertlein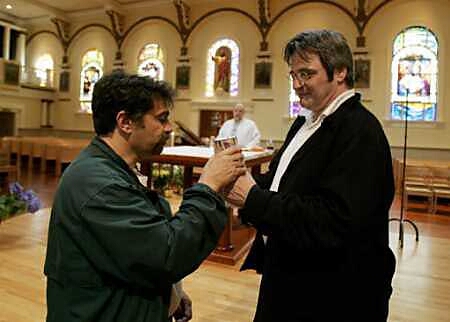 Larry Busgeon (R) helps Father Michael A. Greenwell (C) at a mass at the Most Holy Reedemer Catholic Church in the Castro neighborhood of San Francisco, on April 6, 2005. In areas such San Francisco's Castro, a center of gay life, Catholic churches perform a delicate balancing act. While the legal battles continue at the state and national level in the United States, same-sex couples can marry in Spain, Canada, Belgium and the Netherlands. Picture taken April 6, 2005.
SAN FRANCISCO (Reuters) - Maria Masters became a woman in a 1986 sex change operation then experienced a series of life and romantic ups and downs before meeting her mate through matchmaker Dale Bullock.
"I never did think I could find this kind of happiness in life," said house-painting contractor Masters, 61, who married Camille Quenneville in an Episcopal ceremony in 1998.
As the legal debate over gay marriage rages, San Francisco-based Bullock has found a niche pairing gays and lesbians for life-long unions and marriage.
In over a decade of operation, Bullock says he has arranged about 200 marriages, a rate fueled by referrals.
Some of those couples last year got married in San Francisco's celebrity-studded gay wedding bonanza, which helped vault the issue to national attention. But the legality of their marriage licenses is being challenged in the courts.
While the legal battles continue at the state and national level in the United States, same-sex couples can marry in Spain, Canada, Belgium and the Netherlands.
Bullock says he knows of no other matchmaker who specializes in matching gays for long-term relationships.
"It's a unique niche. I support it. The irony is that gays can't marry," Evan Marc Katz, a former Los Angeles screenwriter turned dating consultant and author, said of Bullock's service.
Bullock's clients and industry players say his firm, called Bonds Ltd., is a far cry from most gay-oriented dating services, which tend to focus on short-term relationships.
"It is my purpose to bring together loving, stable, same-gender companions committed to lifetime, monogamous relationships," said Bullock, who spends a lot of time with clients and often meets their parents. He added that cultural support systems are rare or absent for gays and lesbians who want to commit to a romantic partner.
MEN PAY $15,000
Bullock, 50, charges men a flat fee of $15,000. Women pay $7,500 for his service, while he works to build that side of the business. He says he now has about 200 male clients and 100 female clients.
"I'm one of the guinea pigs," said Quenneville, 58, an information technology analyst at Cisco Systems Inc. and one of Bullock's early customers.
"You need to come into this in terms of hooking up with a long-term partner. It weeds out all the others who aren't mature enough, who just want to date," she said, adding that she and Masters may one day make their union legal in Quenneville's home country of Canada.
"I dated men originally and just knew it wasn't working," said Masters, who prior to her sex-change operation had two children from a marriage to a woman. She said she was the first transgender client Bullock took under his wing.
"I had been doing the bar scene and nothing was working. I felt this had to be worth a try," said Masters, who added that Bullock's $1,400 price at the time was high but worth every penny.
"You get the same giddy feelings whether you're 18 or you're 58; I had them with Camille," she said.
Bonds Ltd newcomer Dennis Stratford, a Silicon Valley software company chief executive, has been working with Bullock for just a few months.
"I know what I want and I just don't want to spend 10 years and a lot of pain to find it," said Stratford, 58.
He is looking to settle down with a man after ending a long marriage to a woman a year ago: "It's the way I'm wired. I'm a gourmet, not a gourmand.