Women learn how to be more assertive at work
Reiko Bando Yomiuri Shimbun Staff Writer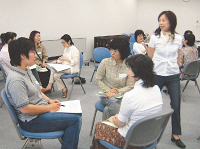 Kazumi Takezaki, right, teaches participants of a course held last month in Takasaki, Gunma Prefecture, how to be assertive.Opportunities for women to learn how to become more assertive in the workplace are increasing.
Being assertive relates to communication in which one negotiates in a responsible manner to put across an idea while taking into consideration the views of others. Training courses in this area, which was developed in the United States, have become popular in Japan among women who experience difficulties at work.
Last month, one such course was held in a conference room at the city hall of Takasaki, Gunma Prefecture, in which 16 women from their 20s to 60s participated. The aim of the five-hour course over two days was to learn basic communication skills.
After learning how to focus on their feelings and use sensitive words in speaking to their colleagues, participants practiced making requests and proposals they never had the courage to make before.
A 35-year-old care worker from Maebashi took part in a role-play in the course. She visits a few houses each day to care of elderly people at their homes, but the scenario involved a timetable her superior had made that did not allow her enough time to travel between homes.
"The travel time to get from this house to that is a little tight, isn't it?" she said in the activity. Until then, she had never made such statements because she thought it would distance herself from her superior and her work would be reduced as a result.
Instructor Kazumi Takezaki, 46, responded, "The word tight is not concrete, so it may not convey what you want to say."
Other participants who watched the role-play gave their opinions. One of them said, "I think it's better to look into the other person's eyes without smiling when you talk to show your honesty."
On her second try, she was more direct, saying, "I'd like to have 15 extra minutes in travel time."
The Center for the Advancement of Working Women in Tokyo held a training course for women on being assertive at work early this month. The 10-hour basic course over two days proved to be so popular that some women had to be put on a waiting list in case of cancelations. The course cost about 10,000 yen.
Course planner Keiko Katsura said, "I think more women want to improve their communication with superiors or subordinates at work by acquiring the appropriate skills."
The center provides counseling on about 4,000 cases related to career change, job aptitude and reemployment, among many other issues.
"Problems that are rooted in human relations are very common," Katsura said.
In the 1970s, the women's liberation movement in the United States gained prominence under the aim of overcoming sexual discrimination, and addressed issues regarding race, age, position and gender.
(Jul. 19, 2005)