同性婚を認める法案が上院通過 (MapleTown 2005/07/20)
火曜日、カナダは世界で第4番目の同性結婚を合法化した国となった。物議を呼んだ同性婚法案だったが、上院の47対21の決議により賛成派が勝利、可決した。カナダ国内で同性結婚を求める裁判が行われ、7州の裁判所が従来の婚姻の定義は憲法に違反するとの意見を出していた。同法案の承認を受け保守党党首スティーブン・ハーパー氏は、自分が首相になった暁には、再度この同性婚問題を取り上げるつもりであると語った。同法案はカナダ総督の裁可を得た後で正式に立法となる。
Canada's gay marriage law set to come into force
Wednesday, July 20, 2005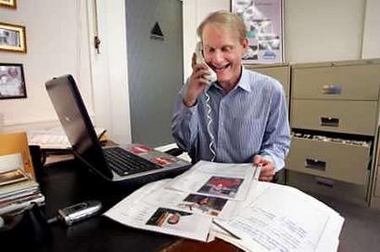 Californian matchmaker Dale Bullock, with client files on his desk in front of him, talks to a client by phone from his office in downtown San Francisco July 14, 2005. As the legal debate over gay marriage rages, San Francisco-based Bullock has found a niche pairing gays and lesbians for life-long unions and marriage. To match feature Life-Gaymatchmaker. Picture taken July 14, 2005. Lou Dematteis/Reuters Photo by Lou Dematteis/Reuters
OTTAWA (Reuters) - A law allowing gay marriages across Canada could come into force as early as Wednesday after the Senate overwhelmingly approved the legislation.
That would make Canada the fourth country in the world after Belgium, the Netherlands and Spain to permit same sex marriages, although a number of Canadian provinces have been allowing same-sex marriages for some time.
The unelected Senate upper chamber -- dominated by members from the ruling Liberal party -- voted by 47 to 21 late on Tuesday to pass the law.
The lower house of Parliament had already backed the legislation despite fierce opposition from conservative politicians and from religious groups, who portrayed it as an attack on organized religion.
The law needs to be formally approved by Governor-General Adrienne Clarkson, but CBC radio said that could come as early as Wednesday. No one in Clarkson's office was immediately available for comment.
The Liberal government said it had to draw up the legislation to allow same-sex marriage after courts in eight of the country's 10 provinces ruled that failing to do so would violate Canada's Charter of Rights and Freedoms.
Opponents fear churches and religious officials could be sued for refusing to carry out same sex marriages.
The legislation grants gays and lesbians the right to full civil marriages, but makes clear that religious officials would not be obliged to marry same-sex couples.
Some Canadian provinces have already become something of a tourist destination for gay couples from other countries who are seeking to get married.
Canadian residency requirements are less strict than those in other countries that allow gay marriage, but the new unions may not be recognized in the couples' home countries.
Senate passes same-sex legislation
Last Updated Tue, 19 Jul 2005 23:48:37 EDT
CBC News
Canada has become the fourth country to officially sanction same-sex marriage.
The Senate has voted 47-21 in favour of the Liberal government's controversial Bill C-38.
Three senators abstained.
The historic vote comes after gay and lesbian couples launched lawsuits in different provinces demanding the right to marry.
Courts in seven provinces agreed that the traditional definition of marriage violated the Charter of Rights and Freedoms.
The Liberal government responded to the first of those rulings - in Ontario in 2003 - by introducing legislation which was adopted last month in the House of Commons.
Conservative Leader Stephen Harper has said he will bring back the same-sex debate if he's elected prime minister.
The bill will become law when it receives royal assent on Wednesday.
Canada Becomes 4th Country To Legalize Gay Marriage
by Alexander Panetta, Canadian Press
Posted: July 20, 2005 12:30 am ET
(Ottawa) One of the most raucous debates in Canadian history resulted in a vote late Tuesday night that made Canada the fourth country to sanction same-sex marriage.
The Senate erupted in a loud cheer as it adopted the Liberal government's mill, which will give gay and lesbian couples the right to civil marriages.
The 47-21 vote came after years of court battles and debate that divided families, religious groups and even political allies.
As the debate dragged on Tuesday, the Liberals threatened to invoke closure and call a snap vote on the legislation. But the debate ran its course later in the night and members stood for a vote.
The country had been almost evenly split on the legislation, which found its greatest support among younger Canadians and small-l liberal voters.
But even within political clans the issue created irreconcilable fissures.
One Liberal MP - Pat O'Brien - quit his party caucus out of frustration with the bill and Joe Comuzzi resigned from the federal cabinet.
Conservative Leader Stephen Harper has said he will bring back the debate if he's elected prime minister.
One Conservative said voters will have the final say over Ottawa's decision to redefine marriage.
``Let the country speak at the next federal election,'' Tory Sen. Gerry St. Germain said hours before the bill passed. ``Let's not pass this legislation now. Let's wait. Let's make (the election) a referendum on this bill.''
The Liberals say only one tool remains at the disposal of anyone wishing to turn back the clock: the Constitution's so-called notwithstanding clause.
No federal government has ever used that provision in the Charter of Rights, which allows governments to overrule rights deemed fundamental.
The Tories and Liberals have sparred over whether the legislation was preventable. A top Liberal senator said Tuesday there was no end in sight to the bickering and that it was time to vote.
``There is no point in further postponement,'' said Jack Austin, the Liberal leader in the Senate.
``There are no new issues to be argued, there are no new positions to be taken.
``I think everyone in this chamber understands that we have _ along with the Canadian people _ come to our own conclusions.''
The Tories were hoping to amend C-38 to say marriage has traditionally been defined as the union of a man and woman.
But the government side had two reasons for opposing the Tory move.
First, they dismissed it as an insignificant and unnecessary change to the legislation.
But proponents of same-sex marriage had a deeper fear: that the bill could potentially be scrubbed if any changes were made at this point.
Amendments would have sent the bill back to the House of Commons, which is adjourned for the summer break, only to have it return for further debate in the fall.
Since the Liberals have a minority government, they could theoretically be toppled at any time and legislation before the Commons would disappear if there were an election.
The marriage legislation stems from a 2003 Ontario Court of Appeal ruling that the exclusion of same-sex couples from marriage was unconstitutional.
The government had fought same-sex couples in court but became a proponent of redefining marriage as courts in Ontario and seven other provinces sided with gays and lesbians.
Then-prime minister Jean Chretien announced in June 2003 that he would not appeal the Ontario ruling and that he would table legislation heeding to same-sex couples' wishes.
Bill C-38 would extend same-sex rights to Alberta and P.E.I., the only two provinces where courts have not yet struck down traditional marriage laws.
The legislation also stipulates that the new definition of marriage is only binding on public institutions like courthouses and city halls.
It says religious institutions - churches, mosques, synagogues and temples - and individuals can continue defining marriage as they see fit.
However, some public officials have said they fear they might lose their jobs if they refuse to marry same-sex couples because of their personal religious convictions.
Justice Minister Irwin Cotler has said those individuals - and their jobs - will be protected by the legislation and by the Charter of Rights's guarantee of religious freedom.
Canada Senate Approves Gay Marriage Bill
By ROB GILLIES, Associated Press Writer
Tuesday, July 19, 2005
(07-19) 22:12 PDT TORONTO, Canada (AP) --
Canada's Senate late Tuesday voted to adopt landmark legislation to legalize gay marriage nationwide despite fierce opposition from Conservatives and religious leaders. The bill could be signed into law as early as Wednesday.
The bill grants same-sex couples legal rights equal to those in traditional unions between a man and a woman, something already legal in a majority of Canadian provinces.
The legislation drafted by Prime Minister Paul Martin's minority Liberal Party government easily passed the Senate, which essentially rubber stamps any bill already passed by the House of Commons, which passed it late last month.
The bill becomes law when it is signed by Canada's Governor-General. Once that happens, Canada will become only the fourth country in the world to legalize gay marriage nationwide, after the Netherlands, Belgium and Spain.
The 47-21 Senate vote came after years of court battles and debate that divided families, religious groups and even political allies.
Martin, a Roman Catholic, has said that despite anyone's personal beliefs, all Canadians should be granted the same rights to marriage.
Churches have expressed concern that their clergy would be compelled to perform same sex ceremonies. The legislation, however, states that the bill only covers civil unions, not religious ones, and no clergy would be forced to perform same-sex ceremonies unless they choose to do so.
The Roman Catholic Church, the predominant Christian denomination in Canada, has vigorously opposed the legislation, saying that it would harm children in particular.
In the United States, Massachusetts is the only state that allows gay marriages; Vermont and Connecticut have approved same-sex civil unions.
Though hundreds of foreigners have come to Canada to seek civil ceremonies since gay marriages were first allowed in Ontario and British Columbia in 2003, not all countries or states recognize the unions.
The U.S. government does not recognize same-sex marriage, and most states refuse to acknowledge marriage certificates from gay and lesbian couples, regardless of where they wed.
___
On the Net:
Canadians for Equal marriage
Defend Marriage Canada