US abortion wars rage after Bush names Supreme Court pick
Wed Jul 20,11:56 AM ET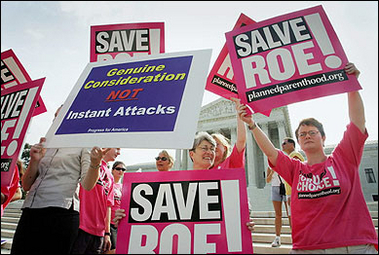 Progress for America activists, supporters of Supreme Court nominee John G. Roberts Jr., and Planned Parenthood activists, who are urging caution on the nominee, express their views in front of the Supreme Court in Washington, DC(AFP/Getty Images)
WASHINGTON (AFP) - The life-and-death issue of abortion tightened its angry grip on US politics, as a multimillion-dollar feud erupted over President George W. Bush's first Supreme Court pick.
"We will be on the streets ..., at the gates of hell, where innocent blood is being shed," protest group Operation Save America said as it mobilized to picket an abortion clinic and the offices of a pro-abortion group.
Several miles left on the political spectrum, The American Civil Liberties Union warned "the stakes could not be higher," arguing that Supreme Court safeguards for abortions were now at risk.
Abortion warfare broke out Tuesday night, seconds after Bush named conservative Judge John Roberts as his choice for the top US court, to replace Justice Sandra Day O'Connor, who announced her retirement on July 1.
Campaign groups from both sides had waited years for the moment, piling up war chests worth millions of dollars and preparing a blitz of highly partisan television advertising.
Conservatives swiftly backed Roberts as he girded for his confirmation fight in the Senate, nodding approvingly at remarks in which the nominee advocated the overturn of the key 1973 Roe v. Wade ruling, legalizing abortion.
"After 45 million dead children, we are guardedly optimistic that the confirmation of Judge Roberts will be a step toward restoring protections for the pre-born that were stolen from them in 1973," said Cheryl Sullenger, spokeswoman for Operation Rescue.
Anti-abortion activists, known as "pro life" groups, are found on conservative, often staunchly religious ground, where Bush anchored his political power base.
For many activists, the anti-abortion campaign is a religious crusade: One group, "Missionaries to the Preborn," says the practice amounts to the slaughter of helpless babies, murder and a "crime against humanity."
Abortion evokes a far more visceral reaction in American politics than in other developed nations -- even those where it has been an issue, like Ireland and Germany.
Groups which support a woman's right to have an abortion, referred to as "pro choice," have already found their holy grail in Roe, and fear an increasingly conservative court could snatch it away.
Before O'Connor's departure, the court was split 6-3 on Roe, and Roberts and a future Bush nominee could wipe out the majority in favor of the judgment.
Roberts's nomination is especially contentious, as several high-profile cases on abortion are looming in the court's next term, which begins in October, in which the margin was already thought to be as low as 5-4.
Pro-choice groups were alarmed at the choice of Roberts, as he is on record as opposing Roe v. Wade.
In 1990, as a Justice Department official under the first President George Bush, the current president's father, Roberts argued in a Supreme Court brief "that Roe was wrongly decided and should be overruled."
But some analysts have pointed out that Roberts was arguing the administration's position and has yet to spell out his personal convictions.
That has not reassured pro-choice groups.
"President Bush has consciously chosen the path of confrontation, and he should know that we, and the 65 percent of Americans who support Roe, are ready for the battle ahead," said Nancy Keenan, president of NARAL Pro-Choice America.
Karen Pearl, interim president of Planned Parenthood Federation for America, warned: "The nomination of John G. Roberts raises serious questions and grave concerns for women's health and safety.
"It is particularly troubling that Roberts went on the record calling for Roe v. Wade to be overturned when he served as a lawyer for the government."
Roe v. Wade is one of the the most significant Supreme Court rulings ever. Justices decided in the case that laws against abortion violated constitutional rights to privacy.