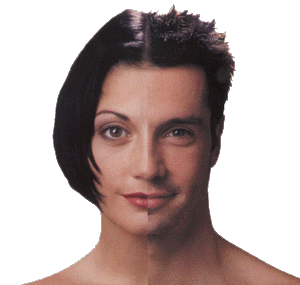 Man avoids criminal penalty with the help of sex change operation
07/25/2005 17:21
Such "perversions" will perhaps seem hilarious to legal experts, when the era of human cloning comes
Bulgarian citizen, Sredko Ichkov, a picker, invented the most original method to avoid criminal penalty. The criminal case was eventually closed at the end of the trial, whereas the perpetrator was declared as "missing." Ichkov had a sex change operation before the process: the man became a woman and obtained a new name, Albena Mikhailova. The judge ruled that a woman had nothing to do with the man's crimes. The trial proved that the contemporary legal base has to adjust itself to achievements of science and medicine.
Modern science will apparently make legal experts revise quite a number of laws and instructions. Genetics is capable of shaking fundamental principles of the society, when human body becomes a platform for various scientific experiments. Transsexual individuals do not fit in any legal instruction nowadays.
Sredko Ichkov, a common thief, was arrested in 2004. The Bulgarian man was caught red-handed: he was supposed to be jailed for three years. Sredko was released on bail for the period of 12 months: the man decided to use the time to drastically renovate himself. When he appeared in court again, the judge was shocked to see the defendant: the thief turned into a dark-haired woman.
The brunet told the judge that she used to be that "rude and uncouth dork," with whom she had nothing left in common. The "female" defendant was emotionally trying to prove to the judge that she had been trying to break loose from Sredko's body throughout her entire life and bid farewell to her criminal past. The woman claimed that it was Sredko Ichkov's criminal nature, which made her commit the crimes. She added that the sex change operation had helped her find peace with her true personality. "There is a person, whom I love and whom I am going to marry," the "renewed" defendant concluded.
The judge was apparently moved with the story of the reborn man. He did not venture to convict the woman, who physically and legally became an absolutely different person. The judge ruled that Albena Mikhailova could not be responsible for the crimes committed by Sredko Ichkov. The latter was declared "missing," and his criminal file was closed. Albena was released.
Other more dangerous criminals may decide to follow Sredko Ichkov's example. Australian serial killer Paul Charles Denyer, who was sentenced to life in prison, has been trying to obtain an official permission from authorities for sex reassignment surgery. The maniac submitted an inquiry on the matter after the prison administration prohibited him from using makeup.
The incident in Bulgaria has already made legal experts think about a way to benefit from possibilities of transsexual individuals. There would probably be some people, who would be happy to acquire a new body, hide from their creditors and avoid paying huge debts, for instance.
Transsexuals, however, continue bringing surprises to lawyers, demanding the development of special legal norms. British authorities, for example, refused to register marriages between two transsexual men: the British law pays attention to the original sex of a person only. The European Court upheld plaintiffs in 2002, who claimed that such laws violated their rights for a family.
There are some transsexuals, who do not want to be ascribed to either male or female sex. There was an incident in the Russian legal practice, when a resident of the Leningrad region, Vel Kundysh refused to receive the Russian passport. The person claimed he could not accept the ID on account of the gender column: the person referred to himself as a human being of medium sex. Vel Kundysh was born as a woman, Valeria Konysheva. She underwent psychiatric expertise in 1996 and was officially allowed to change her name. The human being strongly objected to the sex-based categorization in the passport: Vel Kundysh intends to file a complaint at the Strasbourg Court.
It is noteworthy that these "perversions" will perhaps seem hilarious to legal experts, when the era of human cloning comes. Will a clone be responsible for his/her prototype's crimes?
Russian lawyer, Pavel Astakhov, says that a sex change operation will not relieve a person of criminal responsibility according to the norms of the Russian Constitution. However, a person can avoid criminal punishment for a petty crime, if it is legally proved that a person stopped being socially dangerous as a result of certain changes.
Doctor of psychological sciences, Alexander Asmolov, says that a change of the sexual identity results in a sudden change of a person's consciousness. "They are people, who fundamentally change their purposes and aims trying to get rid of what they used to be before," the specialist said.
Read the original in Russian: (Translated by:
Dmitry Sudakov
)
Pravda.Ru
Related links:
Strana