World > Asia Pacific
from the July 28, 2005 edition
After 26 centuries, is Japan finally fit for a queen?
By Bennett Richardson | Correspondent of The Christian Science Monitor
TOKYO – Japan's monarchy is so woven into the island nation's traditions that it survived defeat in World War II and invasion by the Mongols, and predates the introduction of rice. Now, a 3-year-old girl may be about to bring 2,600 years of male-dominated tradition crashing down.
After months of deliberation and official hearings, an advisory panel to Prime Minister Junichiro Koizumi recommended Tuesday that women be allowed to ascend Japan's imperial throne.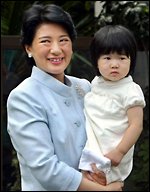 HEIR? Princess Aiko is carried by her mother, Masako.
ERIKO SUGITA/REUTERS/FILE
The move was precipitated by a dearth of male heirs in the royal family and reflects changing perceptions of women in Japanese society. Gender roles changed abruptly after the war when women got the vote and a constitutional guarantee of equality. Attitudes have shifted to such a degree over the past couple of decades that many Japanese women are now spurning marriage and other traditional roles altogether.
Debate surrounding the possibility of a female monarch has grown since 2001, when the birth of Princess Aiko spotlighted the fact that the Chrysanthemum Throne was fast running out of male heirs. Aiko is the only child of the current heir Prince Naruhito and the Harvard-educated Princess Masako.
Naruhito's younger brother Prince Fumihito is second in line for the throne, but beyond him there are only a few elderly uncles and doddering male cousins in the wings. No boy has been born into the family since 1965. Aiko and any of her future offspring are barred under law from becoming monarch because she is a girl. Royal watchers have thus grown anxious that the dynasty could die out unless women are allowed to take the throne.
"People need to wake up to the fact that if the present system continues as it is, there is a real danger of the line ending altogether," says Koichi Yokota, a constitutional law professor at Ryutsu Keizai University near Tokyo.
But a 26-century habit is hard to break - especially in Japan. The panel that will decide the future of the family and the fate of young Aiko is made up of both progressives and conservatives. The progressive camp says the situation leaves no choice but to allow an empress to ensure a stable succession. Furthermore, they argue, Japan has had eight female rulers in the past.
But purists say that these women were simply caretakers and were always succeeded by heirs in the male line of descent, not their own children. "They were extremely unusual cases," says Yasuo Ohara, an expert on religious culture at Kokugakuin University, the school charged with educating the royal family.
The problem will arise, conservatives say, not if Aiko takes the throne, but if her child (presumably fathered by a commoner) becomes ruler. This would transfer succession from the male line to the female line for the first time.
"The tradition of the male line taking priority is a very important historical precedent," Mr. Ohara says. "We have a major responsibility not only to our ancestors, but also to future generations to preserve that."
Although the Japanese Emperor's role as head of state is mainly ceremonial, many still hold the imperial family in awe as an entity that unites the country and makes it uniquely Japanese.
Rather than allowing an empress, the conservatives want to expand the royal family back to its pre-war size. When the current Imperial House Law was enacted in 1947 under US occupation, it not only barred women from the throne but also reduced the royal clan from 14 families to three. By allowing some families to become royalty again, traditionalists hope to ensure a new crop of eligible males.
Such a plan might be accepted over allowing a female ruler. Although the decision-making process has been set in motion, all options remain on the table until a final report that may come as late as November. Details remain to be worked out such as the exact rules of succession, including whether younger males should take precedence over older sisters.
The knight in shining armor that may save Aiko from relegation behind an obscure male cousin is the Japanese people themselves. The panel has said it will base its final decision on three factors: the likely stability of the system, tradition, and public opinion. And public opinion is overwhelmingly in favor of allowing a woman to rule.
Polls generally show such support topping 80 percent. In one survey taken by Nippon Television Network, 92 percent said they thought having a woman on the throne would be desirable while only 5 percent were opposed. Ohara says these numbers are simply due to the fact that Aiko turned out to be a girl, as well as the existence of female monarchs overseas and in Japan's past. "I think the support levels will probably change,"he says.
But even before Aiko was born, support for changing the system to allow for a female ruler was around 70 percent. If the system has to undergo unusual modifications in order to ensure a male ruler, people will simply question what is so essential about having a man on the throne, says Yokota. "It would be very difficult now to build public support for any system other than allowing a female monarch."
Related Stories
Opinion: Time for princess power in Japan
Japan may allow women rulers