Mixed reports on Iran teen hangings
Watchdog groups dispute claims two were executed for being gay
By ELIZABETH WEILL-GREENBERG | Jul 28, 1:49 AM - Blade
A photo of two teenaged males being hanged in Iran last week swept across the Internet with claims they were executed for being gay.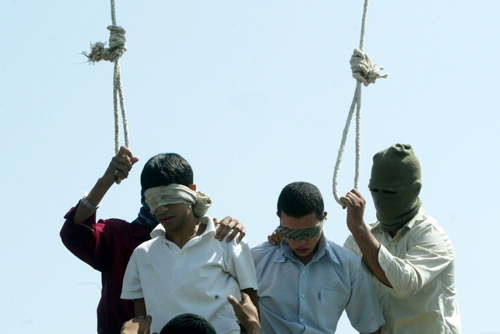 Two Iranian teenagers, Mahmoud Asgari and Ayaz Marhoni, were hanged last week in Iran, sparking an international outcry, but international human rights groups believe the two were not executed simply for being gay. (Photo by AP)
The Human Rights Campaign, a Washington, D.C.-based gay rights group, released a letter this week to Secretary of State Condoleezza Rice repeating the allegations and urging her to intervene. The U.K.-based gay rights group Outrage, as well as Belgian Foreign Minister Karel de Gucht, condemned the hangings.
But the circumstances that triggered the executions are now being questioned by several human rights groups, which claim the teenagers, Mahmoud Asgari and Ayaz Marhoni, may not have been killed for being gay.
Research conducted by the International Gay & Lesbian Human Rights Commission, Human Rights Watch and Amnesty International has found, so far, that the teenagers were convicted of and executed for sexually assaulting a 13-year-old male, a crime that occurred when the two teens may have been minors.
Asgari's lawyer, Rohollah Razaz Zadeh, told the Associated Press that Iranian courts are supposed to commute death sentences handed to children to five years in jail.
"The judiciary has trampled its own laws," Razaz Zadeh told AP.
But the lawyer said Iran's Supreme Court upheld the verdict and allowed the execution despite his objections.
It appears that reports claiming the boys were executed for being gay originated with the National Council of Resistance of Iran, an opposition group that is classified as a terrorist organization by the U.S. State Department. Accounts of the executions on gay news Web sites referenced reports by the group and its English language news site, www.iranfocus.com.
IGHRC, Amnesty and Human Rights Watch have not yet uncovered evidence that the charges were trumped up, officials with those groups said. Asgari and Marhoni also reportedly received 228 lashings while in detention for drinking and theft.
The human rights groups note that Iran's execution and torture of the teenagers remains appalling, no matter the circumstances.
"It was not a gay case," said Paula Ettelbrick, executive director of the International Gay & Lesbian Human Rights Commission, taking issue with the Human Rights Campaign's statement that was quick to condemn the execution as anti-gay.
"We would welcome HRC's involvement in demanding that our government speak out on human rights violations. It was just the wrong case," she said.
Ettelbrick said she was also disturbed by the racially charged language used by some gay rights groups to condemn the execution, such as when Peter Tatchell of Outrage said in a statement, "This is just the latest barbarity by the Islamo-fascists in Iran."
HRC received their information on the executions in Iran primarily from news reports Thursday and Friday, according to Steven Fisher, the group's communications director. An investigation to determine the truth is still needed, he said.
"We don't give one of the most secretive, aggressive nations the benefit of the doubt," Fisher said. "We would be relieved if reports are erroneous that these young Iranian men were punished for something that should never be a crime in any nation."
Congressman Tom Lantos (D-Calif.), the ranking member of the House International Relations Committee, blasted the executions as violations of Iran's obligations under international law and signs of bias against gays.
"This sickening episode shines a bright light on the severe shortcomings of the Iranian legal system," Lantos said in a statement. "No matter what legal sources or traditions a country bases its law upon, there is no justification for whipping and executing people amid an angry mob — particularly not when the convicts committed offenses while they were minors, who are specifically protected under international law.
"And in this case, authorities apparently chose to play on deep-seated feelings of bigotry toward homosexuality, which can carry the death penalty in Iran," he added.
Noel Clay, a State Department spokesperson, said Wednesday afternoon that there were no plans to release an official statement about the executions.
But Michael Petrelis, a San Francisco-based gay activist who has focused his blog on the case of the Iranian executions, said he was read the following statement on Wednesday by State Department spokesperson Edgar Vasquez:
"We remain concerned about Iran's judicial process. Defendants are not receiving due process of law, and trials lack procedural safeguards.
"As noted in our country reports on human rights practices, the judge and the prosecutor are the same person, trials are frequently held in closed sessions without access to a lawyer and the right of appeal is not often honored.
"We call upon the government of Iran to vigorously pursue prison reform, cooperate with international investigations of human rights cases and respect international human rights law and practice," the statement concluded.
Nobel Peace laureate Shirin Ebadi, an Iranian human rights advocate, said on July 23 that as a result of the executions, her Center for the Protection of Human Rights will intensify its fight against the use of the death penalty in Iran on minors.
"My calls for a law clearly banning execution of under-18s has fallen on deaf ears so far but I will not give up the fight," Ebadi told the Associated Press.
Scott Long, director of Human Rights Watch's Gay, Lesbian, Bisexual & Transgender Project, said the public hangings were a "horrific human rights violation," whatever the alleged crimes. One of the boys was a minor when the alleged crime was committed. The International Convention on the Rights of the Child, of which Iran is a signatory, forbids the execution of juveniles.
There is also uncertainty about the exact ages of Asgari and Marhoni, according to Long. Marhoni may have been 19, which means he was not a juvenile when the alleged crime was committed about 14 months ago, he said. Some news outlets reported that Asgari and Marhoni were 16 and 18 respectively when they were executed.
"We hope that the gay community won't simply turn away from it if it may not be a 'gay rights' case," Long said.
According to Human Rights Watch, local Iranian news reports tell a detailed story of the alleged crime, including interviews with the victim's father and a description of how the 13-year-old's bike was stolen before he was abducted and sexually assaulted at knifepoint.
While there are serious doubts about whether consensual gay sex was the crime at issue in Iran, the story has sparked debate about gay rights in that country and elsewhere.
In Iran, homosexual intercourse between two men is punishable by death and homosexual acts that do not involve intercourse are punishable by 100 lashes, according to Hadi Ghaemi, Human Rights Watch's Iran researcher.
Several countries in Africa, the Asia Pacific, the Americas and the Middle East outlaw homosexuality, including U.S. allies like Saudi Arabia and Uzbekistan, according to the International Lesbian & Gay Association Web site.
In about 70 nations, homosexuality is criminalized and in 12 countries, it is punishable by death, said Ariel Herrera, acting director of Amnesty International's OUTfront! program. In Saudi Arabia, some gays who are convicted of homosexuality are flogged with 2,000 lashings, he said. Five years ago, two men were beheaded in a Saudi public square for engaging in gay sex.
Some countries that criminalize homosexuality charge the person with rape or molestation. That is often the case in Iran, according to "Dan," an Iranian gay man who was granted asylum in the United States. Dan spoke to the Blade on condition that his full name not be disclosed.
Dan, now 30 and living in the Washington, D.C., area, said he witnessed two public hangings of gay men in Iran. He speculates that Asgari and Marhoni were hanged for consensual sex but the government said otherwise to squash public outrage.
"The Shariah [Muslim] law says the person needs to admit to an act of homosexuality," he said. "Even if you don't admit, they torture you to make you confess."
When Dan came out, Iran's volunteer military that enforces Islamic law came to arrest him, he said. He ran away, and eventually escaped to the United States.
Iran "hunting more gay teens" - Gay.com UK