An Employee, Hired as a Man, Becomes a Woman. Now What?
By KELLY PATE DWYER
Published: July 31, 2005 - New York Times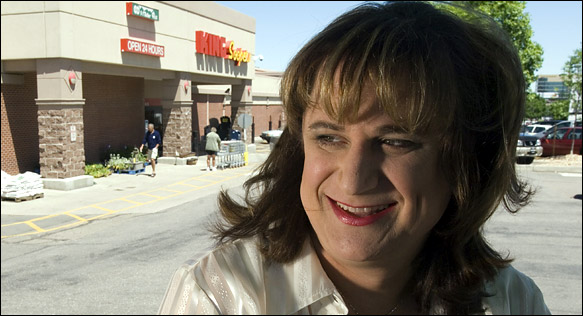 Kevin Moloney for The New York Times
Kim Dower's employer let her wear women's clothes after her doctor wrote a letter.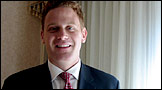 Acing the Interview
Nick Warnock, a contestant on the television show "The Apprentice," talks about the interview process.
On a recent Wednesday, Kim Dower, a Denver pharmacist, arrived at her job of 10 years wearing a cream chiffon blouse, long crepe skirt and black flats.
It was an ordinary day, except that the day before she'd come to work dressed as a man.
Ms. Dower, 51, is a biological male in transition to becoming female.
In the spring of 2004, she told her bosses she wanted to start dressing as a woman, and they said no. She filed discrimination charges against the company, King Soopers, a subsidiary of the Kroger Company, based in Cincinnati. Lawyers were called in and mediation talks were held.
In 2005, Ms. Dower testified before the Colorado State Legislature in support of a proposal that would have banned discrimination based on sexual orientation or sexual identity. The measure passed; the governor vetoed it.
But Ms. Dower, in women's clothes, still has her job.
Although Kroger, like most employers, does not mention transgender people in its antidiscrimination policies, a number of large employers have recently added protections for them.
More legal protections are being added, too. Twenty-eight percent of the population is now covered by laws in cities, states or other jurisdictions that prohibit discrimination against transgender people, up from about 5 percent at the end of 2001, according to the National Center for Transgender Equality in Washington. And lawmakers are debating the issue at the national level. This growing national dialogue is focusing attention on a delicate and often confusing human resource issue.
"It's created some vexing problems for the employer, of respecting the rights of the employee in question and dealing with the employee morale, fears, tensions of co-workers," said Gerald L. Maatman Jr., a Chicago lawyer who has represented employers in five cases involving transsexual employees.
"Transgender" is the broad term covering people who express themselves in the opposite sex, including cross-dressers and transsexuals.
Transsexuals live as the opposite sex, and may opt for hormone therapy and surgery. Doctors generally require transsexuals to dress as their desired sex for a year - at home, at work, everywhere - before surgery.
Even though many employers may never need to deal with the issue of a transgender employee, specialists suggest preparing for the possibility. Mr. Maatman advises clients to make sure their policies at least match the laws in places where they operate.
What restroom will the employee use? Will co-workers and customers feel uncomfortable when John becomes Jane?
The workplace is typically the last place a transsexual "comes out." That's the way it was for Ms. Dower.
As a boy, then a man, she hated herself for feeling female, she said. Only a few years ago, after psychological counseling failed to conquer that feeling, did she consider a sex change - shocking her wife and their adult children.
When Ms. Dower first asked to wear female attire, the company requested access to her medical records. She shared some, and her doctor later wrote the company a letter attesting to her plans for surgery.
Gary Rhodes, a Kroger spokesman, said that after King Soopers received letters from her doctors in May, it granted Ms. Dower's request to dress as a woman at work. Managers asked her to use one of two single-toilet restrooms and told her to report to them if anyone treated her badly, Ms. Dower said.
Customers and co-workers have mostly shown support, but Ms. Dower said she resented that the company initially questioned her choice and commitment. "Who else has to prove who they are?" Ms. Dower asked.
Twice as many Fortune 500 companies had sexual identity in their nondiscrimination policies at the end of 2004 as did a year earlier, according to the Human Rights Campaign, an advocacy group in Washington.
ChevronTexaco, Ernst & Young, Merrill Lynch, Microsoft, Toys "R" Us and Viacom have added sexual identity to their policies this year.
Corporate America may in part be responding to a Sixth Circuit Court of Appeals ruling in 2004 that found that a transsexual firefighter in Salem, Ohio, was a victim of sex discrimination.
But big business has other reasons for making changes. Employees "put a name and face and a story" to a policy issue, said Joe Solmonese, president of the Society of Human Resource Management. .
At Ernst & Young, a gay and transgender employees' group approached the human resources department. "They said 'this is the next frontier' " for discrimination protections, said Maryella Gockel, the company's flexibility strategy leader.
At the Intel Corporation, the company not only has policies that protect transgender workers from discrimination, it has specific guidelines for supporting them, said Pferron L. Doss, a human resources official with Intel in Hillsboro, Ore., who has handled seven cases of sex transition at work.
When approached by transgender employees, he asks what support they need; co-workers are then informed and educated about working with them through the transition.
"I think there's initially a fear of the unknown," Mr. Doss said. "An employee may accidentally say 'he' instead of 'she.' That's part of the educational piece, and you catch yourself and you apologize."
Transgender employees use the restroom of their target sex after a name change and change in dress. A switch in showering facilities follows surgery.
A few co-workers have filed complaints based on their religious beliefs, Mr. Doss said, but no serious problems have resulted.
In addition to 6 states, 74 local jurisdictions, including New York City and the District of Columbia, protect sexual identity and expression. Advocates are pushing for a federal law.
Last year, the Human Rights Campaign in Washington said it would support a federal law that bans discrimination based on sexual orientation only if it also bans discrimination based on sexual identity and expression.
"It's become clear we can only win equality if we fight together," said a spokesman for the group, Jay Smith Brown, a female-to-male transsexual.
Even as advocacy groups push for policy changes, they note that culture is playing a part in changing public attitudes.
Jeffrey Eugenides's Pulitzer Prize-winning novel "Middlesex" and the Tony award-winning "I Am My Own Wife," based on the life of the German transsexual Charlotte von Mahlsdorf - have helped dispel perceptions of transgender people as "freaks on Jerry Springer," as Mr. Brown puts it.