Gay pride hits its stride
A sea of smiles, plenty of politicians at parade
By Ronald W. Powell
UNION-TRIBUNE STAFF WRITER
July 31, 2005
Lynn Gee watched the men in cheerleader skirts prance down University Avenue yesterday during the 31st annual gay pride parade, and her thoughts drifted across the country to her brother Jack.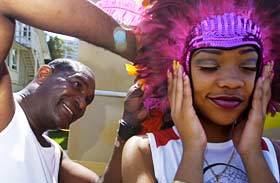 DAVID BROOKS / Union-Tribune
Kiana Jenkins held her headdress as Edward Evans secured it before the start of San Diego's 31st annual gay pride parade yesterday in Hillcrest. An estimated 144,000 people lined the route to cheer on nearly 180 entrants.
Gee said her brother, a 73-year-old Miami resident, spent more than half of his life hiding his homosexuality from his parents and colleagues. The parade, Gee said, is proof that society is evolving, that gays and lesbians can openly celebrate who they are.
"I saw him suffer as a consequence of being in the closet," said Gee, 60, a San Diego physical therapist. "I like to come to the parade because I can see how much fun everybody is having now."
Yesterday's parade, a popular feature of the annual three-day San Diego Lesbian, Gay, Bisexual, Transgender Pride Festival, was a long procession of smiles, mixed with a smattering of politics.
Signs and several floats mirrored the continuing frustration over denial of same-sex marriage, restrictions on military service, adoption and other civil rights issues. Some signs read: "We All Deserve to Marry," "God Loves Us All Just As We Are," and "Homophobia is Curable."
The dissatisfaction is captured in the theme for this year's event: "Equal Rights! No More, No Less."
At the same time, there were ample signs of the community's political clout.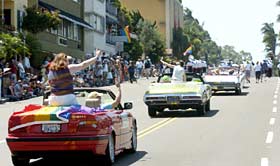 DAVID BROOKS / Union-Tribune
San Diego Deputy Mayor Toni Atkins (in rear convertible) acknowledged supporters along the route, which went east on University Avenue to Sixth Avenue, then south to Balboa Park. Several city leaders participated.
Openly gay politicians, including San Diego Deputy Mayor Toni Atkins, Democratic State Sen. Christine Kehoe and San Diego county District Attorney Bonnie Dumanis, waved to the crowd from convertibles.
City Attorney Michael Aguirre walked, shaking hands with spectators along the way. Democratic Congresswoman Susan Davis, Chula Vista Mayor Steve Padilla, county Supervisor Ron Roberts and Alice Huffman, president of the California State Conference of the National Association for the Advancement of Colored People, waved to the sun-splashed crowd as they rode the single-mile route.
San Diego mayoral candidate Jerry Sanders, the city's former police chief, rode in a convertible displaying campaign signs. His opponent in the Nov. 8 runoff, Councilwoman Donna Frye, had a campaign float in the parade, but said she could not attend because she was preparing for next week's council meetings.
San Diego resident Irene Herrig, 47, who has attended 12 gay pride parades, said politicians don't get it. They won't support same-sex marriage and, at the national level, the lines are blurring between church and state, she said.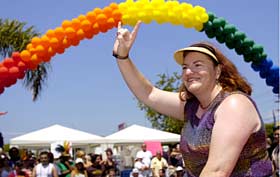 DAVID BROOKS / Union-Tribune
Deputy Mayor Toni Atkins (left) relished the applause from her convertible. Other participants ranged from drag queens to scantily-clad dancers, to religious groups. The parade is a mainstay in the three-day San Diego Lesbian, Gay, Bisexual, Transgender Pride Festival.
"Change is not coming fast enough for us – it's one step forward, two steps back," said Herrig, who usually rides with the ear-popping Dykes on Bikes motorcycle segment of the parade. "If I could talk to the politicians, I'd say, 'Open your eyes and open your hearts.' "
Mark Henry, 38, said he has been going to the parade for 15 years. The San Diego actor said there needs to be a greater appreciation of diversity within the city.
"We've got a long way to go on this – big time," Henry said. "We've only made a small dent in the rock."
About 180 parade entrants traveled west along Hillcrest's University Avenue from Normal Street to Sixth Avenue, then south to Upas Street. Participants ranged from drag queens, to scantily-clad dancers, to religious groups, to plumbers.
San Diego city school trustees Katherine Nakamura and Shelia Jackson marched with educators who are members of the Gay, Lesbian and Straight Education Network. The group holds workshops for kindergarten through 12th grade teachers so they can assist students who are grappling with being gay or lesbian and create a safe learning environment.
San Diego police Sgt. Mark Dallezotte estimated the crowd at 144,000, slightly more than last year, and there were no reported problems.
There were a small number of protesters, but they did not cause disruptions, said Frank Sabatini Jr., spokesman for the event.
Last week, under criticism from conservative Christian activist James Hartline, two volunteers and a staff member for the gay pride festival resigned because they are registered sex offenders. Police and community groups had threatened to boycott the event unless the three stepped down.
In the wake of the furor, the board adopted a new screening procedure for volunteers and workers. The festival included a Friday night rally at Balboa Park's Marston Point, where festivities including exhibits, food, dancing and other attractions conclude today.
Ronald W. Powell: (619) 718-5070;
ron.powell@uniontrib.com