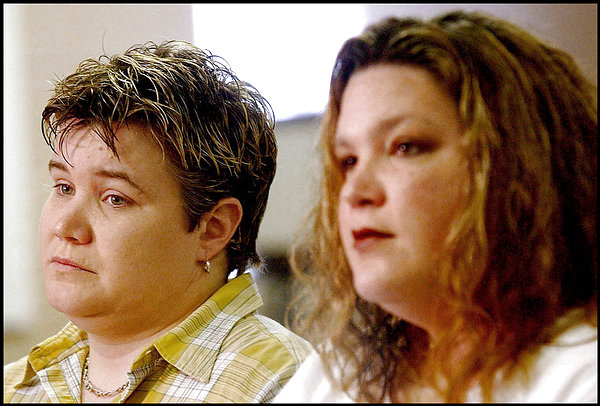 Kathy Reynolds, right, and Dawn McKinley exchanged vows after receiving a marriage application from the Cherokee Nation. Its tribal council now wants the court to nullify the marriage.

Photo Credit: By John Clanton -- Tulsa World Photo
washingtonpost.com
Battle Over Gay Marriage Plays Out in Indian Country
By Lois Romano
Washington Post Staff Writer
Monday, August 1, 2005; A02
TULSA -- Truth be told, Kathy Reynolds and Dawn McKinley were content living in quiet suburban anonymity, raising a child, accepted by neighbors who did not know their sexual orientation, and hoping to grow old together.
A complex legal battle with cultural overtones was not on their agenda. But their dreams bumped against legal reality when Dawn was barred from Kathy's hospital room because she was not family. It was not long after that the lesbian couple brought the national battle over same-sex marriage to the heart of Indian country as they moved to become the first gay couple to marry under Cherokee law.
More than a year after Massachusetts became the first state to recognize same-sex marriages, the emotional issue is playing out in the Cherokee courts in Oklahoma, confronting historic issues of cultural traditions and Indian sovereignty. A hearing Tuesday will likely determine whether Reynolds and McKinley are married under Cherokee law -- and are therefore legally recognized as a married couple in this conservative state.
Tribal sovereignty statutes mandate that Native American marriages be recognized by states, and a couple -- any couple -- could conceivably circumvent state laws to establish a legal union not approved by the state.
The Navajos have also broached the issue; the tribe's council voted to ban same-sex marriage and then voted again to override tribal President Joe Shirley Jr.'s veto of the ban. Shirley had called the issue "a waste of time."
Reynolds, 28, and McKinley, 33, insist that when they first requested and received a marriage application from the Cherokee Nation last year, their intention was not to make history.
"We were told that the Cherokee law didn't exclude same-sex marriages," Reynolds said in an interview. "We just wanted recognition for our relationship."
Added McKinley: "We were very naive. We thought we'd get married under Cherokee law and that would be the end of it. We never thought it would turn into this."
At the urging of a local Cherokee nationalist and gay rights activist, the couple sought and received a marriage application from the tribe last year without incident. They promptly held a wedding ceremony performed by a licensed minister certified by the Cherokee Nation on Cherokee land at a Tulsa park. Family, friends and media attended. The couple planned to have the traditional Cherokee ceremonial wedding after their marriage application was certified.
But when Reynolds and McKinley tried to file their application with the tribe a year ago to make it official, they found that a tribal judge had issued an injunction prohibiting them from becoming the first same-sex couple married under Cherokee law.
Shortly after, Todd Hembree, the lawyer for the Cherokee Tribal Council, asked the tribal court to nullify the marriage, arguing that it was not covered under Cherokee law. The Cherokee Tribal Council then unanimously passed a measure limiting marriage to a union between a man and woman to clarify what it said was ambiguous language in the law.
"I took action because I feel strongly that our laws have to stand for something," said Hembree, who said he was acting on his own and not on behalf of the tribe. "The Cherokee statue is not gender-neutral. It is meant to be between man and a woman. In my view, they are trying to circumvent Oklahoma law."
As many states have, Oklahoma banned same-sex marriage last year. A referendum stating that marriage is between a man and woman and outlawing same-sex unions passed, garnering 75 percent of the vote.
Hembree said that in the 14 Oklahoma counties where Cherokees live, voters overwhelmingly supported the amendment to ban same-sex marriage.
"This is rural Oklahoma," one tribal official said, "and our citizens' views reflect the rest of the state. Cherokees are opposed to this marriage taking place."
For months, Reynolds and McKinley could not even find a local lawyer to take their case. Those they approached were either opposed to the marriage or did not want to alienate the tribe that doles out lucrative contracts to law firms. "There were about 35 lawyers on the list of those permitted to argue in tribal court, and one day I went down the whole list and couldn't find anyone willing to take the case," McKinley said. "One guy laughed and hung up on me."
The San Francisco-based National Center for Lesbian Rights agreed to represent them. Because the Cherokee council has passed the law limiting marriage to a man and woman, Reynolds and McKinley's case is being argued solely for them. "Whatever happens will set no precedent -- it will affect only this one case," said Mike Miller, spokesman for the Cherokee Nation.
Still, advocates maintain that if the couple prevails, the resolution will help other gay couples who walk the same path. Meanwhile, the very public battle has taken its toll on the women, who say they are just trying to live their lives peacefully and raise McKinley's daughter.
"One neighbor just stopped talking to us when this became public," Reynolds said.
"I mean, really, who are we hurting here?" McKinley asked. "We don't bother anyone, we mind our own business . . . stick to ourselves. How would our marriage hurt anyone?"
© 2005 The Washington Post Company