Last Updated: Saturday, 6 August 2005, 17:35 GMT 18:35 UK
Gay Pride protesters claim abuse - BBC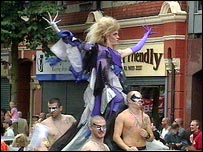 Some of the participants in the Belfast Gay Pride march
Protesters against a gay rights parade in Belfast say they will be seeking sanctions against it next year because of the behaviour of some marchers.
The Stop the Parades Coalition, which failed to get the Parades Commission to ban it, said some participants broke agreed guidelines by shouting abuse.
The organisers of the Gay Pride march said it was the most successful yet, with over 4,500 people taking part.
Police said there were no reports of any trouble during the parade.
Stop the Parades Coalition spokesman James Dowson said they were called "bigots and religious fundamentalist murderers" by some marchers.
"We will be going down the avenue next year of hopefully getting sanctions applied to the parade to make sure they fall into the confines," he said.
"We are doing what we said we would do - unfortunately they have broken their word and behaved in a very inappropriate way again."
Parade steward Andrew David Clarke said he felt the 15th annual Gay Pride march had passed off peacefully.
"I do understand people have different concerns about it," he said.
"Thankfully today we have been able to have our peaceful, fun parade, the protests have gone extremely peacefully, and I would commend everybody on the ground."
Last Updated: Saturday, 6 August 2005, 22:37 GMT 23:37 UK
Northern Ireland's gays march on
By Patrick Jackson
BBC News, Belfast
If parades are what you are after, this is the place to be - marching is so much a part of life here, they have a season named after it.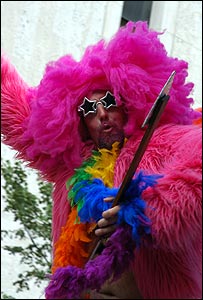 The serious intent of Pride 2005 did not dampen the carnival spirit
And if your cause happens to be not local politics but the right to be gay, does the culture not dictate banners, bands and your best foot forward?
Throw in coloured balloons and boas, disco floats and a posse of superheroes on mini motorcycles, and you have the 2005 Belfast Gay Pride, dancing its way around the city centre this Saturday.
Bar a homophobic joke or two, there was little sign of indignation - and much good humour - among the crowds lining Royal Avenue to see the carnival in its 15th year, among them many families.
Where outrage did surface was among the organised protesters, facing down the avenue from the City Hall with a show of placards like shields in this city famous for the strength of its religious feeling.
It must be hard to keep a straight face, no pun intended, when a glam guitar man on stilts in a giant pink Afro wig staggers by to the strains of Madonna's Like A Prayer, but the hugely outnumbered Stop The Parade (STP) activists stood their ground, bearing witness with dignity to their Christian faith in the teeth of what, for them, is a celebration of sin.
'Never again'
So strong has their feeling been that this year they tried to have the Pride march banned through Northern Ireland's Parades Commission - a body more used to causes coloured Orange and Green, not Pink.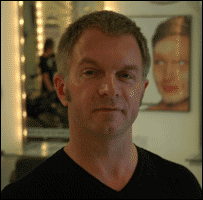 "If you don't want to see what is going on on Royal Avenue, stay away for an hour - it's only for an hour every year"
Paul Meekin
Belfast hair salon manager
Growing up gay in Belfast
Their bid was rejected but the application made a live issue of an established event, publicising "sensitivities" around the Pride that its organisers had barely noticed in past years.
"It had become more of a carnival, more of a party, but now it has almost turned on its head and become political again," Belfast Pride's Andi Clarke told the BBC News website.
"Because there is opposition, people are actually getting up and saying 'No, hang on, there is a case here, people are not going to be suppressed anymore, not here in Northern Ireland in 2005'.
While most parade-goers are gay men or women or transexual/transgendered, a large number are heterosexual, he adds, and he was hoping to top the 2004 turnout of 3,000.
One thing you hear repeatedly among the local gay community is that the Pride is one of the few genuinely cross-community events in Northern Ireland, transcending barriers between Protestants and Catholics.
But there is also a perception that the easing of the Troubles has led to a search for new scapegoats.
"The old sectarian tensions aren't an excuse anymore," said Andi Clarke. "I feel people are channelling their anger to the ethnic minorities, to sexual minorities instead."
Gays, as another Pride organiser put it, are "probably the most discriminated-against group in Northern Ireland".
Tattooed on the torsos of some of the 2005 paraders were the words "forbidden fruit", playing on a local term of abuse for homosexuals.
Protesters 'pigeon-holed'
Many believe the term "gay" was coined as a happy abbreviation for Good As You - something the BBC News website put to STP's Jonathan Larner.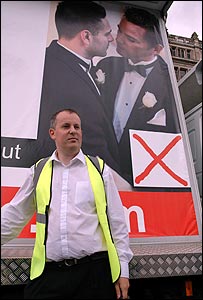 Stop The Parade was one of several groups on the protest
"I most definitely do not regard myself as any better than a homosexual on a moral level - Good As You is quite correct," he replied.
His group's aim, he said, was to make gay people aware of the Bible's teachings on homosexuality and their "need of repentance from sin and faith alone in Jesus Christ".
STP was, he said, "pigeon-holed as hateful and homophobic" but, in the view of Christians like himself, "the far greater hate would be shown by staying at home and doing nothing".
If preaching was one aim of the protesters - and they do believe they may have convinced at least two gay people at the 2004 Belfast Pride - then another was to uphold public decency.
"To us the sexual gesturing, nudity and innuendo are post-watershed [late evening TV] stuff and not acceptable," Jonathan Larner said.
Talking, not shouting
Some costumes at the 2005 Pride may have been a bit risque but probably no worse than at the cabaret in the old French comedy La Cage Aux Folles.
And certainly not a patch on the outfits I saw earlier this summer on a weekend in Cologne which coincided with its vast Pride events.
Yet at the German event, straight people on the streets did not appear to bat an eyelid as gay men and women thronged the Old City where every other cafe or pub displayed rainbow flags.
There was a feeling that these gay people were accepted as an organic part of the community, free to live differently but equally in modern Europe.
By contrast, furious protests accompanied Prides in Riga and Bucharest while Warsaw banned its event, although Polish gays marched anyway.
And a major test for gay rights is looming in May 2006, if Russia's gay community presses ahead with the first Moscow Pride - something the mayor has vowed to ban.
In the event, Belfast's parade passed off without incident but its organisers remain determined to maintain public awareness of their pride in their orientation and their rights
"Society is finally being trained that discrimination is unacceptable, that we live in a very diverse world and that people need to accept others," Andi Clarke said.
As the balloons drift out over the Irish Sea, this year's dispute in Belfast may be remembered for one positive aspect.
During the Parades Commission's mediation, the Pride committee sat down for talks with the Christian protesters - a first according to both sides. If they did not reach much agreement, at least the flags and placards were down.
Have you been on a Pride this summer and met a hostile reaction? Do you see tolerance of gay people as a key test of European values? Send us your comments and experiences using the form below.
(以下略)
Last Updated: Saturday, 6 August 2005, 22:33 GMT 23:33 UK
Growing up gay in Belfast
Paul Meekin runs a top hair salon in Belfast and has been openly gay since his teens. Here he talks to the BBC News website about life for gay people in Belfast, during the Troubles and since: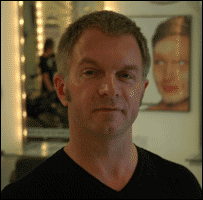 Paul's salon has a strict policy of non-discrimination
The gay scene in Belfast goes right back to the 1960s. There were always bars in Belfast where people knew they could meet other people and there were various other places.
The scene now is the best there's ever been. Belfast has never had it so good.
During the Troubles not many people would go into the city centre and the town was empty so we were more or less left to our own devices and it was a very interesting time.
The main hotels were very well known for quite a big gay component. There were a few of the bigger bars and clubs which were owned by gay people. So I found it very easy in those days.
At one stage during the Troubles, there was only one bar going because of the bombs but everybody, from both communities, was together. I mean there was a bit of friendly banter but it was never venomous.
Cold shoulder
It's a funny thing that when the Troubles started to abate places that courted the gay business actually started to reject the gay business. I suppose in a way it's a form of homophobia. A lot of people fought to get into these places but, like, if they don't want my money, I'll take my money elsewhere and vote with my feet.
So then gay people started getting their own acts together and opening their own places which I think is a very good thing.
I think people had been so busy and locked up in the Troubles that they didn't bother with gay people and there hadn't been as much queer-bashing.
And then all of a sudden people had a lot less to do with their time and they started going into town and so gay people became more visible in Belfast and that's when things started to happen. Even people I know have been attacked in town when they were walking home. But the police are very supportive.
I think that people here don't understand how other people are different and instead of embracing it they actually end up trying to evangelise and spread their views rather than enriching their lives with something a little different.
One hour a year
If you don't want to see what is going on on Royal Avenue [Gay Pride route through Belfast city centre], stay away for an hour - it's only for an hour every year.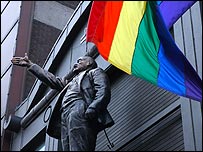 The Kremlin club sees itself as the heart of "Ireland's first gay village"
It's like everything else: if you don't like what's on your television switch it off. It's never offensive. There is nothing worse going to happen on Royal Avenue on Saturday than you're going to see on your TV or at any other Mardi Gras. Rio has a carnival every year. The people are partially naked. I don't think there will be anybody too naked in Belfast - for a start, the weather wouldn't hold up to it!
I know gay people who have careers in accountancy, who have careers in offices where the environment is very, very much conservative. I work in a creative environment so people don't really care what you are, who you are.
But it's a big deal to some people. If someone finds out that someone is different or something is strange it just spreads like wildfire. The person feels isolated and there are no support mechanisms. They're scared to come out because they're in fear of losing their jobs or persecution.
I would say the situation for gays in Northern Ireland outside Belfast is extremely difficult. There's nothing outside Belfast. Most would go straight to London and live their lives elsewhere.
Private life
I'm just lucky that I have a very supportive family and most of my friends are married couples. I don't have that ghetto mentality. I just live as a normal person - I must say, normal in inverted commas!
You'll always get the one person with extreme views and you're never going to change them no matter what. In general, the punter doesn't give a damn what you are.
On a one-to-one basis, people take you as you are.
I think the problem is that there are some gay people who can't leave the bedroom in the bedroom. Straight people generally don't go around talking about what they do in the bedroom.
My private life is my private life and, as I say, most of my friends are straight and I don't discuss my private life with them.
Interview taken by Patrick Jackson, BBC News