The accidental mother
Being born a man didn't stop Jirawat Puboonam from being a loving maternal presence in the lives of her adopted children, or stretching the boundaries of what it means to be a family in today's world
Story by KRITTIYA WONGTAVAVIMARN, Photos by SOMKID CHAIJITVANIT (Bangkok Post 2005/08/11)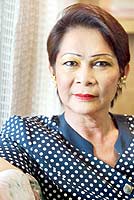 "I have never seen being a 'katoey' as an obstacle that makes me incapable of being a mother. " — Jirawat Puboonam
Jirawat Puboonam was not born a woman but when the 64-year-old talks about her children, it's clear that being a "mother" has given her life many meaningful moments.
Jirawat is a male-to-female transsexual, or katoey in Thailand. Living full-time as a woman, she's also the faithful wife to a 44-year-old husband and a devoted mother of three adopted children who were placed with her soon after they were born.
The first adopted child, Pornprapa Puboonam or Oui, now 21, arrived in 1984. Her biological mother was a teenage next-door neighbour who begged Jirawat to be a foster parent for the infant.
Thirteen-year-old Bunchoo Kerd-date, or Benz, followed the older sister eight years later. He was also the product of an unwanted pregnancy from another next-door neighbour.
The youngest, a two-and-a-half-year-old boy, Nattapong Promdang, or Bank, joined the family two years ago. He was abandoned by an imprisoned father and a careless mother and grandmother who lived nearby.
Because of the circumstances, Jirawat and her husband, Son Kerd-date, have taken in the three children as if they were their own and in the process have forged a new notion of "family". Coming from different "blood and guts", the five people are held altogether by bonds of love and affection under the same roof in a place called the Rong Poon community in Huay Kwang district.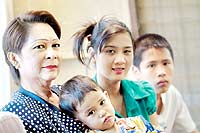 Jirawat and her children (from left) Nattapong Promdang, Pornprapa Puboonam and Bunchoo Kerd-date.
After she adopted the first child, Jirawat realised that her original gender had not suppressed her maternal instincts, she said.
For her, being a mother has nothing to do with biology, but with the sobering responsibility of nurturing little souls. It's less about giving them toys and more about preparing them for a strong, secure life, she said.
"I have never seen being a katoey as an obstacle that makes me incapable of being a mother. That has always been who I am and what I'm proud of," said Jirawat, dressed in a smart suit, her features highlighted by make-up.
"They are my children and they have truly brought boundless joy to my life. I like to have children around and love to hear them call me 'mum', to give me hugs and kisses _ something that was missing in my own childhood," said Jirawat, generally known in the community as "Phi Koon".
Jirawat is the product of a broken home. She was alienated from her family _ the result of her showing a tendency towards a "ladyboy" nature. At 11, she was kicked out of the family after both her parents passed away. At that time, Jirawat was all by herself with the stigma of having a woman's soul trapped in a man's body.
Unlike many who slid down dark, dangerous paths because of a "bad childhood", the memory of her own traumatic past made Jirawat want to build a warm, loving home.
"My parents were farmers with eight children, so I rarely got the attention I needed from them. Neither did I receive warmth from my brothers and sisters," she recalled. "Some even said that I shouldn't have been born as a human being. They called me a queer, a freak, beat me up and pushed me around so much that I had to run away from home.
"I found it unbearable to be hungry for love and acceptance I had never received. So now that I have my own children, even if they don't carry my blood, I try to raise them with warmth and tenderness, protecting them as much as I can," she said.
Parenthood, however, wasn't part of her plans. In 1983, Jirawat and her husband decided to build their lives together with love, commitment and awareness of their shared responsibilities. Then a teenage girl showed up at their door asking for help with a baby she could not keep. Knowing she would face disagreement and criticism, Jirawat took the baby girl in.
"My husband and I have always loved children and we knew that the happiest moments would be when we were surrounded by people we loved and who loved us in return _ meaning a family," she said. "Still, there were doubts as to whether it was appropriate for us to bring up children."
Some neighbours said her daughter might have difficulties with her personal and psychological development not to mention problems with her social and peer relationships.
"I was often asked, 'Aren't you afraid that your child will grow up and become queer?' and 'Won't your child be teased by school friends?"' she said. "But I have always believed that I have the full parental abilities to raise emotionally- and mentally-healthy children, just like ordinary parents."
Despite the mistrust and scepticism of people around her, the accidental mother said she experienced much joy and happiness after taking on the responsibility of caring for a new life.
In the beginning, she spent hours with the new love of her life, learning what it took to be a mother, just as her baby was learning to crawl, she said.
"It was like moving into a new landscape. I had no idea when the maternal instinct developed in my soul. But all I knew was that I felt uplifted every time I held the little baby tight in my arms, rocking her with her breath falling gently against my chest," said Jirawat, flashing a big smile as she talked about her eldest daughter.
"When she slept, I slept, and I had to be careful not to lay on top of her and to always protect her from falling off the bed. When she woke up sobbing during the night, I got up too. When she was hungry, I fed her. When she emptied her bowels, I cleaned up after her."
After gaining experience raising her first child, Jirawat opened her arms to other children in need. To reaffirm her identity as a female, as well as a mother, she underwent gender reassignment surgery so that she could belong to the sex she thought she should have in the first place.
Apart from having a loving family _ proof that not all transsexuals are promiscuous and won't settle down to long-term relationships _ Jirawat intends to shake up some long-standing discriminations: The taboo against men having a feminine side, or the myth that cross-dressers must remain closeted or be driven out of the family in order for that family to continue functioning as "normal", things that led to the trauma Jirawat experienced as a child.
Jirawat doesn't hide her gender status from her children. She does not have a problem dealing with her neighbours in the community either, she said.
When Oui and Benz reached their teen years, Jirawat decided to tell them the truth about her identity. To her surprise, her children saw nothing wrong with their mother's gender, she said.
"Both of them think that transsexualism is natural and have never asked me why they couldn't stay with their 'real' mothers," Jirawat said proudly. "I think it's better for all of us to live an open life and not hide the uniqueness of our family."
Her children agree. They said their self-esteem does not differ from that of children who have heterosexual parents.
"I find nothing strange about my family. And I've never wanted to know the woman who gave birth to me because I've got the 'real' one already," said Oui, a junior student at Ramkhamhaeng University.
"I don't care whether I'm a child of a same-sex couple or a child of a single parent. I only know that my best friend, who is so loving and caring, is my mother and I'm proud to be her child."
"Mum always gives me lots of love, care and attention, too much sometimes," added the second child, Benz, laughing, "But I know that she loves me. I've never thought mum was actually born male because she has always been soft and gentle. She always tells us _ brothers and sisters _ to love and take care of one another because we are family."
Being a parent is no easy task, especially to children from different backgrounds, Jirawat admitted. She maintains, however, that as long as the essential ingredients are there _ affection, tenderness and devotion _ the family will remain warm.
"To me, a family is not defined only by bloodlines," she said. "My family might be unconventional, but it does function and conform to what I believe are traditional values."
All parents have hopes and dreams for their children and so does she.
"My greatest hope for my children is to see them grow up into beautiful people, to see them becoming diligent and nice to other people," she said. "Most importantly and perhaps simply as well, I want my kids to be happy. I think that would be more than enough."