Gay revolution puts red China in the pink
By Hamish McDonald Sydney Morning Herald Correspondent in Shanghai
August 27, 2005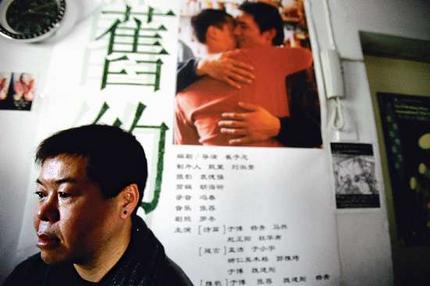 Trailblazer ... Cuizi'en, the first gay man to come out in China, in 1990, sits under a gay rights poster in his Beijing flat.
Photo: Getty Images
The word "tongzhi", or comrade, used to be the unisex, equalising term of address in the socialist world of Mao Zedong's New China.
Type it into an internet search engine now, especially in a Chinese-language version, and today's China emerges in a whole new light - pink rather than revolutionary red.
In one of the more delightful linguistic subversions of this fast-changing country, the term has been appropriated by China's male homosexuals to refer to themselves and has spread widely into the general community with the same meaning.
The search generates an alternative map of Shanghai, the vast seaboard metropolis that is China's most socially avant-garde centre, mirrored less luridly perhaps in dozens of other cities.
From a plush Arabian-style restaurant with hookahs and divans in the centre of the city to discreet club-style bars in the backstreets of the old French quarter, from corners of certain parks to bathhouses, venues for gay encounters are quite openly advertised and tolerated.
"We never have any trouble from the police, and no gay-bashing," said Xiaohai (Little Sea), a 21-year-old from inland Jiangsu province who works as a host in the KM Bar, a gay haunt where he and other young men in tight jeans and singlet-tops chat with customers. "China is very safe for us."
Shanghai is still far from the decadence, excess and exploitation that the homosexual English writers W.H.Auden and Christopher Isherwood experienced in the 1930s. But it is leading China in acceptance of homosexuality.
In the latest breakthrough, the city's prestigious Fudan University has announced it will offer a course in Homosexual Studies to undergraduates from all faculties as a degree credit in the academic year starting next month. More than 100 students have enrolled.
Sun Zhongxin, an assistant-professor of sociology directing the course, said it would approach homosexuality from cultural, legal and other social perspectives. Previously, Chinese universities have only touched the subject, if at all, at graduate level in medical schools.
"It's not a radical approach," Professor Sun Zhongxin said. "But this could change society in a radical way."
In the Chinese hinterland, except in a few big cities such as Beijing and Chongqing, the gay emergence is more tentative but strengthening among a homosexual community that statistically must number some tens of millions.
In May, about 40 "comrades" attached themselves to a sports parade in Dalian, carrying placards calling for tolerance of gays. In June, others flew kites in front of Shenyang's city hall to mark a gay-awareness day.
Like heterosexuals, China's gays and lesbians have benefited from the retreat of the communist state from the puritanism that Mao forced on everyone except himself, and the official attitude that homosexuality was a "mouldering lifestyle of capitalism".
Legal reform in 1997 removed the all-purpose crime of "hooliganism", often applied to gay men arrested while looking for sex in public toilets and parks, along with the crime of sodomy - effectively decriminalising homosexuality. In 2001, it was removed from the official list of mental disorders.
And, as elsewhere, the need to control the spread of AIDS has led authorities, however reluctantly at first, to enlist the help of homosexual activists, while the internet has provided a medium of advice, confession and contact.
Chinese gays moved into a legal and social environment often described as the "three no's" - "no approval, no disapproval, and no promotion".
Li Yinhe, a leading researcher on homosexuals, has described China as "a half-heaven for homosexuals". Many scholars and gays think the country has moved back to a traditional ambiguity about sexuality.
On one hand, China's religions permitted diversity: Buddhism regarding all sexual desire pretty equally as something to be relinquished; and Taoism accepting that people could have differing balances of yang and yin (male and female).
On the other, Confucius pronounced that men should behave as men, and women as women, and that "there are three things which are unfilial and the greatest of these is to have no posterity".
In practice, it was often accepted that young men could have sex with each other as a part of friendship, and that married men could have sex with boys, or female concubines and prostitutes, or both, as long as they married and produced an heir. "The atmosphere for man-man sex has been quite free and loose in Chinese culture," says Tong Ge, China's leading gay novelist, who writes under this nom-de-plume. "It's not about sexual preference, but more about sexual roles and sexual identity. For example, if a man of high status had sexual relations with a man of low status like a barber or a waiter, people would not blame him and just regard him as a playboy. They would assume he was the inserter, rather than the insertee. This role-playing would be how they judge the issue."
At Shanghai's KM Bar, Xiaohai echoes this attitude. If a customer is nice, he will go off and spend the night with him. "They are usually well-educated, professional men and businessmen," he said, with a touch of pride.
Tong Ge, who is in his late 50s, said the haunts for homosexuals had changed dramatically in recent years. "Up until about 1998 we used to meet in public toilets and parks," he said. "Now there are bars, meetings, and even sports events."
Yet the writer's own life expresses the poignant half-world of China's homosexuals. His novels like
Good Boy Luo Ge
have not been published in the Chinese mainland, only in Hong Kong, under a still-prurient censorship policy that has also restricted exhibition of some fine Chinese and Hong Kong films dealing with gay and lesbian stories.
His first love affair was at age of 17 when he and a male friend were assigned to Inner Mongolia at the start of the Cultural Revolution. One night, the two got drunk and found each other.
"It was wonderful - everything happened," he said. "I felt like it was something I'd been waiting for a long time. I had no concept then of what homosexuality was - it was a period without reflection."
But his friend was assigned back to the city. After some years, Tong Ge's family found him a girl, and out of duty, he got married, producing a son within a year. The marriage settled into a tranquil, sexless relationship - as with many heterosexual couples, he observes - that he values for its its companionship. To this day, his wife and son (now a young man) do not know he is homosexual. In his home under his real name, he is an academic engaged in research on homosexuals and HIV/AIDS. On a circuit of seminars and gay community meetings, he is Tong Ge, the famous author.
"I don't want them to know even when I die," he said. "Because I have made a fantastic dream for my family. No matter what, from the understanding of my wife and my son, I am a good husband and a good father. If we say that life requires us to to play a certain role, I want to play that role."
Probably 80 per cent of Chinese homosexuals still enter heterosexual marriages to keep their families happy, researchers believe. And for all the advances Tong Ge has experienced, he can't envisage full equal rights for homosexuals and lesbians happening in his own lifetime.
"China is a land covered by the ice of bureaucracy, tradition and ethics," he said, adding with a wry smile: "We comrades can only try to melt the frozen land with our body warmth."
♪ "in the pink"には「(身体が)健康である」という意味もある。