Municipal officials ban gay parade in Bulgarian seaside resort
Wed Aug 24,11:17 AM ET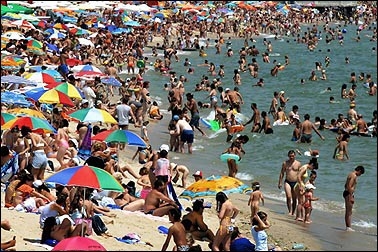 Beachgoers at the Bulgarian Black Sea city of Varna. The city of Varna has banned a gay parade at the nearby seaside resort of Saint Constantin, citing technical reasons(AFP/File)
SOFIA (AFP) - The Bulgarian city of Varna has banned a gay parade at a nearby seaside resort, citing technical reasons, the municipality said in a statement.
The town council's refusal to authorize the parade, which was to have taken place in Saint Constantin, came after Christian Orthodox church officials in Varna had threatened to hold a counter-protest.
"The identity of the petitioner (to hold the parade) was not clear ... and the nature of brochures and other material that were to be handed out was also not indicated precisely," the statement read.
The Bulgarian gay-rights organization Gemini confirmed that their parade had been banned.
"The inaugural event of the homosexual and transvestite days for which guests from Greece, Italy, Spain and Switzerland had been invited has been banned," Gemini spokeswoman Dessislava Petrova said on national television.
A church official, Father Ivan of Varna, said on television that the parade would have "encouraged youths to reject moral norms."
Petrova of Gemini, however, said: "Our objective is to inform homosexuals of their rights and to tell society that they are just like anyone else."
She lashed out at the church for opposing the gay-rights parade, after the clergy failed to protest against an erotic festival that was held in Varna last week.
Petrova said a transvestite beauty contest would still go ahead at a club Wednesday night, with the hope that a gay parade would be authorized next year.