Katrina's casualties include gay Southern Decadence festival
'Wicked' party blamed for hurricane
By ANDREW KEEGAN | Aug 31, 9:12 PM - Houston Blade
With winds topping 140 miles per hour as it roared ashore Aug. 29, Hurricane Katrina devastated portions of the Gulf Coast and New Orleans. Early news reports indicated that the French Quarter, home to many of the gay bars in New Orleans, would be spared from catastrophic damage.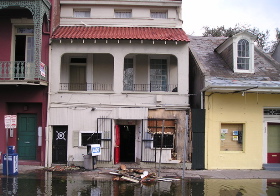 Starlight by the Park, a gay bar near the French Quarter, was damaged by Hurricane Katrina and the ensuing flood waters. (Photo courtesy C.W. Stambaugh)
But subsequent levee breaks along Lake Pontchartrain flooded the city that traditionally would be gearing up to host thousands of mostly gay men celebrating Labor Day Weekend.
In addition to flooded streets, a lack of fresh water, and no electricity, New Orleans Council member Jackie Clarkson told the Associated Press on Wednesday that the French Quarter has been "attacked" and "looting is out of control."
In light of recent events, the city's 34th annual Southern Decadence festival was cancelled Aug. 31, according to one of the event's organizers, Johnny Chisholm.
The celebration, which began as a Labor Day party among friends 34 years ago, was expected to draw more than 100,000 participants from Aug. 30 to Sept. 5.
"I regret to inform you that due to Hurricane Katrina, Southern Decadence in New Orleans has been officially cancelled," Chisholm wrote in an e-mail Wednesday. Chisholm noted that festival goers that were charged for weekend passes will receive refunds.
Chisholm owns Oz, New Orleans' largest gay dance bar, which is located on Bourbon Street in the French Quarter. He stated in the email that the bar suffered damage, and the club hopes to reopen by Halloween.
In addition to the thousands expected for Southern Decadence, more than 600 people had pre-registered for Convergence 2005, an event during Southern Decadence for plus-sized gay men and their admirers.
In a posting on its Web site, convergence2005.com, the group cancelled its "Big & Easy" celebration. The organization notes that it may take time to issue any refunds, as it needs to contact venues on cancellation policies. The group suggests donating any refunds to the Red Cross/New Orleans Disaster Relief Fund.
The New Orleans Convention & Visitors Bureau posted information on its Web site stating the city is under a mandatory curfew. At press time Wednesday, the Web site said the situation in New Orleans continues to deteriorate, with an additional "9 to 15 feet of water expected to flow into the city," threatening the French Quarter.
Looters are also damaging the historic area, according to news reports. No one from outside of New Orleans is being allowed to enter the city for at least the next week, according to the site.
New Orleans Mayor Ray Nagin said Wednesday that it will be at least three months before any citizen will be allowed to return to the city. The airport is under water and hotels are being used as shelters to house victims of the monster storm, the Web site says.
A travel agent at All Points Travel in Atlanta said customers who booked air/hotel packages for Southern Decadence hoped for a miracle, but in reality "lot of folks have given up."
Steve Kay planned on having a great time at the largest gay Labor Day celebration in the South. Now, having a good time is far from his mind. Kay suggested that people who purchased passes to many of the parties donate their refunds to building a "better Southern Decadence" next year.
Customers who booked hotels at locally owned properties should "have sympathy first," said Tom Nibbio, North American sales manager for the International Gay & Lesbian Travel Association.
"We need to be considerate of their immediate situation," he said. "If you're not in immediate need of a refund, put it on the back burner." But Nibbio noted that direct bookings through airlines should be dealt with immediately.
Atlanta-based Delta Air Lines issued a statement that customers scheduled to fly into or from affected cities can make a one-time change with no additional fee. Changes have to be made by Sept. 1. American Airlines announced the same policy, but customers have until Oct. 31 to reschedule.
Customers who booked rooms at franchise hotels, such as a Marriott or Hyatt, should contact corporate offices of the hotels for refunds, according to Nibbio. Calls to Marriott and Hyatt corporate offices were not returned by press time.
'Wicked city'
While gay Internet sites have been inundated with postings exhibiting concern for the city, one anti-gay organization seized upon the calamity to promote its agenda. Philadelphia-based Repent America issued a statement calling Hurricane Katrina an "Act of God" that destroyed a "wicked city" just days before Southern Decadence.
The group blames the city's previous three mayors, and every citizen in New Orleans, for tolerating and welcoming such "wickedness" as Southern Decadence and Mardi Gras.
When officials in New Orleans issued a mandatory evacuation order prior to the landfall of Hurricane Katrina, tens of thousands of evacuees ended up in Houston in hotels, shelters or housed with relatives and friends.
By Wednesday morning, Houston city officials confirmed that New Orleans evacuees who had been housed at the Super Dome would be transferred to the Houston Astrodome. Red Cross officials said they planned for 23,000 evacuees to be housed in the Astrodome.
Gay and HIV groups in Houston said they are gearing up to help as well.
Officials of the Montrose Counseling Center announced Wednesday that a special group counseling session has been set up for Sept. 6 for gay, lesbian, bisexual and transgender refugees from the devastation of Hurricane Katrina.
At the Montrose Clinic and the Assistance Fund, officials said they would make every effort to provide medical and medication assistance to those living with HIV/AIDS who have been displaced by the hurricane. Clinic officials said it is crucial for continuity of care to be maintained.
"It is important to provide individuals displaced by Katrina access to health care services and medications they require," said Katy Caldwell, executive director of the Montrose Clinic. "We estimate the need for services to be great and will make every effort to provide assistance."
Gay Houston resident John Szewczyk has also organized a Sept. 2 meeting to coordinate a relief effort for gay refugees from the destruction of Hurricane Katrina, particularly those from New Orleans.
"I'm just sort of putting out feelers to see what kind of committees we can set up," Szewczyk said. "We need to do what we can to help our sister community. They have all provided many of us with great times at Southern Decadence, Mardi Gras and for vacations."
Binnie Fisher contributed to this report.