Heroes and Villains: Kanako Otsuji
29 August 2005 - Rainbow Network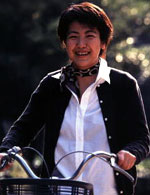 We take a look at some of the heroes and villains of the gay world. This week a Japanese politician who shocked her colleagues - and risked career suicide - by coming out at a local Pride event.
Who?
Kanako Otsuji
Not to be confused with…
Jenny Shimizu, the Japanese-American model who's dated everyone from Madonna to Rebecca Loos.
Best remembered for…
Coming out. Otsuji is a member of the Osaka Prefectural Assembly. At Tokyo's recent Lesbian and Gay Pride she announced to reporters that she is a lesbian. Otsuji, who became an Assembly member in 2003, explained that she had not previously said anything about her sexuality because she was afraid that voters would not support her. Her prefecture has a population of 8.84 million, the largest after Tokyo, and she is still a junior politician, in her first four-year term.
What's she up to now?
Fighting off nosey reporters, no doubt.
Homo factor:
Couldn't be higher.
Anything else we should know?
If you think it's hard to come out in the West, it's nothing compared to the pressures facing lesbians in Japan. It is extremely rare for a Japanese politician to come out, especially a woman coming out as a lesbian.
Otsuji said: "Homosexual people have often kept silent for fear of discrimination and prejudice. By declaring I'm homosexual, I would like to highlight the problems and put an end to a vicious circle of discrimination and prejudice."
In addition to her statement, Otsuji has written an autobiography about her experiences as a lesbian.
Hero or villain?
A true heroine, of course!
By: Charlotte Cooper