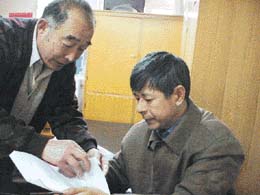 A Qingdao-based sexologist Zhang Beichuan (R) talks with his mentor Qin Shide last May. [baidu]
Gays Live a Difficult Life under Social Bias
2005-09-06 09:18:59 CRIENGLISH.com
Gu Du was the victim of extortion. He was blackmailed, as well as being chastised by his employer and almost fired.
The reason: Gu is gay.
Gu worked in machine design for a Chengdu company. His father used to be head of this State-owned enterprise and his mother works in the trade union of the same company. He shared a company dormitory room with a few co-workers and surfed the Internet on his own computer after work.
One night about six months ago, he was spotted browsing a gay website by his roommate co-worker. Confronted by him, he initially denied he was gay. But his roommate knew better.
The roommate offered him a choice: Gu could pay him 5,000 yuan (US$616) in hush money or he would tell the boss.
Gu was agitated, but thought the man was bluffing. A few days later, he was called to see the head of the company.
"I heard you have been engaged in hooliganism," said the boss, using a term that covers conduct as severe as rape and as light as saying four-letter words, or "shua liu mang" in Chinese.
Gu denied doing anything wrong, but upon interrogation he admitted he was a homosexual and had been leafing through a few gay-themed websites in his spare time. He said he did not look at porno sites, however.
But his boss was not interested in such technicalities. He threatened to slap him with some kind of penalty.
Before that materialized, Gu was faced with the biggest penalty he could imagine: the incident was reported to his parents.
His father was so furious he disowned the son. "I wish I'd never had you as my son," he yelled.
The news struck Gu Du's mother as a bolt of lightning from the sky. She fell sick and had to be hospitalized. His brother and sister refused to talk to him any more, saying they were "ashamed of having a sibling who's abnormal."
In despair, Gu Du thought of killing himself. "I couldn't go to work again. Even though they didn't fire me, I had to suffer the looks from all my colleagues," he told China Daily.
He ended up leaving Chengdu for Hangzhou, a city where he didn't know anyone and nobody knew he was gay.
Family pressure
Last November, government agencies published a report that put the number of gay men in China who are "of a sexually active age" at 5-10 million. Scientists say this is the low end of the estimate. They figure that there are around 30-40 million homosexual men and women in total.
In 1997, China's Criminal Law decriminalized sodomy. In 2001, homosexuality was removed from the list of mental disorders by health authorities.
But the changing law does not necessarily change public perception. Most gay people interviewed for this story agree that the single biggest source of pressure and stigma comes from their own families. "My employer doesn't care about my private life, and the neighbourhood grandma is not nosy any more. But there's no way I can get past my own mum and dad," said Lu Youni, a Guangzhou high school teacher.
Most parents cannot imagine in their wildest dreams that their children could be gay. They usually do not pick up the subtle signals that hint that their kids may be attracted to those of their own sex. When revelation dawns, it is normally such a shock that it feels like falling into a vortex of tongue-tied humiliation.
"They'd rather I became paralyzed, so that they could give me unconditional love and sympathy. If I became an alien, at least they would be curious about me," said Gu Du.
Unlike Gu, a few people take the calculated step of "coming out" to their parents. Fei Xue, a Jiangsu man who works in a local tax agency, had maintained a very close relationship with his father, who is a medical expert. Believing he was in a better position than most gay men whose parents are "less educated about these things," Fei showed his diary to his father, in which he detailed his emotional life. Father thumbed through each page, and then left his room quietly.
The next day, his father told him to cut off all connections with his gay friends and forbade him to leave his hometown for work elsewhere. "Now I advise others to be extremely cautious before they come out," he sighed.
There are occasional reports of parents who acquiesce or look the other way. Some are well - informed enough to know that their gay children do not have any "disease," they are just different from the majority. Others can accept it as long as their gay children are happy. But insiders suggest that these "Wedding Banquet" scenarios are few and far between.
The pitfall of marriage
The film "Wedding Banquet," directed by Ang Lee, portrays a gay son who is coerced into marriage. This is the fate of 80-90 per cent of gays in China, according to research.
Traditionally, the Chinese did not frown upon homosexuality as much as those in Christian countries in the West. In some dynasties such as Han, it was viewed almost as a "chic lifestyle." On the other hand, the Chinese place a tremendous emphasis on "carrying on the family line." If a man remains unmarried at the age of 30, his parents fret and nag and devote a significant amount of time to finding a spouse for him.
"What can I do? If I don't marry, I will break my parents' hearts. If I do marry, I'll ruin the life of an innocent girl," lamented Lu Youni, the Guangzhou teacher, who was, in the end, dragged into matrimony.
Some men search for lesbians in order to feign marriages that can be mutually beneficial. But since finding a lesbian is much harder than finding a gay man in China, most settle into a "marriage of convenience" in which the other party is kept in the dark. Many also want to believe that they can change their sexual orientation if they try hard enough.
These marriages invariably end in tragedy. However, they do take off much of the pressure from the family. Parents tend to believe that gay children do not remarry because they are heart-broken from their failed marriage, and if the marriage results in offspring, so much the better.
However, more and more young people oppose these arrangements on moral grounds. Unless their spouses know the situation when tying the conjugal knot, it is unethical to involve them in these cover-up schemes, they insist.
The more imminent danger is not moral, but physiological. Gay men who lead double lives are far more likely to spread the HIV virus to their families and to the heterosexual community, doctors maintain.
"Discrimination has made life difficult for gays in China," said Cai Yumao, a medical expert in Shenzhen involved in the Rainbow Work Team, a community outreach programme that helps gays on health matters. "Because they cannot lead a normal sexual life, some of them are tempted to live on the edge and take risks when it comes to sexual practices."
Cai did not deny that gays also have responsibilities and should refrain from unsafe practices no matter what. But he cautioned against the fallacy that homosexuality somehow equals AIDS or sexual diseases. "Metaphorically brushing homosexuals under the rug or throwing mud at them won't solve the problem. Rather, it will exacerbate the problem," he warned.
New trends
Another hazard of shaming gays back into the closet is the emergence of "gay for pay", or "money boys" who are not really gay but offer sexual services for money and are often involved in extortion schemes. These people take advantage of gay people's fears that their true identity will be uncovered. As a consequence, robberies and even murders have been reported.
According to Zhang Beichuan, a Qingdao-based expert on the issue, 38 per cent of gays have been hurt because of their sexual encounters; 21.3 per cent have been hurt by straight lovers and 21 per cent have been victimized when their identity was exposed, suffering insults, beatings or blackmail.
For all the negative news, life for gays in China has improved on the whole. The Internet plays a big part. Gays used to believe they were the only ones in the world who were different, and now they can turn to online communities for help, to socialize, and date. Many love stories have been posted on the net, and many people find that homosexual love can be just as romantic, passionate or heart-breaking as a heterosexual affair.
Gay bars have sprung up all over the metropolitan landscape. Here people can mingle in a normal setting, away from sleazy bathrooms and dirty public toilets where they are putting their health at risk. But "money boys" often mar the scene instead.
Most encouraging are the hotlines and health centres that have cropped up in cities like Shenzhen, Chongqing and Hangzhou. Homosexuals can consult specialists for psychological and medical help. Tests for HIV and venereal diseases are offered free, with guaranteed anonymity.
Meanwhile, Gu Du has not given up hope of his parents' acceptance. But each time he calls them, they hang up.
He should probably send them a book by Li Yinhe, China's top expert on homosexuality, or words by Wang Xiaobo, Li's late husband who was himself a renowned social commentator: "Any sexual relationship that is long-term, stable and built on love should be respected. Gays should take a positive attitude towards life."
Source: China Daily