Breast cancer threat ignored
Deaths rising but menace kept off the radar: advocate
By ERIC PRIDEAUX
Staff writer
Japanese women must bring about radical change in their country's health-care culture to stem a worrisome increase in breast cancer, a prominent cancer-awareness advocate said ahead of Breast Cancer Awareness Month in October.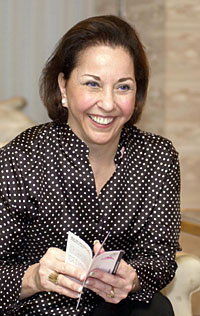 Vickie Paradise Green
According to the National Cancer Center in Tokyo, about one woman in 26 is diagnosed with breast cancer -- an incidence rate that has grown markedly in recent years to make it the most common form of cancer for women here.
In 2003, the most-recent year for which data are available, nearly 10,000 women died of the illness, the center said.
"Today, 26 Japanese women are going to die from breast cancer. And tomorrow, and the day after that," said Philadelphia-born Vickie Paradise Green, a businesswoman and founder of Run for the Cure, a Tokyo-based nonprofit foundation dedicated to combating breast cancer in Japan.
Unlike the West, which has fewer taboos about visiting gynecologists or taking breast examinations, lack of awareness in Japan discourages women from getting regular checkups that can spot breast cancer before it is too late, Green said in a recent interview with The Japan Times.
Improved education, she said, must provide Japanese women with the tools to help themselves.
"Where is (the) healthy breast regimen? Where are they taught this? They're not," said Green, a 25-year resident of Japan who serves as president of Tokyo-based custom publisher Paradigm.
"In the United States, you learn this from your early teen years," she continued. "You learn how to self-examine. You get clinical examinations from your gynecologist and from the age of 35 -- younger if you have a history of breast cancer in your family. You're getting annual mammograms. It doesn't happen here."
Since its establishment in June 2004, Run for the Cure has so far awarded a 3.3 million yen grant to a breast-cancer support group and is currently considering assistance to other organizations.
It has also distributed thousands of educational brochures on self-examinations to clinics and hospitals around Tokyo.
Run for the Cure expects to raise more than 10 million yen in additional funds this year from donors, which have so far included such major corporate names as Citigroup, Johnson & Johnson K.K. and Mitsubishi Estate Co.
In its ongoing efforts to raise funds, Run for the Cure will hold a 5-km walk/5-km run in Tokyo on Oct. 22 starting at Hibiya and proceeding around the Imperial Palace. On Oct. 28, it will throw a Pink Ball cocktail-and-dinner party at the Grand Hyatt Tokyo in Roppongi. For further information, please visit www.runforthecure.org/
The Japan Times: Sept. 23, 2005