New Love Breaks Up a 6-Year Relationship at the Zoo
By JONATHAN MILLER
Published: September 24, 2005 New York Times
And Silo and Roy looked so happy together.
The two male chinstrap penguins had found each other in the big city. They had remained faithful. They had even raised a child. But then, not too long ago, they lost their home. Silo's eye began to wander, and last spring he forsook his partner of six years at the Central Park Zoo and took up with a female from California named Scrappy. Of late, Roy has been seen alone, in a corner, staring at a wall.
This tale of betrayal, sexual identity and penguin lust set in Manhattan has reverberated around the world. It has "rocked the gay scene," as the popular blogger Andrew Sullivan, who is gay, wrote in The Sunday Times of London this week.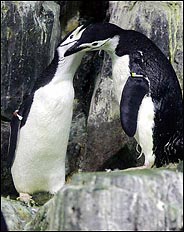 Chang W. Lee/The New York Times
Silo, right, a male chinstrap penguin, nuzzling with Scrappy, a female. Silo has ended a long-term relationship with Roy, a male, not pictured.
No one was more disappointed than Rob Gramzay, the senior penguin keeper at the zoo, who said simply in an interview yesterday, "They seemed to be a good pair together."
The end actually came 16 months ago. It happened shortly after Silo and Roy gained fame from an article in The New York Times detailing their relationship. Some saw the tale of two male birds raising a child as a parable for our time.
Yet things began to fall apart in May 2004 after the two were kicked out of their nest by two aggressive penguins. They drifted apart, Mr. Gramzay said, and early in the mating season this year Silo found Scrappy, an import from SeaWorld who had been lounging around the aquarium since 2002.
Still, Mr. Gramzay said that humans should not divine too much from the split. "People read so much into the gay thing, and the gay thing is necessarily a human constraint that's put on top of them."
That has not stopped many from doing just that.
At the Web site for Focus on the Family, an influential organization run by radio host James C. Dobson, who has called homosexuality a disorder and advocates converting gays, a commentator, Warren Throckmorten, wrote: "For those who have pointed to Roy and Silo as models for us all, these developments must be disappointing. Some gay activists might actually be angry."
Well, maybe not angry. As Roberta Sklar, a spokeswoman for the National Gay and Lesbian Task Force, put it: "There's almost an obsession with questions such as, 'Is sexual orientation a birthright or a choice?' And looking at the behavior of two penguins in captivity is not a way to answer that question."
She said the furor over the penguins "is a little ridiculous. Or maybe a lot ridiculous."
Perhaps it is because penguins of all stripes have become hot political commodities of late. The surprise hit of the summer was "March of the Penguins," in part because it was embraced by Christians and conservatives, who see in the film pro-family and Christian imagery.
And in February, following protests by gay rights groups, a German zoo abandoned plans to force homosexual penguins there to pair with females. The male penguins never did take a shine to the imported Swedish females.
But no one should be surprised at Silo and Roy parting ways, said Frans de Waal, who has studied the mutable sexuality of bonobo apes and is the director of the Living Links Center at Emory University in Atlanta.
"Exclusive homosexuality is not very common in nature," he said. And, anyway, he said, "bisexual" would be a better term for animals, adding, "They're sometimes described as gay animals, but they really aren't."
As for whether keeping the penguin in captivity could be a factor, Mr. de Waal posited that it might be a matter of choice and availability: "I'm not sure that captivity per se plays a role, but partner choice does. Like women in a nunnery or men on a big Navy ship, there's homosexuality in those cases."
The Chicago Tribune reported the news of the breakup last week.
Silo and Roy, who are both 18, began their unusual relationship in 1998. Both were relatively mature at the time, and it is unusual for older penguins to bond with members of the same sex, Mr. Gramzay said.
Mr. Gramzay said that he never saw them complete a sex act but that the two did engage in mating rituals like entwining their necks and vocalizing to one another. They tried to incubate a rock together in 1999, so a year later the couple was given an extra egg from another pair. Tango, a female, hatched later that spring. For the last two seasons, Tango has paired up with another female named Tazuni.
There are four other same-sex pairs at the Central Park Zoo, Mr. Gramzay said, including Tango.
A children's book detailing the once-happy family, "And Tango Makes Three" (Simon & Schuster), was published this spring and is sold at the gift shop at the zoo.
One of the authors, Justin Richardson, said he was not at all forlorn over the breakup. He said that he and his co-author, Peter Parnell, have been devouring the news and opinion on the split, and are amused by conservative Web sites, which, he said, "seem to think that we must be terribly chagrined."
"This has not been our reaction," he said. "We wrote the book to help parents teach children about same-sex parent families. It's no more an argument in favor of human gay relationships than it is a call for children to swallow their fish whole or sleep on rocks."