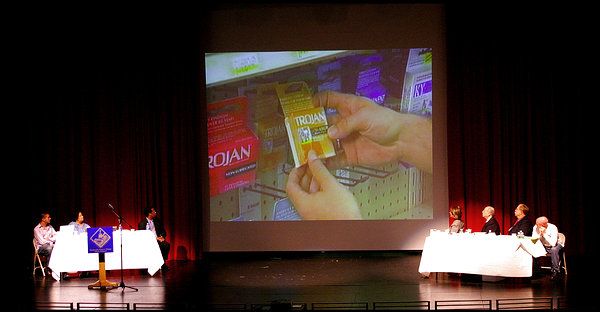 Panelists at the Teachthefacts.org forum watch "Protect Yourself," the sex education video that was cut from Montgomery's curriculum after protests.
Photo Credit
: Photos By Larry Morris -- The Washington Post
Sex-Ed Panel Aims to Sway Lessons on Gays
Montgomery Urged to Reject Teaching Homosexuality as Choice
By V. Dion Haynes
Washington Post Staff Writer
Monday, September 26, 2005; Page B03
Montgomery County school officials drafting a new sex education curriculum should reject lessons suggesting that homosexuality is a condition that can be reversed, speakers at a community forum said yesterday.
"A person's sexual attraction cannot be changed at all. There is no data to suggest that," said Paul A. Wertsch, a physician and chairman of the American Medical Association's committee on gay and lesbian issues, speaking before about 100 parents and other community members at Bethesda-Chevy Chase High School.
Wertsch was among the health educators who spoke at the forum sponsored by Teachthefacts.org, a parent group established to support the education curriculum proposed last year by the county Board of Education. The curriculum, which the parent group considered comprehensive, was dropped in the spring to settle a lawsuit brought by other parents who thought some of the lessons, including a demonstration of how to put on a condom, were too explicit.
With the school board starting from scratch on a sex education plan, both sides are campaigning fiercely to influence what Montgomery eighth-graders will hear about homosexuality and what 10th-graders will hear about contraceptives
Teachthefacts.org and the plaintiffs in the lawsuit -- Citizens for a Responsible Curriculum and the Virginia-based Parents and Friends of Ex-Gays and Gays -- are seeking representation on an advisory committee that will work with the school system on devising the lessons. The school board will select the committee next month.
The settlement, while not prohibiting the discussion of homosexuality, required schools to drop materials that described Baptist groups and other religious denominations as less tolerant of gays.
Speakers yesterday, citing numerous studies and personal anecdotes, attempted to counter their opponents' desire to include in the curriculum the viewpoint that homosexuality is a lifestyle choice that can be changed with therapy.
Robert Rigby Jr., a special-education teacher at Falls Church High School, said that he spent 17 years in reparative ministries trying to become straight and that during that time, "my life was an ongoing disaster." Rather than change his attraction to men, Rigby said, the therapy left him depressed and suicidal. Finally, he said, "a Baptist pastor said the words that changed my life: 'Robert, God made you the way you are, and God loves you the way you are.' "
In a phone interview, Michelle Turner, president of Citizens for a Responsible Curriculum, said: "There is no conclusive truth that sexual [orientation] is something you are born with. Where's the science?"
She added that the judge in the case ruled that if the school system addresses the issue of homosexuality in class, teachers must include viewpoints from more than one perspective. "If you open Pandora's box, you have to address everything that comes out of it."
Alexandra Koneff, 41, who has a sixth-grade daughter and a fourth-grade son in the school system, said she supports the approach sought by Teachthefacts.org. "I know kids are growing up a lot faster," said Koneff, who lives in Bethesda. "I want to make sure [my children] have all the information they need, not just a part of it."
Organizers of the forum showed "Protect Yourself," a seven-minute video that was intended to be part of the curriculum. The video opens with a young woman in a pharmacy standing before a row of condoms. She asks what the best ways are for young people to protect themselves from sexually transmitted diseases and pregnancy. The video then shows shots of several teenagers, who respond that refraining from sex or using condoms are best. At the end, the woman uses a cucumber to demonstrate how to put on a condom.
Glenn Northern, sexuality education policy manager at Planned Parenthood Federation of America, praised the video. "It mentions abstinence seven times. This is not simply giving lip service to abstinence."
Turner said the school system is clear in teaching against smoking and using illicit drugs but sends a mixed message on sex. "Why would they teach kids how to have sex when there are so many physical and emotional dangers?" she said.