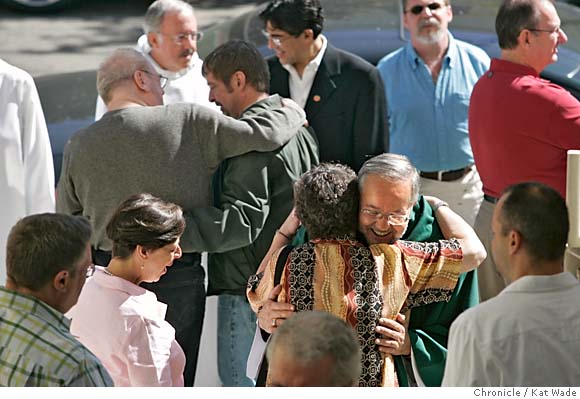 The Rev. Stephen Meriwether greets parishioners after Sunday Mass at Most Holy Redeemer Church. Chronicle photo by Kat Wade
Holding a rosary, Mark Andrew prays at Most Holy Redeemer in San Francisco. Chronicle photo by Kat Wade
BAY AREA
Gay Catholics keeping faith despite Vatican
- Wyatt Buchanan, SF Chronicle Staff Writer
Tuesday, September 27, 2005
As the Roman Catholic Church investigates homosexuality among seminary students -- and believers await the Vatican's expected ban on gay priests -- lesbian and gay Catholics are maintaining their faith by focusing on the day-to-day experiences in their parishes.
The church as an institution is separate, they say.
Locally, Most Holy Redeemer Church, a half block from 18th Street, a main artery of the predominantly gay Castro neighborhood, affirms gay congregants. Sunday morning, church leaders greeted almost 400 worshipers -- mainly middle-aged and older men -- with hugs at the door.
During Mass at the bright and well-kept church, the Rev. Stephen Meriwether told parishioners that downtrodden and misunderstood members of the community have long been scorned by the "movers and shakers" in religious leadership, though he never specifically mentioned the Catholic Church, its leaders or recent events.
"The will of the Father is to heal rather to inflict wounds," Meriwether told the church.
Parishioner Bob Barcewski said he often feels that priests at the parish speak in "code words," allowing them to address salient issues without stepping across lines of church teaching.
Most Holy Redeemer's priests baptize children of same-sex couples, and a large contingent of parishioners marches every year in San Francisco's gay pride parade. This year, they waved gay pride and Vatican flags together.
William Levada -- former archbishop of San Francisco and now, as prefect of the Congregation of the Doctrine of the Faith, the Vatican official who oversees implementation of church teachings -- once told parishioners that he enjoyed visiting Most Holy Redeemer because it was among the most welcoming in the diocese.
Across the country, in places such as Springfield, Mo., and Memphis, dioceses and parishes are reaching out to the gay, lesbian, transgender and bisexual community by starting ministries that cater to gays and lesbians and do not aim to change anyone's sexual orientation.
"The goal is to help people who are gay and lesbian to realize they are welcome in our church," said the Rev. John Geaney, spokesman for the Diocese of Memphis. There, the bishop oversaw the founding of a monthly meeting for gays, lesbians and their families.
"The bishop's concern is that people be treated as human beings," Geaney said.
The Vatican-ordered inspection of seminaries began Monday in St. Louis. St. Patrick's Seminary in Menlo Park, the only Northern California seminary and one of two training grounds in California for Catholic priests, will be visited by an inspection team Oct. 16-21.
Meanwhile, the Catholic World News reported that Pope Benedict XVI has approved an edict that states in part that "homosexuals should not be admitted to seminaries even if they are celibate because their condition suggests a serious personality disorder which detracts from their ability to serve as ministers."
Abuse victims' groups, other reform groups in the church and gay leaders criticize the seminary visits and the expected ban of gay priests as Vatican attempts at image management that are way off the mark. They also say the Vatican is trying to link gay priests with the sex abuse scandal that has plagued the American Catholic church for a decade.
"It's simplistic blame-shifting," said David Clohessy, executive director of the Survivors Network of those Abused by Priests, or SNAP. "What has scandalized millions of Catholics and hurt tens of thousands of kids was the repeated transferring and covering up of molesters by the hierarchy -- that's the crux of the issue."
About half the abuse survivors in SNAP are men and half women.
The church does not categorically reject gays and lesbians, nor does it condemn their sexual orientation.
The United States Conference of Catholic Bishops set out a guideline on homosexuality in a 1997 document titled "Always Our Children." First, according to the document, God's plan limits sexual intercourse to marriages between a man and a woman, and requires all intercourse be open to the creation of human life.
"Homosexual intercourse cannot fulfill these two conditions," the document states. "Therefore, the Church teaches that homogenital behavior is objectively immoral, while making the important distinction between this behavior and a homosexual orientation, which is not immoral in itself."
That distinction leaves room for parishes like Most Holy Redeemer to flourish, though many parishioners reject the notion that they are sinning by having sex.
"I do know that I belong to a church that essentially hates me, but I go to Most Holy Redeemer because I'm loved there and I give love back," said parishioner Barcewski, 59, who is gay and has belonged to the parish for 15 years.
Barcewski attended seminary for two years in the 1960s, in large part because it relieved social pressure to be attracted to women, he said.
Patrick Mulcahey, a parishioner for 11 years who oversees the church's Wednesday night meals for the homeless and a program for returning Catholics, said he dissents from the celibacy edict for gays.
"Let Rome say what it wants. What happens to me on Wednesday nights with all the volunteers and the 120 men and women who are not welcome anywhere in the world -- to be with them, nothing replaces that for me," said Mulcahey, 52.
Conservative Catholics such as Dale Vree, who edits the Berkeley-based New Oxford Review, say that stance is dangerous.
"You can have a homosexual inclination," Vree said. "That's not a sin. But if you're doing homosexual acts, that's a sin, and it's a mortal sin and it could send you to hell.
"They don't want to talk about that," Vree said of gay Catholics and their supporters. "What they want is for the spirit of the times, the worldly spirit, to invade the church, and that's not going to happen."
Gay-affirming parishes do not exist only in San Francisco, however. The Berkeley-based National Association of Catholic Diocesan Lesbian and Gay Ministries has advised dozens of congregations on starting ministries for gays, lesbians and their families.
"This is not only happening in the urban centers on the coasts, but also in middle America because dioceses are paying attention to the needs of gay and lesbian Catholics, and gay and lesbian Catholics and their families are becoming more vocal about their needs," said the Rev. Jim Schexnayder, who helped found the association in 1994.
The group's annual conference this weekend in San Jose attracted members of 50 parishes across the country. Schexnayder visited Springfield, Mo., early this month to speak to priests there on ministering to gays, lesbians and their families.
"The bishop thought it was something they needed to know. There was a big turnout, so obviously it was something the men wanted to hear," the Rev. John Gagnepain, who organized the event as part of the diocese's bimonthly "day of reflection," said by phone Monday from Missouri.
Gays, lesbians and their supporters see progress, but they know the church could force a more conservative atmosphere in parishes like Most Holy Redeemer.
"I'm someone who believes you have to live how you believe, and by doing that people will change," said Nanette Miller, 56, a lesbian appointed to the board of Catholic Charities CYO by then-Archbishop Levada. Miller has belonged to Most Holy Redeemer for 13 years, after a 20-year hiatus from the church.
"I met a group of loving and caring people during the height of the AIDS epidemic," she said. "I saw the sincerity of the people there, the compassion and the ability to be Catholic and gay. It was sort of like going home."
Staff writer Delfin Vigil contributed to this story. E-mail Wyatt Buchanan at wbuchanan@sfchronicle.com.
Page B - 1
URL:
http://sfgate.com/cgi-bin/article.cgi?file=/c/a/2005/09/27/BAG4OEU9HU1.DTL
At the Vatican, Exceptions Make the Rule By JOHN L. ALLEN Jr.