She thinks a woman's place is in the Elysée
By Katrin Bennhold International Herald Tribune
FRIDAY, SEPTEMBER 30, 2005
PARIS
Ségolène Royal is popular, experienced, a tireless campaigner and, at a time when a disenchanted French electorate is searching for novelty, among the youngest of the top politicians in her embattled Socialist Party.
But when Royal, 52, said last week that she was considering running for president in 2007, she unleashed an onslaught of attacks and ridicule from her own camp.
"Who will look after the children?" scoffed Laurent Fabius, a former prime minister with presidential ambitions himself. "The presidential race is not a beauty contest," sniffed Jack Lang, a former education and culture minister, who also wants to run in 2007.
In her sunswept office on the third floor of the Parliament building this week, Royal struck a defiant tone.
"With comments like that they only disqualify themselves and hurt their own credibility," she said, flashing a combative smile. "If, in 2007, I am the best placed to win for my camp, I should run."
Then her face turned somber. If she had been black and a man, she said, "They would never have dared to say these things. Am I not allowed to talk about this possibility just because I am a woman?"
Royal, a former government minister who now presides over the Poitou-Charentes region of western France, is the only women to head one of the country's 22 regions. She rose in the ranks of the Socialist Party in tandem with François Hollande, the current party chairman and the father of her four children.
Hollande is another possible candidate to succeed President Jacques Chirac - but Royal consistently outscores him in opinion polls. Within days of a much-talked-about interview this month with the magazine Paris-Match, in which Royal first hinted at her possible candidacy, a poll by the Ifop institute ranked her the second most popular potential Socialist presidential candidate, trailing Lang by only one percentage point.
The squabbling over Royal's potential candidacy highlights the internal rivalries in a party still reeling from its humiliating defeat in the last presidential election, in 2002, and the divisive referendum on the European constitution in May. But it also speaks loudly about attitudes toward women among leading members of the French political class.
It was telling that the only politician publicly defending Royal's presidential bid was Roselyne Bachelot, a lawmaker from the governing center-right party.
More than two centuries after the French revolution, women are conspicuously absent from the top echelons of political life in the country.
France's only woman prime minister to date, Edith Cresson, left office in 1992 under a cloud. There has never been a woman president - not surprising since the mainstream parties have never fielded a woman candidate. Less than 13 percent of lawmakers are women, leaving France ranked 74th internationally in gender-equality, according to the Inter-Parliamentary Union.
According to Marc Lazar, professor of political science at Sciences Po in Paris, the fault lies not with voters but with the political classes.
"France is ready for a woman president, but the political elites are not," he said. "Ségolène Royal has a real potential with public opinion. But you can't become a candidate unless you have a network in your party."
According to a survey by the BVA institute this year, 85 percent of French voters are prepared to elect a woman president.
Royal says the numbers confirm her experience with voters in the rural and conservative region over which she presides.
"Sexism often comes from quite high up," she said. "The electorate on the ground is more progressive than many politicians."
Royal, who has held ministerial portfolios for the environment, schools and the family, continued working as she raised her children, now aged 13 to 20. This has burnished her reputation in a country of working mothers; she has also scored points on the right through her defense of the traditional family and her fight against pornography.
Although she is not especially popular in her own party, her victory in last year's regional elections, when she garnered an absolute majority of the vote on the home turf of Jean-Pierre Raffarin, then France's prime minister, raised her profile across the nation. The victory became a symbol of voters' rejection of the government and their hunger for fresh faces.
With 18 months until the presidential election, certain factors bode well for the Socialists. The party won landslide victories in the regional and European elections last year, the center-right government remains unpopular and a rebellious mood prevails in France.
But the party has still not recovered from its 2002 defeat, when the Socialist prime minister, Lionel Jospin, was trounced in the first round by Jean-Marie Le Pen, leader of the extreme-right National Front.
Since then the Socialists have failed to agree on a program, torn between those who want to veer to the left and a more reformist wing. The no vote in the referendum on the European charter intensified those divisions.
As a result, press speculation over who will succeed Chirac has focused on his two top lieutenants: Prime Minister Dominique de Villepin, the president's heir apparent, and Interior Minister Nicolas Sarkozy, the head of the Gaullist party.
Royal says she feels capable of taking on either of the two in 2007. A party congress scheduled for mid-November, she added, will be key to putting the Socialists back on France's political map.
"We have to redefine the political line of the party and assure its stability," said Royal, who along with Hollande and Lang is in the reformist camp. She said a party split was unlikely, but added, "We have to be vigilant. Most importantly, we have to make sure that the level of the debate does not degenerate."
That will not be easy, as a dozen senior Socialists vie to compete for France's top job, among them Royal and Hollande. So how will they work it out?
"We are not competitive with each other," Royal said of her relationship with Hollande, who has his parliamentary office next to hers. "For us the fact that we both work in politics gives us additional strength."
The two have spent most of their professional life together. They met at the elite Ecole Nationale d'Administration and joined the Socialist Party together in 1978. Both worked for President François Mitterrand, and both were first elected to Parliament in 1988. She soon joined the government, while he worked his way up through party ranks until he was elected leader in 1997.
Some say the media hype around Royal may in fact bolster Hollande's bid to rise to the highest office by capitalizing on the power-couple effect, à la Bill and Hillary Clinton.
Oddly, given the description by the sociologist Janine Mossuz-Lavau of French politics as "one big male club," Royal may face an adversary from a different party but the same sex. Michèle Alliot-Marie, the ambitious defense minister, published a book with her vision of France's future this week - and said she planned to play "a frontline role in the presidential election in 2007."
September 24, 2005
The Times
Battle Royal for presidency as leader's wife throws hat in ring
From Charles Bremner in Paris
TIMES are hard for François Hollande, the French opposition leader and would-be president. His Socialist Party is riven by feuds, rivals want him out and now his glamorous partner has eclipsed him in the race to succeed Jacques Chirac.
M Hollande, 51, discovered while reading Paris Match on Thursday, the 52nd birthday of Ségolène Royal, the mother of his four children, that she had proclaimed herself a candidate for the elections in April 2007.
Opinion polls show her to be more popular with voters than any of the jostling half dozen would-be candidates of the Centre Left.
She scores far above M Hollande's own meagre rating as he strives to keep his job and the presidential nomination that usually goes with it.
"If it turns out that I am the best-placed and if I am asked by the Socialist Party because I can win for our camp, then I will do it," said his companion of 25 years. She would first need his consent, she added.
Mme Royal, a former minister who became a star last year by winning the presidency of the traditionally conservative Poitou-Charentes region, posed seductively for Match with Flora, their 13-year-old. She says that she is ready to fight Nicolas Sarkozy, the Interior Minister and heavyweight contender from the Centre Right in a presidential campaign that is already under way. "I feel that I am capable of beating him or any other person," she said.
Mme Royal's gambit caused apoplexy among senior Socialists jockeying for control of a party that blew its strong lead over M Chirac's Centre Right last spring by splitting over the European Constitution.
Henri Emmanuelli, a former party leader and one of the radical anti-Hollande faction, was so upset that he threatened to shoot Mme Royal.
The idea of a Madame la Présidente Royal is not so far-fetched. The Centre Left badly needs a fresh and popular personality to capitalise on the deep unpopularity of President Chirac's administration.
Mme Royal, fiercely ambitious and a charismatic campaigner, could be well suited for combat with M Sarkozy, or possibly Dominique de Villepin, the Prime Minister who is in competition with him.
She enjoys an image as a no-nonsense manager as the only woman regional president.
Her tough-talking drive for family values, education and against pornography appeal to voters.
Cécilia Sarkozy, the Interior Minister's wife, who has just made her own news by running off with another man, annoyed her husband by praising Mme Royal for her "combination of brilliance and femininity".The amiable but uncharismatic party leader, who is sometimes mocked as "Monsieur Royal", was needled by his wife's grab for the limelight as he prepares for a decisive party congress in November.
"I have told her . . . that it is not the moment to declare her candidature," he said on television. "I tell Ségolène, as I tell the others, 'we will choose the best among us for 2007'." M Hollande's first task is to bridge the gulf that has opened between the strong "back-to-the future" Socialist wing that rejected the constitution and yearns for a Marxist France and the timid reformist majority that he and his partner represent. The Socialist "elephants" had until recently refused to take seriously the one-time protégée of President Mitterrand. She is too "feminine", a shrill campaigner and has no party power base, they said.
"Who will take care of the children?", jeered Laurent Fabius, a former Prime Minister and leader of the "no" camp, whose ambition is to oust M Hollande and run for president.
Tue 27 Sep 2005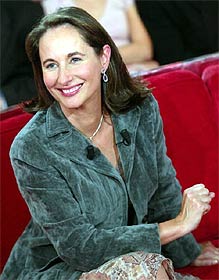 Ségoléne Royal is the partner of the Socialist leader.
Picture: Frank Fife/ AFP/ Getty Images
Female politicians to take on French old guard
SUSAN BELL IN PARIS - The Scotsman
THE land of Simone de Beauvoir can hardly boast that it has been at the forefront of feminist advances - it ranks 74th worldwide behind Iraq and Afghanistan for its proportion of female MPs.
But France could soon have its first female president, with two leading politicians indicating that they are willing to stand in the 2007 election.
On the left wing is Ségoléne Royal, the highly popular partner of the Socialist leader Francois Hollande and the only female president of a French region.
On the right wing is the conservative defence minister, Michèle Alliot-Marie, as widely known for her severe military haircut as she is for her loyalty to Jacques Chirac, the president.
Ms Royal, 52, was the first to throw her hat into the ring with a glamorous photo spread in Paris Match.
Announcing that she would be ready to fight the presidential race if the Socialist party asked her to, she said she felt capable of beating the conservative interior minister, Nicolas Sarkozy - the hotly tipped presidential contender - "or another".
Her comments drew snide remarks from Socialists, with senior MP Henri Emanuelli sniping he "would put another bullet in the hunting rifle" and Jack Lang speaking mockingly of "a beauty contest".
But Ms Royal snapped back that some paid lip-service to equality, but did not believe it.
A recent survey for Le Journal du Dimanche showed Ms Royal already enjoys high levels of support, with 23 per cent of French voters behind her and 60 per cent declaring they have a good opinion of her. She currently lies in second position among potential Socialist candidates. Mr Lang is only just in front with 24 per cent.
Ms Royal, a former environment minister, can boast the unique distinction of being the only female president of a region after trouncing then prime minister Jean-Pierre Raffarin's chosen successor to the post in his fief of Poitou Charentes in last year's regional elections.
However, although she is widely admired by the French public, rivals within the party dismiss her chances of being chosen as the Socialist candidate.
"She doesn't have a chance in ten thousand of being nominated," sniffed an aide to another Socialist candidate.
"There is not a single Socialist baron who will vote for Ségoléne."
There is also the problem of her partner, Mr Hollande, with whom she has four children.
For Ms Royal to be nominated as the Socialist candidate, Mr Hollande would have to renounce his own presidential ambitions, something which insiders believe he may be unwilling to do.
However, Ms Royal's supporters believe her popularity, and the fact that no clearly obvious Socialist candidate has yet emerged, may yet stand in her favour.
Ms Alliot-Marie was quick to follow in Ms Royal's footsteps, declaring that she planned to play "a leading role" in the presidential elections.
Noting that the election is just 19 months away, she said: "We'll see what the context and the state of public opinion looks like at that time.
"A woman can aspire to the presidency of the republic.
"It is neither an advantage or a disadvantage to be a woman, the problem is rather to know what one should propose."
Dubbed "the Republic's good little soldier", Ms Alliot-Marie's trump card has been her loyalty to Mr Chirac.
She also enjoys widespread popularity, occupying fourth place in the hit-parade of French politicians.
Observers agree her best chance of success is to emerge as the only viable alternative if the dual between the ambitious Mr Sarkozy and the aristocratic prime minister Dominique de Villepin becomes an impasse.
Ms Alliot-Marie has already pulled off a similar coup, unexpectedly winning the presidency of Jacques Chirac's then RPR party (now UMP) during a period of intense in-fighting.
Although 85 per cent of French people said they were ready to elect a woman president in a poll earlier this year, the country's record on political equality is hardly encouraging.
The country only agreed to grant votes to women in 1944, 26 years after Britain.
Despite promises by successive governments to increase parity between the sexes in the notoriously macho National Assembly, France can claim only 71 women MPs out of a total of 577 - an increase from 63 women MPs in 1997.
Sexist jibes greet Socialist woman's quest for Elysée
By Colin Randall
(Filed: 27/09/2005) The Telegraph
France's Socialist Party has been torn by sexist jibes over a woman's offer to stand as its candidate at the next presidential election.
Ségolène Royal, who lives with the Socialist leader, François Hollande, and is the mother of his four children, says she will contest the 2007 race for the Elysée Palace if the party considers her its best hope of victory.
But Miss Royal has been stung by a series of dismissive comments since she chose the glossy magazine Paris Match to make her announcement.
Referring to the possibility that Mr Hollande might also seek the candidature, another Socialist presidential hopeful, Laurent Fabius, a former premier, inquired: "So who is going to mind the children?"
Miss Royal, who is president of the Poitou-Charentes region of western France, was also angered when Jean-Luc Mélenchon, a Socialist senator, said the presidential poll "is not a beauty contest".
Other MPs, speaking anonymously, reacted scornfully to the Paris Match interview last week. Even Mr Hollande, whose frequent upstaging by his companion leads to gags about "Monsieur Royal", said gravely that he had reminded her now was not the time to announce her intentions. Miss Royal complained yesterday that some party colleagues' reaction suggested that they thought only a man had the right to seek the presidency.
"These comments are very, very surprising," she said. They did not reflect the views of the "great majority" of socialists, "nor, happily, the position of the party".
In terms of public appeal, Miss Royal, 52, stands out among several leading party figures looking to succeed President Jacques Chirac.
A champion of family values despite not being married, Miss Royal admits her views on many social issues are seen as Right of centre, but claims they are in tune with the French public.
男性優位の仏政界に波紋…大物2女性が大統領選に意欲 (読売 2005/09/30)