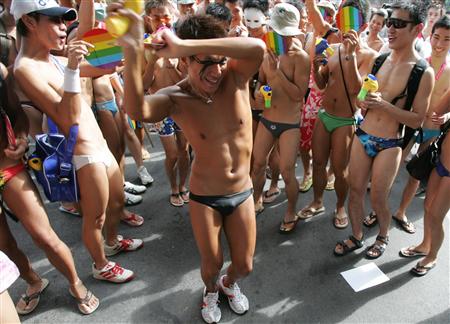 An activist dances as others look on at a gay and lesbian parade in downtown Taipei, October 1, 2005.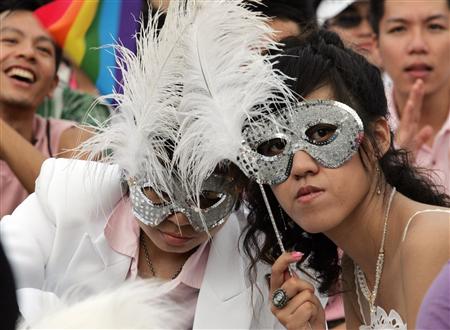 Activists put on their masks at a gay and lesbian parade in downtown Taipei October 1, 2005.
An activist attends a gay parade in downtown Taipei October 1, 2005.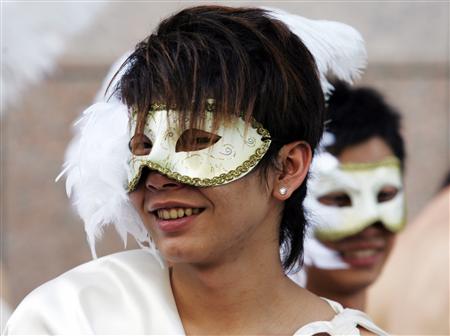 A gay activist attends a gay and lesbian parade in downtown Taipei October 1, 2005.
Thousands of gay activists, many in flamboyant costumes, took to the streets of Taipei on Saturday to demand equal rights in a society that still frowns upon homosexuality.
REUTERS/Richard Chung
Gay pride parade a sign of progress: experts
BY JEAN LIN
STAFF REPORTER
Saturday, Oct 01, 2005,Page 2 Taipei Times
For many, basic human rights today are taken for granted, yet for others, the struggle continues.
When women stand in line to cast their votes, or media headlines openly criticize government policies and the conduct of officials or people choose freely whether to be Buddhist or Christian, few people stop to consider why they enjoy these rights, let alone be grateful to those who fought for them in the past.
The 101 gay pride parade, to be held today in Taipei, is not so much a festive event but rather an opportunity for gay and gender rights groups to fight for equality in society, according to experts.
Holding such an event would have been unheard of 20 years ago, indicating progress in the gay-rights movement. But at the same time, questions have arisen as to what such a parade symbolizes and how activities like it have contributed to the gay-rights movement's progress over the years.
According to Chu Wei-cheng (朱偉誠), a professor who researches gay issues and literature at National Taiwan University, the gay-rights movement in Taiwan appears to be quiet and less active nowadays than in the 1990s, when the focus of mainstream interest lay in topics of sexuality.
Chu said that as interest decreased due to repeated exposure of the issue, the movement has waned -- but not disappeared.
Chu said, in retrospect, the ground gained by Taiwan's gay-rights movement until now has been cultural. The cultural perception of gays in Taiwan has changed a lot, and on the surface gays are acknowledged as a legitimate minority group deserving certain rights.
But in actuality they are getting very few of those rights, he said.
Gay rights activist J.J. Lai (賴正哲), recently charged by the Keelung District Court for selling gay magazines imported from Hong Kong, spoke of the unfair treatment of gays in Taiwanese society.
Lai, whose bookstore was the first of its kind to sell gay and lesbian themed books in Taiwan, said his shop was frequently inspected by police for no apparent reason.
"Neighbors often informed on me to the police because I sell gay publications, but these books and magazines are legal. You don't see them reporting bookstores that sell magazines with nude women," Lai said.
Lai also said that many of his gay friends were discriminated against in the workplace, and were unable to receive promotions for reasons such as "improper attire at work" or "being unmarried."
"These excuses are a way of saying that the person is gay," Lai said.
This is in stark contrast with other countries, such as Holland, where the first gay-rights organization in the world was created in 1946.
Jeroen Speelman, living in Amsterdam, said he feels no discrimination whatsoever in Holland, and had no trouble coming out with his family and friends.
"We are also the first country to allow gay marriages and we allow child adoption for gay couples," he said.
But according to Anthony Yu (余明添) who works in the finance industry in the US, coming out is still very hard for many gays, even though the US is perceived as a very open society in the eyes of an Asian.
"The fact that you're informing them that you're now a member of a minority stereotypically associated with AIDS, pedophilia and sin does not make the matter any easier," Yu said.
"I would venture to say that even for those living in open-minded areas or those with liberal parents, it's still difficult to come out. Many people are okay with gays in general, but have a harder time accepting their own son or neighbor as being gay," Yu said.
In Taiwan, "Kenneth Huang," who preferred not to have his Chinese name published -- like many gays -- has not come out yet.
"Taiwanese society is not like other countries," Huang said. "Asians have family pressures, whether it's from the older generation or having a family of your own."
Obstacles aside, changes can still be seen regarding the general acceptance of gays, even in countries such as China.
The main difference between the gay-rights movement in Taiwan and those in Western countries -- where there is a long history of lesbian and gay activism -- is that, compared to the West, Taiwan is still very limited in terms of community mobilization, resources and political leverage, Chu said.
"Gay rights groups here are working very hard to improve the situation, but they lack the political strength to get any real reforms started," Chu said.
"This is where they should put more emphasis, because very little progress has been made in terms of political strength," he added.
When asked what the future holds for Taiwan's gay-rights movement, Chu said it depended on how successful the movement has made use of political opportunities in the bigger context.
"Also, sometimes a good idea might be to work on the revision of certain laws which concern not only lesbian and gay people, but Taiwan's civil society as a whole, because that has an impact on lesbian and gay rights, too," Chu said.
Gay activists march for rights in Taiwan
Sat Oct 1, 2005 11:06 AM BST
TAIPEI (
Reuters
) - Thousands of gay activists, many in flamboyant costumes, took to the streets of Taiwan's capital on Saturday to demand equal rights in a society that still frowns upon homosexuality.
Activists, some dressed as Roman warriors, Chinese court officials and winged angels, began their march in downtown Taipei in a carnival-like mood, waving flags and chanting slogans.
"We want society to treat us like normal human beings, and not see us like aliens or sick people," said 23-year-old Vodka Wang, wearing flowing white robes and a golden mask.
Organisers said gay parades in Asia were not as common as in Europe or the United States and were aimed at raising civil awareness and protest against discrimination.
Apart from Taiwan, so far only Japan, Thailand, Hong Kong and the Philippines have organised gay marches, organisers said.
"Although Taiwan's society has become more liberal in recent years, there are still some politicians that make comments discriminating against homosexuals," said Ashley Wu, spokesman for Taiwan Pride 2005, which has organised the parade annually since 2003.
"Gays are also discriminated in the legal system. For instance, homosexuals are not allowed to donate blood," Wu said.
In 2003, Taiwan's cabinet drafted a controversial bill to legalise same-sex marriage and recognise the right of homosexual couples to adopt children, but the bill is still pending parliament approval.
"Fairytales usually end with a prince and a princess living happily ever after," said Orlando Huang, a 24-year-old student in Snow White attire.
"I don't see why they can't end with two princesses coming together like us," she said, putting her arms around her partner.
Taiwanese gays march for rights
From: Agence France-Presse From correspondents in Taipei, Taiwan
October 01, 2005
THOUSANDS from Taiwan's gay and lesbian community rallied today in the capital Taipei to demand broader rights for homosexuals, organisers said.
"Our theme this year is Be Together urging (all across) the society to have one heart and join efforts to stop the discrimination and violence against gays. We are one big family," organiser Ashley Wu said.
The third annual gay pride parade was marked by a carnival-like mood, with marchers donning flamboyant costumes and dominatrix outfits while wielding rainbow banners and colourful placards.
Mr Wu said 4000 people joined the parade despite the approaching Typhoon Longwang which threatened to bring torrential rains and powerful winds to the island.
Police estimated the turnout to be about 1200.
"Girl loves girl and we are happy," shouted some marchers dressed in bridal gowns, demanding the right to same-sex marriages.
Taiwan's cabinet in 2003 drafted a controversial bill to legalise same-sex marriages and recognise the right of homosexual couples to adopt children, the first country in Asia to do so.
However, the law has yet to be passed and some gay groups have said the legislation was simply a ploy to woo voters.
台湾同志遊行(Taiwan Pride)2005
台湾で同性愛者によるプライドパレード開催 (虹色坩堝blog)