The New York Times
New York/Region
The Chase
Beauties in Heels, and the Men Who Love Them
By DENNY LEE
Published: October 2, 2005
CALL her a hussy, a tramp, even. But don't call her gay, especially to her face.
"I don't like men who like men," said Georgina, a plump 47, who wore a strawberry blond wig, saucers of blue eye shadow and enough pancake makeup to camouflage a beard. "I like a man who appreciates a woman."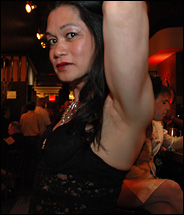 Betty Alexandra Bastidas for The New York Times
At the Silver Swan, Saturday night is ladies' night, thanks in part to Ina.
Georgina, you see, is not a "genetic girl," or "double G," in the parlance of the transgender barflies who gathered one recent Saturday at the Silver Swan, a German restaurant on East 20th Street. Like most of the patrons that evening, Georgina leads a double life. By day, he is George, a buttoned-down receptionist from the Lower East Side who works at the Department of Education. By night, she is Georgina, a sassy, fun-loving woman who goes a little heavy on the makeup. And on the cocktails.
"When I'm a boy, I don't get the men I want," Georgina said, playfully sprawled on the sidewalk, her fishnet stockings and red panties exposed beneath her short sundress. "But when I'm a girl, I get the man I want."
The weekly drag-a-thon was started five years ago by Nazz Somera, better known as Ina. After striding down Fifth Avenue for the annual gay pride parade (now called the Lesbian, Gay, Bisexual, Transgender Pride March), he ducked into the restaurant's powder room and ran into the owner's wife, who suggested a party for his friends.
Two weeks later, Ina's at Silver Swan was born. "I can express my feelings, but some of the girls cannot, so I created this place for them," said Mr. Somera, sounding for all the world like a den mother protecting her brood. Dressed in a Chanel-style jacket and Gucci stilettos, he was one of the only patrons comfortable about giving his full name.
"It's like a sorority and an Elks club for my friends," he said of the place. "After five days of work, they want to express themselves."
He added, "And it's not only for the girls, but the 'guys,' " referring to the more conventional-looking men known affectionately as tranny chasers.
This group included people like Pablo, a stocky, 35-year-old restaurant manager, who arrived by motorcycle at midnight. "My parents, my friends, my co-workers - no one knows about this," he said. "But this is what makes me happy."
Indeed, as the night progressed, the Silver Swan began to look like a fairly typical meat market. Half the crowd had squeezed themselves into tight dresses and high heels; the other half wore the guy-next-door uniform of denim jeans and tucked-in shirt.
The most surprising factor was the age, which ranged from Gen-X to AARP.
A handsome real estate lawyer named Reid could have been mistaken for a frat boy, except for the Evian bottle in his hand.
"I come here for dates," he said as he scoped the crowd. "I usually sleep with genetic girls, but I'm also attracted to trannies. I have no idea why. They are often more feminine than actual women."
But Ina's at Silver Swan is more than a pickup joint. Unlike many other transgender bars in the city, which often have reputations for attracting prostitutes and drug use, the Silver Swan is practically G-rated. For budding cross-dressers, it is a sort of finishing school, offering a safe place for their public debuts as exaggerated members of the opposite sex. For their so-called admirers, it is a cocktail party at which it's possible to mingle incognito.
"I'm just here to watch and talk to the women," said Phil, a divorced 71-year-old who lives on the Upper West Side. He sat alone at the bar, a dapper figure in a navy suit, gold cuff links and a red handkerchief.
"I have a fantasy, but I never act on it," he added. "I come here a lot, and usually stay for three hours."
Most men show up, however, because they have no other place to go. "I usually go to regular straight bars," said Jessie, a fetching 25-year-old with long ebony hair and hormone-enhanced curves. "Places like Marquee in Chelsea. Guys try to pick me up all the time." She never spends money when she goes out, she said.
"But tonight, I'm bringing it back to my roots," Jessie added, flinging her hair. "It's easier to meet people who already know, rather than trying to explain myself."