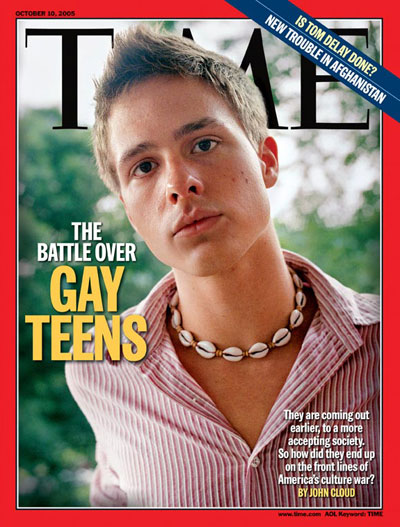 TIME (US edition) October 10, 2005 Vol. 166 No. 15
COVER
The Battle Over Gay Teens
What happens when you come out as a kid? How gay youths are challenging the right--and the left
Photo Essay
Speaking Out
A look at the lives of gay teens in the U.S.
Reader Response
Questions for John Cloud
Send in your thoughts for the cover story's author
Larger Cover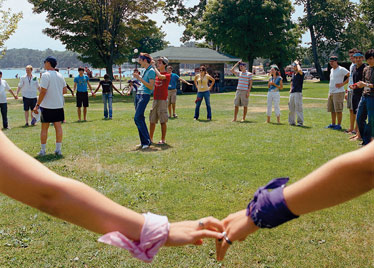 KATJA HEINEMANN / AURORA FOR TIME
HELPING HAND: A trust-building exercise at the Point Foundation retreat for lesbian, gay, bisexual and transgendered students
From the Magazine | Cover Story
The Battle Over Gay Teens
What happens when you come out as a kid? How gay youths are challenging the right--and the left
By JOHN CLOUD
TIME Cover:
The War Over Gays (1998)
TIME Cover:
The Homosexual in America (1969)
Posted Sunday, Oct. 02, 2005
In May, David Steward, a former president of TV Guide, and his partner Pierre Friedrichs, a caterer, hosted an uncomfortably crowded cocktail party at their Manhattan apartment. It was a typical gay fund raiser--there were lemony vodka drinks with mint sprigs; there were gift bags with Calvin Klein sunglasses; Friedrichs prepared little blackened-tuna-with-mango-chutney hors d'oeuvres that were served by uniformed waiters. Billionaire philanthropist Edgar Bronfman Sr. was there; David Mixner, a gay activist and longtime friend of Bill Clinton's, was holding court with Jason Moore, director of the musical Avenue Q.
But the odd thing was that the gay (and gay-friendly) elite had gathered to raise money not for one of its established charities--the Human Rights Campaign, say, or the Democratic National Committee--but for an obscure organization that has quietly become one of the fastest-growing gay groups in the nation, the Point Foundation. Launched in 2001, Point gives lavish (often full-ride) scholarships to gay students. It is one of the few national groups conceived explicitly to help gay kids, and it is a leading example of how the gay movement is responding to the emergence this decade of hundreds of thousands of openly gay youths.
Kids are disclosing their homosexuality with unprecedented regularity--and they are doing so much younger. The average gay person now comes out just before or after graduating high school, according to The New Gay Teenager, a book Harvard University Press published this summer. The book quotes a Penn State study of 350 young people from 59 gay groups that found that the mean age at which lesbians first have sexual contact with other girls is 16; it's just 14 for gay boys. In 1997 there were approximately 100 gay-straight alliances (gsas)--clubs for gay and gay-friendly kids--on U.S. high school campuses. Today there are at least 3,000 gsas--nearly 1 in 10 high schools has one--according to the Gay Lesbian Straight Education Network (glsen, say "glisten"), which registers and advises gsas. In the 2004-05 academic year, gsas were established at U.S. schools at the rate of three per day.
The appearance of so many gay adolescents has, predictably, worried social conservatives, but it has also surprised gay activists, who for years did little to help the few teenagers who were coming out. Both sides sense high stakes. "Same-sex marriage--that's out there. But something going on in a more fierce and insidious way, under the radar, is what's happening in our schools," says Mathew Staver, president of Liberty Counsel, an influential conservative litigation group that earlier this year won a court order blocking a Montgomery County, Md., teachers' guide that disparaged Evangelicals for their views on gays. "They"--gay activists--"know if they make enough inroads into [schools], the same-sex-marriage battle will be moot." Most gay activists would rather swallow glass than say Mat Staver was right about something, but they know that last year's big ucla survey of college freshmen found that 57% favor same-sex marriage (only about 36% of all adults do). Even as adult activists bicker in court, young Americans--including many young conservatives--are becoming thoroughly, even nonchalantly, gay-positive. From young ages, straight kids are growing up with more openly bisexual, gay and sexually uncertain classmates. In the 1960s, gay men recalled first desiring other males at an average age of 14; it was 17 for lesbians. By the '90s, the average had dropped to 10 for gays and 12 for lesbians, according to more than a dozen studies reviewed by the author of The New Gay Teenager, Ritch Savin-Williams, who chairs Cornell's human-development department.
Full Article (Printer Friendly)