Japan HIV Center to help on World AIDS Day
By ANGELA JEFFS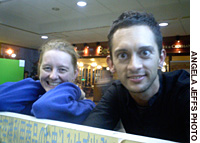 Caitlin Stronell and I are sitting in front of Ebisu Station when Skip Swanson skips into view with a twirl and a balletic bow.
Caitlin Stronell and Skip Swanson are volunteers at the Japan HIV Center in Tokyo, which is holding a hotline marathon this weekend to educate a public that is increasingly at risk.
Caitlin and Skip are both volunteers at the Japan HIV Center (JHC) in Tokyo, which is geared up for a snowstorm of calls today and tomorrow on a special 36-hour hotline marathon, being held in connection with World AIDS Day on Dec. 1.
I met Caitlin first in 1999 when she was active with promoting the U.K. monthly magazine New Internationalist. Being the political animal she is, she's still involved, but less so. "The urgency of spreading awareness here about HIV has become paramount." Carried by activist parents on marches from the day she was born -- in a baby sling! -- she first came to Japan in 1984, "when I was 17."
Skip left Iowa directly after university, and in 1990 worked in a buddy program, acting as a friend and support for a person living with HIV/AIDS.
Growing up in the Midwest, HIV had not yet affected anyone close to him, but as a gay man he felt it was only a matter of time and vowed to take action to learn and deal with the collective fear of AIDS and people with AIDS. "As soon as I arrived in Japan, I looked for a place to volunteer. Other than that, I had no idea what to do with my life. Since then I've gotten clear: as a professional life coach, now I help people get in touch with their creative potential."
Initially in Japan, the human immunodeficiency virus was mainly linked to hemophiliacs receiving infected blood transfusions; people tried to distance themselves by labeling AIDS a "foreigner's disease." When a name was needed in 1989 in order to bring a class-action suit against the Japanese government and drug companies, one brave soul, Noriyasu Akase, went public.
He was one of the founding members of JHC, which was established in Osaka in 1988. The Tokyo branch opened the following year. Now there are six more branches: in Wakayama, Okayama, Shikoku, Nagoya, Chubu (area around Nagoya) and Hyogo. Caitlin says there are some 500 JHC volunteers nationally, including members and supporters.
"I teach at Tokyo Keizai University in Tokyo, and in July I took a busload of students to the 7th International Congress on AIDS in Asia and the Pacific. This is the most major international AIDS conference in our region and it was held in Kobe this year. When I first mentioned the idea to the students, I thought three or four might volunteer, as AIDS doesn't have a very high profile in Japan and not many young people are interested. In fact, 23 wanted to go. I think they just wanted to find out about AIDS for themselves. They even organized themselves, finding what must be the cheapest bus fare in Kanto."
Skip says the eight centers are expecting a lot of calls this weekend. "Last year we received 1,299 calls. This year we expect even many more." He is sure because Health and Welfare Ministry statistics, which monitor infection rates nationwide, show Japan is experiencing the highest HIV infection growth rate ever.
When Skip first started volunteering with JHC in 1991, the attitude amongst most non-Japanese was that they would wait until they went home to be tested. Concerns about possible privacy violations and immigration problems made people very wary of testing in Japan.
There's still a lot of confusion about where to go for help and who to talk to. Also, few of the testing centers offer same-day results or counseling. Now JHC, in partnership with Suginami City Office, offers anonymous tests at the Public Health Center in Ogikubo, which gives results the same day. Counseling in English is also available.
"We currently run this testing service in Nagoya and Osaka as well, and we are hoping we will be able to provide the same service in more locations and also in other languages. In the meantime, NGOs like TELL, AMDA and SHARE are doing great work in terms of telephone counseling in different languages," Caitlin says.
Now that Japan has become one of the major centers of Asia's sex industry, sex tours to Southeast Asia are less popular. Skip: "We used to get a lot of calls from housewives who knew what their husbands were up to and didn't want to have sex with them, and (asking) what could they do."
In the last two years, the rate among teens has risen dramatically, with the steepest curve among girls. "Though on the one hand disempowered and unable to demand condom use, the girls are more concerned about their health," Caitlin says. "They're the ones who drag their boyfriends along to get tested."
"We're getting calls from kids as young as junior high," Skip continues. "We also get a lot of calls from foreign teachers who want to teach about HIV issues -- I think there is greater awareness about HIV in the foreign community than amongst the general Japanese population. Despite this, foreigners are still seen as the greater risk. But the reality is that HIV crosses all borders; it doesn't matter if you practice unsafe sex in Roppongi or in the U.S. or in your own hometown -- anywhere, you run the risk of being infected with HIV."
Infection rates in the Asia-Pacific region are rising fast. Caitlin says that in Japan, "some estimates are that infection rates are actually at least five times the official statistics, which only show people who have actually tested positive. Testing rates are very low in Japan, so there are potentially a lot of people out there who are HIV-positive but don't know it."
A lot of non-Japanese believe that if they test positive, they can't stay in Japan. This, Skip says, is untrue. "A full range of medication is available here, and the health system is much better than many countries, including the U.S. It's possible to apply for up to a 100 percent disability allowance. JHC helps people get through the loops of bureaucratic red tape."
There will be a lot of guerrilla action around Dec. 1, with volunteers out on the streets. Caitlin remembers with great affection and admiration a 70-year-old Japanese Catholic nun one previous year handing out condoms from a large basket while dressed in a Winnie-the-Pooh costume.
JHC hotline: From 10 a.m. Saturday (Nov. 26) to 10 p.m. Sunday. Japanese main line (0120) 545-036, English line (03) 5259-0256, fax for hearing-impaired (English and Japanese) (06) 6882-7801
The Japan Times: Nov. 26, 2005