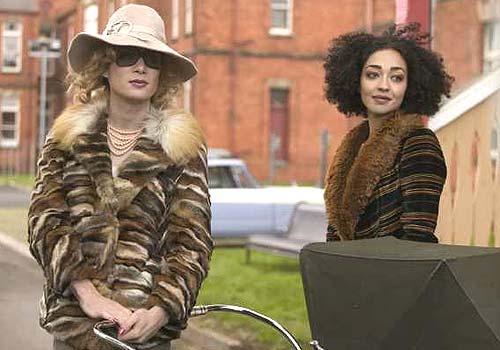 Cillian Murphy as Patrick and Ruth Negga as Charlie in "Breakfast on Pluto."
(Patrick Redmond / Sony Pictures Classics)
December 2, 2005
MOVIE REVIEW
'Breakfast on Pluto'
In "Breakfast on Pluto," a drag queen's way of disengaging amid chaos creates a likable yet unengaging character.
By Carina Chocano, Los Angeles Times Staff Writer
Patrick "Kitten" Braden, the husky-voiced, heavy-lidded transvestite played by Cillian Murphy in Neil Jordan's "Breakfast on Pluto," wishes that everybody would stop being so serious. Which is pretty wishful as wishes go, considering Patrick/Kitten grows up gay in repressive 1960s Ireland and struggles mightily to remain glib and shallow throughout the turbulent '70s, as bombs, riots and violent clashes make the world unsafe for fabulousness.
Based on a novel by Patrick McCabe (whose novel "The Butcher Boy" Jordan adapted in 1997), "Breakfast on Pluto" presents itself as a sort of 20th century "Candide," synoptic chapter headings and all. But more than the easily influenced naif of Voltaire's masterpiece, Patrick resembles eternal optimist Pangloss, who refuses to acknowledge that the violence and brutality around him are truer expressions of human nature than his own rosy delusions.
This sort of wishful thinking was precisely what Voltaire satirized, but "Breakfast on Pluto" seems to want to cast Patrick's blinkered view of the world as a positive trait. "Through his insane insistence on seeing the world as a beautiful place," Jordan says in the press materials, "Patrick never really loses, even when he loses everything." The thing is he never really gains much, either. He sits out the decade, claiming a hangnail. In the end, his disaffection make him a singularly uninvolving character, and his disengagement makes him seem alternately shallow, selfish and perverse.
The episodic story follows Patrick's adventures in the small fictional Irish town of Tyreelin, fictionally situated near the Northern Ireland border, after he's deposited on the priest's doorstep by his mother. Eily Bergin (Eva Birthistle) worked for the priest as a housekeeper, and is famous in town for her beauty and uncanny resemblance to the film star Mitzi Gaynor. It's clear from the start that the melancholy Father Bernard (Liam Neeson) is more than just a spiritual father to the boy, but the truth is never acknowledged. When Eily skips town for London, Patrick (Conor McEvoy plays him as a youth) is placed with a foster family that takes a dim view of his style and proclivities. He survives by forming a close bond with future IRA sympathizer Irwin (Emmet Lawlor McHugh, later Laurence Kinlan), his eventual girlfriend Charlie (Bianca O'Connor, later Ruth Negga) and their innocent friend Laurence (Seamus Reilly), who has Down's syndrome and a tragic fondness for small, remote control-operated robots.
Willfully and courageously true to himself, Patrick displays a rebelliousness and individualism that cut through the stuffy hothouse of the small Irish town like a breeze. (In one scene, his foster mother shoves a football magazine into his hands after catching him trying on his sister's dress; it prompts a fantasy in which he runs the field dressed in silver lamé.) And when he's finally expelled from school for writing a bawdy story about the clerical seduction of a young housekeeper, Patrick takes it as a sign to leave the town and venture out into the wide world.
He hitches a ride out of Tyreelin with an Indian-themed glam rockabilly band called "The Mohawks," and is surprised when lead singer Billy Hatchet (Gavin Friday) falls for him. So, for that matter, are the other Mohawks, who gawk at them from behind lace-fringed windows like the old women of Tyreelin. But if certain elements recall Jordan's "The Crying Game," the lack of emotional and narrative tension isn't one of them. Billy's mates may look askance at the affair, but there is no threat of danger. And Kitten glides through the world as though it had nothing at all to do with him. He may mewl and whimper, but one corner of his mouth remains upturned at all times. He's a Teflon drag queen.
Patrick pressures Billy into letting him join the band as its new singing "squaw," and when that doesn't work, Billy installs Patrick in his own love shack, a run-down caravan by a lake. By now, Kitten's (as Patrick now insists on being called, short for St. Kitten), defiance of convention has started to curdle into opportunism, aimlessness and disaffection, and when he discovers that Billy is running guns for the IRA, he endangers his life in a move that seems less idealistic than childish.
After leaving Billy, Kitten travels to London in search of Eily Bergin. There he falls into one dark, absurdist, violent misadventure after another — all of them funny and oddly lighthearted. He becomes, for a time, the lover and assistant to a sad-sack magician, played by Stephen Rea, who hypnotizes him into believing that random members of the audience are his mother, and is later injured in a nightclub blast and taken into custody as a suspect.
By the time Kitten is set free and his life starts to take a turn for the better, your empathy is all but cashed. Here is a kid who can't wipe the smirk off his face even during a brutal interrogation. Not that you don't want to like him — he's tragic, he's cute, he's more resilient than a day-camp trampoline. But the very characteristics that keep him alive and kicking are the ones that keep you at arm's length. No surprise, then, that even the satisfying and semi-satisfying conclusions to various narrative threads don't quite satisfy.
The same defense mechanisms that keep cruelty at bay seem to prevent love from getting through. The title of the movie refers to a far-outsky comment by a friendly biker whom Kitten befriends early in the movie. The biker passes Kitten a joint and enjoins him to go out and explore the world and expand his consciousness. But the metaphor ends up too literal a description of the young drag queen's distance from his own life. He's nibbling toast in outer space as his world explodes around him.
'Breakfast on Pluto'
MPAA rating: R for sexuality, language, some violence and drug use.
Times guidelines: Contains a brutal beating scene, bombings and sexual situations.
Pathé Pictures and Sony Pictures Classics present. In association with Bord Scannán na hÉireann/The Irish Film Board and the Northern Ireland Film & Television Commission a Parallel Films and Number 9 Films production. Director Neil Jordan. Producers Alan Moloney, Neil Jordan, Stephen Woolley. Written by Neil Jordan and Patrick McCabe. Based on the book by Patrick McCabe. Director of photography Declan Quinn. Film editor Tony Lawson ACE
Running time: 2 hours, 9 minutes.
"Breakfast on Plute" (Sony Pictures Classics)