Women and Equality Unit | Lesbian and Gay Issues | Civil Partnerships (英国政府のシヴィル・パートナーシップ公式ホームページ)
英で同性婚法施行、E・ジョンさんら挙式へ
 【ロンドン5日共同】英国で5日、事実上の同性婚を認める「同性市民パートナー法」が施行された。パートナーとしての登録が始まるのは今月後半からで、人気歌手のエルトン・ジョンさん(58)やジョージ・マイケルさん(42)らが"結婚式"を挙げる計画を立てている。
 「市民パートナー」として登録した同性カップルには、パートナーの遺産相続での優遇税制など、異性の夫婦とほぼ同等の権利が認められる。政府は、2010年までに最多で2万2000人が市民パートナーに登録するとみている。
 市民パートナーは、親子など一定の関係以外の16歳以上の同性であれば、友人同士などでの登録も可能。英政府は、異性同士の結婚とは異なる法的関係としている。 (09:32)
Civil partnerships
Straight choice for all
Leader
Monday December 5, 2005
Guardian
Amid all the predictable jokes about pink champagne and white tuxedos and the speculation over what Elton will buy David and where George and Kenny will go for their honeymoon, it is important to remember that today's legalisation of same-sex civil partnerships is a fundamental step forward for human rights and not just a matter of lifestyle choice.
Filling in a form may not be all that romantic but by giving gay and lesbian citizens the right to register their intention to form a partnership from today, Britain has done something that is both progressive and well in advance of almost everywhere else. Men and women who happen to love someone of the same gender will finally be able to live together as a couple with all the legal benefits and responsibilities that marriage has always conferred. After a fortnight's wait, the first partnerships will be formally registered on December 21, just in time for Christmas.
What is impressive about all this is not just that few other countries have passed a law as good as Britain's - German, New Zealand and American couples in this country will find they have clearer rights here than they do at home - but that alone in the world Britain seems to have done it with a minimum of fuss. Civil partnerships are one of those rare instances where almost everyone has behaved well. The government fulfiled its manifesto promise to introduce a bill and did so without fudging the matter: what they offered was identical to marriage in all but name. The opposition did not obstruct the bill, despite (or perhaps as a delayed apology for) Michael Howard's grim role in introducing section 28 as a junior minister. Indeed Mr Howard put the party's only openly gay frontbencher, Alan Duncan, in charge, and he gave a moving Commons speech. The House of Lords caused less trouble than might have been expected and the tabloid press seem to have embraced the law as a cheerful new source of gossip and not something to be horrified about. Finally, gay rights groups have not made the mistake of demanding that the partnerships be called marriage.
It will be a while before it is clear how many people will make use of the law - estimates vary - but it is certain that some of those who gain most will be elderly. Men and women who have shared each other's lives through years of persecution and discrimination will finally get guaranteed property and pension rights. Many couples of all ages will decide not to take advantage, just as many straight people decide not to marry. But it is right that at last they have the chance to make that choice for themselves.
The Independent
Pink pound boom as companies cash in on gay weddings
By Maxine Frith, Social Affairs Correspondent
Published: 05 December 2005
Thousands of gay couples will publish their "wedding banns" today as the long-awaited Civil Partnership Act comes into force.
Same-sex couples who register their names with local councils today will be able to marry from 21 December, after an obligatory 15-day "cooling off" period.
The legalisation of gay marriage is expected to generate a multimillion-pound economy in wedding ceremonies, receptions and gifts, with businesses keen to cash in on the market.
With some couples having waited more than 40 years for the right to marry, industry observers say the power of the "pink pound" is likely soar.
The Act gives gay couples the same inheritance, pension, tax and benefit rights as married heterosexuals.
They will also have legal "next of kin" status and, in the event of separation, will have rights over each other's assets and access arrangements to any children from the relationship.
Celebrities such as Elton John and George Michael have said they are planning to marry their respective partners in the next few months.
Lawyers have already scented a lucrative new niche, with many rushing to counsel couples about pre-nuptial agreements and other advice before they tie the knot. But the biggest boom will come from the market in wedding services.
Ben Spence set up his internet company, Pink Products, specifically to cater for the gay marriage business. He said: "The traffic has been simply phenomenal in the last few weeks, with about 3,000 hits a day. You have to remember that these are people with enormous spending power and some have waited decades for a law like this.
"I know people who are planning to spend up to £60,000 on their wedding day because they want it to be special."
Among the most popular items from Pink Products are "his and his" cake figurines (sculpted to look different from each other), personalised chocolate wedding favours and "just married" thongs.
With the "pink pound" estimated to be worth £5bn in Britain, companies such as Hilton Hotels, the Jane Asher cake company and the John Lewis Partnership are already advertising with Mr Spence's company.
The gay wedding market will be worth about £600m a year, according to a study by Out Now Consulting, a marketing firm.
A spokeswoman for John Lewis said: "We have a very established wedding gift list for couples who are getting married and we want to offer the same level of service to same sex couples."
Virgin Holidays is now offering package tours, including a civil partnership ceremony, to Florida and Hawaii. Even the high street chain Superdrug has got in on the act, offering an embroidered "dearest and queerest" towel set, with a proportion of profits going to the Elton John Aids Foundation.
About 22,000 couples are expected to go through the 20-minute civil partnership ceremony in the next five years, according to government predictions.
The gay rights group Stonewall estimates that eventually half of all gay and lesbian couples will marry.
Some religions are getting involved, with the Liberal Judaism sect the first to offer a liturgy for partnership ceremonies, while the Methodist church is currently conducting a review of ways in which it could offer blessing services for same-sex couples.
The Church of England has ruled that clergy should not hold official blessing services for couples, but can pray for them.
Ceremonial hot spots
* BRIGHTON: The council will oversee the first civil partnerships in Britain, as three couples aim to tie the knot at 8am on 21 December, the earliest time possible. More than 400 couples have pre-registered for a ceremony.
* MANCHESTER: Hundreds of couples attended a Gay Wedding Show exhibition last month. The new legislation was welcomed with a party in August, when couples were invited to sign a "pink book" pre-registering their civil partnerships declaration.
* LONDON: Islington, Westminster and Kensington and Chelsea are the boroughs with the most couples booked in for a ceremony. The London Eye is proving a popular venuewith a package that includes a capsule bedecked with flowers.
* SCOTLAND: Edinburgh has about 60 couples booked for a ceremony, while Glasgow has 30 planned within the next month. Gay clubs have rushed to become licensed for civil partnership ceremonies and offer "all-in-one" packages.
Big plans for a very special day: Ciaran Quigley and James Hagger
Ciaran Quigley and James Hagger, both 23, are planning a civil partnership ceremony for February and plan to spend up to £40,000.
"We have gone through a commitment ceremony but as soon as we heard about the new law we said we wanted to do it," Mr Quigley said. " For us, it's about saying we love each other in front of our friends and family, but we also want to have a huge party.
"Heterosexual weddings cost about £20,000, and we thought that anything they can do, we can do better!"
The couple, who work in marketing, have been together for three years and live in Middlesex.
They are planning a country house reception with a sit-down meal for at least 100 people. Entertainment includes a string quartet, followed by a disco and a drag act.
"We are prepared to splash out because it is going to be our special day," said Mr Quigley. We have faced some bigotry in our lives and we have been through some tough times, so this is going to be a really important day for us."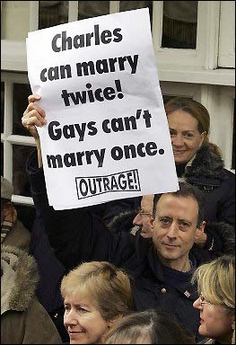 「チャールズ(皇太子)は二度結婚できる!なのに、ゲイは一度も結婚できない」
 AFP/File - Sun Dec 4, 4:24 AM ET Gay rights campaigner Peter Tatchell demonstrates outside the wedding of Prince Charles and Camilla Parker Bowles in Windsor, April 09, 2005. A historic new British law will take effect on Monday, enabling gay or lesbian couples effectively to marry.(AFP/File/Alessandro Abbonizio)
In sickness and in health Britain's gays prepare to exchange vows
Sun Dec 4, 4:24 AM ET - AFP
Roy Peterson lost his home as well as his boyfriend when Rick died more than a decade ago in the United States where the gay couple's 13-year relationship was not recognised by law.
Now living in London, Peterson, 53, says he does not want to risk suffering the same double tragedy of losing a long-term lover and all the legal rights such as inheritance that are taken for granted by married heterosexual couples.
So he and current partner Paul, 49, decided to become one of the first same-sex couples to tie the knot under a historic new British law that takes effect on Monday, enabling gay or lesbian couples effectively to marry.
Tens of thousands of people are expected to sign so-called civil partnerships over the next five years alone, giving them basically the same rights and privileges as their married, male-female counterparts.
The first ceremonies will take place on December 19 in Northern Ireland, December 20 in Scotland and December 21 in England and Wales.
Peterson, an office manager for the gay rights group Stonewall, said he and Paul, a writer, would exchange vows at 1000 GMT on December 21 in Croydon, south London.
"I like to be making history, making changes for everybody else to be able to benefit from," Peterson told AFP.
The US national understands all too well the importance of a legally enforceable relationship.
In 1994, he was living in Florida when his previous partner died of HIV.
"His parents called me their son and his family were very nice to me. Then as soon as he died things turned around the other way. I was pushed out of the house, the locks were changed. There was nothing I could do," Peterson said.
He managed to pick his life up, meeting Paul, a Briton whose surname he did not wish to reveal. The couple eventually moved to London.
They were delighted when the Civil Partnership Act 2004 was passed.
"I wanted to do it as soon as possible," said Peterson.
Some gay partners will celebrate their big day with the same colour and extravagance as many heterosexual marriages.
Others like Peterson are opting for a more low-key affair, noting that they have already been together for years and the civil partnership is more about providing security than proving their love.
Peterson said he will simply sign the legal papers at the register office with Paul and go to work, possibly stopping for lunch on the way.
Brighton, Britain's self-styled "gay capital" on the south coast, promises a much more flamboyant send-off.
The seaside resort will share the honour of hosting England's first civil partnership ceremonies with Westminster in London at 0800 GMT on December 21.
Among two gay couples and one lesbian duo lined up to take the plunge is Roger Lewis, 55, who works as a call advisor for Sussex Police, and his partner Keith Willmott-Goodall, 63.
"Even though we have been together for 14 years, we want to show our commitment to each other," Lewis told AFP.
He also welcomed the ability finally to have rights regarding property, pensions and bereavement. In addition, the new law enables a gay partner to be recognised as the next of kin if the other is admitted to hospital.
The pair along with the Reverend Debbie Gaston and her partner Elaine Cook as well as Gino Meriano and his boyfriend Mike Ullett will "marry" in front of a registrar and two witnesses per couple in Brighton.
The newly-weds will then head to three separate celebrations at the town's Hilton Metropole hotel, where friends and relatives will be waiting.
Asked what he thought married life would be like, Willmott-Goodall, who is retired, said: "I think we will be the same together, nagging each other as we have done for the past 14 years."
Britain is the fifth country to introduce legislation allowing gay unions after Belgium, Canada, Spain and the Netherlands.
On Thursday, South Africa indicated it would follow suit.
Last Updated: Sunday, 4 December 2005, 14:39 GMT
Gay couples register for weddings - BBC
More than 30 ceremonies are booked in January
Gay and lesbian couples will be able to register for a civil partnership in Manchester from Monday.
The first couples will tie the knot on 21 December, after a legally required 15-day waiting period, when gay partnerships become legal in England.
Manchester City Council said more than 125 couples had already expressed interest in the ceremony.
Councillor Mary Murphy, the lead member on lesbians' issues, said it would be "an historic day."
"For the first time ever, lesbian and gay partners can choose parity with heterosexual couples on a host of legal rights, including tax, benefits and inheritance."
Councillor Paul Fairweather, lead member on gay men's issues, said: "Manchester City Council is proud to champion civil partnership.
"It was the first local authority in the country to offer commitment ceremonies and these helped persuade the government to pass this new law on civil partnerships."
Manchester's Superintendent Registrar, Annette Phillips, said: "Since April 2002, more than 125 couples have chosen Manchester for their commitment ceremony.
"We have over 30 partnership ceremonies already booked to take place before the end of January."
Staff from the city's register office attended Manchester Pride in August, where they made a contact register available to those couples looking for further information and priority booking.
Gay couples prepare to tie the knot
Sun Dec 4, 2005 9:54 AM ET
By Jodie Ginsberg
BELFAST (
Reuters
) - Hundreds of gay couples in Britain are preparing to make it official on Monday when they can apply for legal status under a new law allowing same-sex civil partnerships.
The law will give homosexual couples the same property and inheritance rights as married heterosexual couples and entitles them to the same pension, immigration and tax benefits.
After a two-week waiting period they will be able to legally register their partnerships for the first time.
For many of them, celebrations will be low-key.
"We're getting what we deserve," said Gary McKeever of The Rainbow Project, which provides information, education and training for gay and bisexual men in Northern Ireland, where the first partnerships will be registered on December 19.
"We have no plans to do anything spectacular. It's just going to be done in a dignified way," he added.
The usually flamboyant singer Elton John epitomises the fuss-free attitude many gay couples are adopting.
He and long-term partner David Furnish plan to tie the knot on December 21, the earliest possible date to do so in England.
"The ceremony will be very private, a small family affair, David's parents, my parents and the two of us. They'll be our witnesses," John told gay magazine Attitude.
NOT A MARRIAGE
Unlike those in Belgium, the Netherlands, Spain and Canada, Britain's civil partnership is not a marriage.
Civil partnership is formed when a couple sign certain documents in an exclusively civil procedure, whereas a marriage becomes binding when partners exchange spoken words in a civil or religious ceremony.
Debra Reynolds, a registrar in Brighton -- Britain's unofficial gay capital -- says many homosexual couples have been together for decades and want a simple ceremony, even though a service is not compulsory.
"I would say 75 percent are keen to have one (a ceremony) ...but I would also say a lot of people are saying 'We don't want any fuss'," Reynolds told Reuters.
Nevertheless, the new legislation has given a boost to companies eager to attract the so-called "pink pound".
A full-scale gay wedding show in London this month offered 100 displays from chocolate fountains to fuchsia commitment stationery. Firms promoted his-and-his cufflinks and wedding cakes topped with two male figurines.
There has been little vocal opposition to the changes -- Elton John believes he and Furnish are "very lucky to live in Britain. I cannot think of a more tolerant place to live".
However, pockets of resistance to same-sex partnerships and to homosexuality remain, not least in Northern Ireland where.
"It's extremely significant and we're all happy about it (the new legislation) but we're not throwing our hands up in hysterics -- we'll leave it to the right wing elements in society to do that," Rainbow Project's McKeever said.
Homosexuality was legalised in Northern Ireland only in 1982 -- 15 years after England and Wales. At the time the Democratic Unionist Party (DUP), run then, as now, by Protestant cleric Ian Paisley, ran a "Save Ulster from Sodomy" campaign.
The DUP, the province's largest political party, opposed the civil partnership legislation but says it supports equality. Gay rights groups, though, are sceptical.
Earlier this month a DUP councillor said God sent Hurricane Katrina to punish New Orleans for organising a gay pride event.
(Additional reporting by Paul Majendie in London)