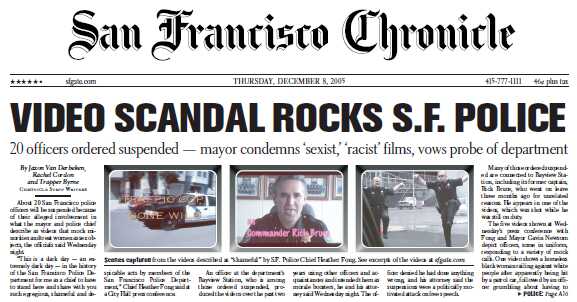 San Francisco Chronicle (2005/12/08)
サンフランシスコ警官、パロディ映像制作で停職処分
2005.12.09
Web posted at: 16:18 JST
- AP
サンフランシスコ(AP) 当地の現職警官が8日、不適切なパロディ映像をインターネット上に流したとして停職処分を受けた。映像は警官の仕事を題材にした短編コメディー。ニューソム市長は「恥知らずで無礼な内容だ」として、強い不快感を示した。
処分を受けたのはアンドリュー・コーエン巡査(39)。同僚の警官ら約20人とともに映像を制作し、「サンフランシスコ市警の内幕」と題した自分のホームページ上で公開した。ニューソム市長はこの映像について、制服や私服の警官が「アジア人や黒人、女性、同性愛者らを笑い者にする話だ」と批判。「パトカーに乗った白人警官がホームレスの黒人女性をひくシーンには、特に嫌悪感を覚えた」と話している。映像をめぐってはサンフランシスコ市警がまず内部調査を開始し、市当局も調査に乗り出した。
画面に登場するのは、市内でも犯罪発生率の高いベイビュー署の警部や巡査ら。コーエン巡査は「映像はクリスマスパーティーのために制作した」と説明。「これまでに問題を起こしたことはなく、どうして処分されるのか分からない」と話している。一方、サンフランシスコ市警のフォング本部長は「言語道断の行為」として、画像制作に関わった警官ら全員になんらかの処分を言い渡す構えだ。
New images found in police scandal
- Jaxon Van Derbeken, Chronicle Staff Writer
Friday, December 9, 2005
San Francisco police investigating what top city officials portray as racist and sexist videos produced by Bayview District officers said Thursday that new clips had come to light -- including an image of a black officer eating from a dog bowl and one of an Asian officer having difficulty riding a bicycle.
The clips were not among the videotaped skits made public Wednesday when Chief Heather Fong and Mayor Gavin Newsom announced that about 20 officers would be suspended for their part in the videos' production. The publicly released clips had been loaded onto an officer's Web site, officials said, while the unreleased scenes were found on a 28-minute DVD created for, but not shown at, the Bayview Station's Christmas party.
"They were not in the public domain to begin with," Newsom spokesman Peter Ragone said. "They are part of the investigation that's ongoing."
The existence of the additional material emerged as the head of the police officers union offered an apology for "extremely stupid and immature'' videos.
Newsom, who called the earlier videos shameful and offensive, signed an executive order Thursday forming a blue-ribbon panel that he said would work to "systematically change the culture of the Police Department." He alluded to the new video clips without going into detail, saying only that they were even more demeaning than those already made public.
As described both by sources close to the investigation who have viewed them and by Officer Andrew Cohen, who produced the videos and has been suspended, the new clips do not contain outright racist material. But authorities, who discussed the videos on condition they not be named, said the clips were at least racially insensitive and played off stereotypes.
Cohen said the videos contained nothing offensive, that the officers in them had taken part willingly and that city officials were overreacting to what were intended as light-hearted, morale-boosting skits.
The image of greatest concern to authorities is a still photo on the DVD of an African American officer, whose nickname, Cohen said, is "Dog." The photo shows the officer in a dog collar, eating out of a bowl of dog food, said Cohen and others who have viewed the image.
The DVD also contains a clip of an Asian American bicycle officer having trouble riding his department-issued bike, authorities said. The clip closes with the officer about to crash into a captain's car, Cohen said.
Officials said they were concerned the skit could be interpreted as a takeoff on the stereotype of Asians as poor drivers, though the clip makes no direct reference to that effect.
Another unreleased clip, apparently less potentially inflammatory, shows officers playing video games while on duty at a housing project in the Bayview, officials said.
Cohen, 39, who has been on the force 10 years, said none of the material, released or unreleased, was inflammatory.
"There's no slander here, no racism, no nothing,'' he said. "I don't have a racist, prejudiced bone in my body.''
He said the dog image was a private joke among officers at the station and was not intended to offend anyone. He said the officer he photographed had earned the nickname "Dog" after he complained that he was being treated like one by a station sergeant.
The officer knew of the photo, Cohen said, which was taken after a lieutenant at the station opened a can of dog food for the officer as a joke.
The scene with the bicycle officer was also a private joke, Cohen said. The officer had failed a bicycle training test and had struck the captain's car before, and the video was a mock retest in which the officer pledged not to hit the car again, Cohen said.
"We do a lot of stuff to let off steam, have fun,'' Cohen said.
On Thursday, Newsom said that "with all due respect to those who say this is much ado about nothing . . . I think common sense will dictate when you make fun of women, you make fun of gays, you make fun of the African American community and the Asian community, that's wrong."
The scenes made public Wednesday had all been loaded onto Cohen's personal Web site within the past month. Department officials said the site had gotten 250 hits before Cohen took it down.
The scenes included one in which a traffic officer, oblivious to a homeless woman in the street as he grumbles about his job, runs over her. She rises, screams vulgarities about white police officers and makes an obscene gesture.
Another clip depicts an officer pulling over a female motorist and ogling her as he describes himself in a voiceover as the most desirable officer on the force. A third makes light of what Cohen said was a nervous habit of former Bayview station Capt. Rick Bruce by showing female officers, a transgender person and the homeless woman from the earlier skit sticking out their tongues suggestively as they intone, "Oh, captain."
Bruce appears in the video sticking his tongue out. The captain, who went on leave for unrelated reasons three months ago and has been planning to retire, was the highest-ranking officer suspended. Fong said he was ultimately responsible for the clips.
He was not available for comment, but his attorney said Bruce had known nothing of the videos.
"He has never seen the video and did not participate in its production in any way, shape or form,'' said attorney Jim Collins.
Bruce's appearance was an outtake from a video shot under department auspices years ago, Collins said. "It was when he was doing his proper police duties.''
Cohen said that Bruce "knew I was putting on a funny video for the retirement and Christmas party. But he had no idea he was on it. It was supposed to be a roast. I took that footage years ago.''
The Bayview station's new captain, Al Pardini, had seen the DVD several weeks ago but did not immediately report the contents up the chain of command, according to Cohen and those familiar with the case.
Cohen said he had learned last week that Pardini felt the videos bordered on bad taste. He denied that Pardini had ordered him not to show the DVD, but others familiar with the case said Cohen was specifically told not to show it.
In any event, the Christmas party was held Saturday without the filmed skits. Cohen said he did not attend.
Pardini, who did not return calls seeking comment, went to Fong about the matter Tuesday after police union leader Gary Delagnes told him the material was on Cohen's Web site, Delagnes said.
Delagnes said he had heard about it from the press.
The Police Officers Association president apologized at a news conference Thursday for the "extremely stupid and immature'' videos.
"They did not do it with the intention to hurt anybody,'' Delagnes said. "This is not indicative of who these people are -- this is a way for these people to poke fun at each other. Call it gallows humor of police work if you will. I don't expect people to understand it.''
Delagnes said the fact that the videos became public "is a result of decision and manipulation by a single individual who apparently has another agenda and who obviously does not care about the serious implications of posting these skits on the Web.''
As of late Thursday, 18 officers had been notified of their suspensions, not including Bruce, according to Delagnes. He said each of the officers would have the right to a hearing within five days to ask to return to duty. Delagnes said the union was still determining who among the officers would be represented by attorneys paid for by the union.
Page A - 1
URL: http://sfgate.com/cgi-bin/article.cgi?file=/c/a/2005/12/09/SFCOPS.TMP
Video scandal rocks S.F. police
20 officers ordered suspended -- mayor condemns 'sexist,' 'racist' films, vows probe of department
- Jaxon Van Derbeken, Rachel Gordon, Trapper Byrne, Chronicle Staff Writers
Thursday, December 8, 2005
About 20 San Francisco police officers will be suspended because of their alleged involvement in what the mayor and police chief describe as videos that mock minorities and treat women as sex objects, the officials said Wednesday night.
"This is a dark day -- an extremely dark day -- in the history of the San Francisco Police Department for me as a chief to have to stand here and share with you such egregious, shameful and despicable acts by members of the San Francisco Police Department,'' Chief Heather Fong said at a City Hall press conference.
An officer at the department's Bayview Station, who is among those ordered suspended, produced the videos over the past two years using other officers and acquaintances and intended them as morale boosters, he and his attorney said Wednesday night. The officer denied he had done anything wrong, and his attorney said the suspensions were a politically motivated attack on free speech.
Many of those ordered suspended are connected to Bayview Station, including its former captain, Rick Bruce, who went on leave three months ago for unrelated reasons. He appears in one of the videos, which was shot while he was still on duty.
The five videos shown at Wednesday's press conference with Fong and Mayor Gavin Newsom depict officers, some in uniform, responding to a variety of mock calls. One video shows a homeless black woman railing against white people after apparently being hit by a patrol car, followed by an officer grumbling about having to deal with her. "They get us involved with their business,'' the officer said.
Another video depicts an officer ogling a woman he has stopped for a traffic violation. One shows two officers attempting tai chi to vaguely Asian music. The two later go into a massage parlor and radio dispatchers try unsuccessfully to reach them -- the suggestion being the two are having sex with masseuses.
One video, with the theme to the old TV show "Charlie's Angels" as the soundtrack, shows various officers saying, "Oh, captain," and flicking their tongues suggestively. The captain involved, Bruce, flicks his tongue in apparent response -- although the officer who produced the videos said Bruce had not known what the shot was to be used for.
One of those depicted in that sequence is the same homeless woman who was earlier shown yelling about white people. Another is a police officer dressed as a transgender person.
In another video, a female officer is shown putting on lipstick in the middle of a mock drug raid.
Newsom called the videos the tipping point that will lead to changing the culture of the Police Department.
"Enough is enough,'' said Newsom, who promised dramatic changes, including the creation of a panel to review the entire department's operations.
The mayor, who consulted in his office with his chief political strategist, Eric Jaye, before starting the press conference, said he would convene the panel today. He also has asked the city Human Rights Commission and the city Commission on the Status of Women to conduct their own investigations.
The videos have the potential to turn into one of the biggest crises of Newsom's 2-year-old administration. Their revelation comes as the mayor faces demands from African American leaders, in particular, to do something about a homicide rate that is at its highest level in a decade. The Bayview Station serves Bayview-Hunters Point and surrounding neighborhoods with large black populations, where many of the slayings have occurred.
Newsom said lawyers in both the city attorney's and district attorney's offices have reviewed the videos, which suggests that officials are looking at whether criminal charges should be filed.
Newsom said the videos mocked African Americans, Asians, women and transgender people.
The conduct, he said, "is shameful. It is offensive, it is sexist. It is homophobic, it is racist, and we're going to make sure it ends.''
Fong said she was first made aware of the videos Tuesday afternoon after a captain alerted her that they had been posted on the producing officer's private Web site.
"The investigation will reveal who knew what, who did what, who told who to do what,'' Fong said.
She said command staff would fan into all the district stations and investigative bureaus starting today to make clear that the department has no tolerance for conduct that makes fun of others. The department already requires that all officers undergo sensitivity training.
Officer Andrew Cohen, 39, who works at Bayview Station, said he was the producer of the videos. He was suspended without pay Tuesday.
In a phone interview, Cohen said he had worked as a liaison to the department's public affairs unit and had produced nine videos in his 10 years on the force, some of them humorous but others dealing with training issues.
The videos that got him suspended "started out as a fun-and-games thing to give a sendoff" to Bruce, Cohen said. "It was supposed to show the cute characters we have at the station, kind of to make fun of ourselves."
He said the goal of the videos was "to boost the morale of law enforcement" and that they were never intended to be shown outside the ranks.
Cohen expressed amazement that "this micromanaging chief" would be worried about videos with the homicide total for the year nearing 100. "She has bigger fish to fry," Cohen said.
"We're outgunned. We're outmanned," Cohen said. "The fact of the matter is that she has an out-of-control department. She lives in the Bayview and has never stopped by the station to see her own officers.
"She doesn't have much confidence of the rank and file. She's putting a nail in her coffin."
The video came to the attention of department officials after Cohen posted scenes of it and other films he has done on the Web.
"My mistake was deciding a lot of cops wanted to see funny video clips," he said. "I put a few clips on there and boom."
Cohen said he had carte blanche with police chiefs going back to Fred Lau to make videos for the department. "In fact, this is the fourth humorous one I've done and I've never had any flak," he said. "I've never been in trouble before in my life. This is not me."
He has retained attorney Daniel Horowitz, and said neither of them had been told about Wednesday night's press conference in advance.
Horowitz managed to get to the tail end of the event and in interviews berated Fong and Newsom. "They're cowards. The mayor is a coward, and so is the chief,'' he said.
Horowitz, who said he has been friends with Cohen for 20 years, said the officer was raised a Berkeley liberal and "is the opposite of a homophobe, the opposite of a racist.''
He called the suspension unjust and said he will ask members of the Bayview community to "rise up and support Officer Cohen.''
Horowitz said he had seen all the videos and denied they were in any way insensitive. He said they amounted to art and commentary about the department.
Malaika Parker of Bay Area PoliceWatch called the videos an outrage. "They were absolutely disgusting, there were assaults on women, people of color and the transgender community," she said. "I hope they bring deep, deep changes to the department.''
E-mail the writers at jvanderbeken@sfchronicle.com, rgordon@sfchronicle.com and tbyrne@sfchronicle.com.
Page A - 1
URL: http://sfgate.com/cgi-bin/article.cgi?file=/c/a/2005/12/08/MNGQIG4PLD1.DTL