The New York Times
Music
The World's Most Popular Gay Postmodern Harpsichord Nerd
By CARL WILSON
Published: December 11, 2005
OWEN PALLETT'S personality, like his music, is full of incongruities.
One minute he is fussing with the funereal-looking harpsichord that he is refurbishing on the floor of his boyfriend's apartment in downtown Toronto, its legs removed, dusty wooden box askew and keys protruding at odd angles. The next, the boyish 25-year-old Mr. Pallett is firing up a Japanese video game that involves rolling an ever-expanding animated ball around fluorescent digital landscapes. He zaps through the menu to hear what he calls his favorite song of the year, sung by an Asian children's chorus with near-psychotic glee.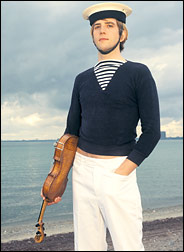 Debra Friedman/Klixpix
Owen Pallett, a musician of incongruities and sailor hats. Trained as an opera composer, he has used his experience to expand indie rock.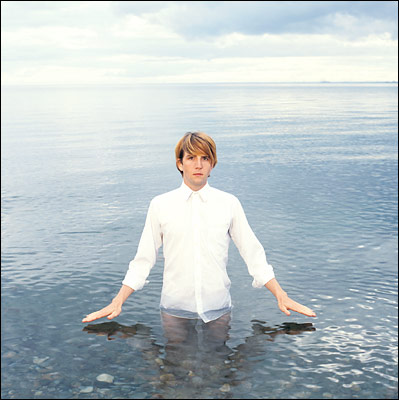 Debra Friedman/Klixpix
Owen Pallett says, "Toronto is the only place I've ever been where you can do just about anything, very straight or completely weird, and the audience will support it."
Yesterdays and tomorrows often collide around Mr. Pallett this way. He turned heel on a lifetime of classical music training to plunge into central Canada's independent-rock scene, arguably the most vibrant in the world. But he didn't start bashing out three-chord guitar tunes. Instead he is using his training to widen the genre's boundaries.
He first emerged as a string performer and arranger with multiple bands, among them the Arcade Fire, the Montreal ensemble whose debut album, "Funeral," is now nearing platinum levels, and has won fans including David Bowie and U2.
But lately Mr. Pallett is stepping out of his supporting role in a lush, solo-violin-based project called Final Fantasy, where his hybrid sensibility is in full bloom. In an online poll last month, he was ranked among the top four Canadian artists of 2005. Sean Michaels, proprietor of the influential music blog Said the Gramophone, said Final Fantasy was the music that most amazed him this year: "It reaches as deep and as recklessly as the country's more rockin' talents, and it's all performed with such ease and generosity that you'd think it was as easy as pushing your hair away from your eyes."
In Final Fantasy you hear how Mr. Pallett's art is born of contrast, not only between pop and contemporary composition, but between the organic and the electronic, the fantastical and the domestic, the abrasive and the sweet. A perfectionist who adores the rough-hewn, he is at once hopelessly nerdy and improbably cool. He is also a gay man who sings explicitly about same-sex love, but in a style so matter-of-fact and free of camp mannerisms, audiences often don't realize it.
You might compare him to John Cale, the viola player who translated the innovations of 1960's minimalist composers into the drone-rock of the Velvet Underground.
But where Mr. Cale was an outsider invading a resistant rock scene, Mr. Pallett has been warmly embraced. "Toronto is the only place I've ever been where you can do just about anything," he said, "very straight or completely weird, and the audience will support it."
Mr. Pallett grew up in various small towns in Ontario in a fractured family with a church-organist father and 10 siblings and half-siblings, a background that surfaces, fictionalized, in songs like the enormously catchy "Furniture": "My father had a dozen wives/ And a child by every one/ And I am from about Number 5/ So don't expect me to stay with anyone."
Like his brothers, he started studying music early, but for him it grew into an obsession, with 20th-century modernism exerting a particular pull. At the University of Toronto, he trained as a composer of contemporary opera. But his first compositions were written at 13 for the video game Traffic Department 2192, which an older brother designed. Since he didn't listen to rock and rap, video games were his conduit to pop culture. (His band's name is lifted from a hit Japanese game series.)
By the time he completed his degree, Mr. Pallett was alienated by the music establishment's rigid schools of thought. Unsure where to turn, he passed time doing paid gigs with cheesy bar bands. The turning point came when he was recruited by the Hidden Cameras, a boisterous "gay folk church music" indie-pop band later signed to Rough Trade Records in London. The Cameras helped transform Toronto's moribund rock landscape into a freewheeling scene with a penchant for conceptual humor, creative concert formats, visual art, sexual frankness and crowd participation.
As in Montreal, Toronto groups tended to swell into large collectives, with everyone pitching in on everyone else's projects. Fans in Europe and the United States began to pay heed.
For a disillusioned young composer, it was more alluring than anything so-called serious music had to offer. "Whatever you intended to do, the scene encouraged you," Mr. Pallett said. He branched out to become indie Toronto's designated string arranger, often overdubbing himself to simulate whole chamber groups, lending local albums a new sheen of sophistication.
He also formed Les Mouches, a combustible acoustic trio with free-jazz drumming. The group hooked up with Blocks Recording Club, a CD co-op with a handmade aesthetic, started by Steven Kado, a fellow ex-Camera.
The trio's album "You're Worth More to Me Than 1,000 Christians" was accumulating admirers in spring 2004 when Mr. Pallett was asked to play a benefit show. He decided to try an idea: he channeled his violin through a sampling unit that allowed him to play violin lines live, record and then layer them, using foot pedals to manipulate the arrangements in real time.
Calling it Final Fantasy was a small joke about the project's unabashed grandeur. But there was a purpose to the romanticism. "At that point my boyfriend and I were about to break up," he explained. "I thought that if there were any way to balance domestic and work life, it would be to have a band specifically for his ears." The gambit worked, and not only on his paramour, who now serves as his tour manager and helps design album art. Most everyone who heard Final Fantasy was stunned. The songs were as confidential as love letters, but as archetypal as fables, punctuated with barbed wit.
Even more compelling was the musical process: He would pluck a pizzicato rhythmic foundation, which would carry on as he layered a flowing melodic line, which might pause for an a cappella cry, then resume in a tapestry of sound recalling an Ennio Morricone movie score, which put Mr. Pallett's vulnerable-choirboy vocals in stark relief. The sheer mass of melody in the interwoven violin lines could be overwhelming.
Where other soloists (like the Chicago violinist Andrew Bird) employ the technique to turn themselves miraculously into one-person orchestras, Mr. Pallett makes the process visible, highlighting each step, rendering his performances at once more theatrical and more intimate.
Les Mouches continued for a while, but then Final Fantasy became the Arcade Fire's opening act. Mr. Pallett hastily recorded "Final Fantasy Has a Good Home," a rough but charming first album, and spent the rest of the year on tour.
He is grateful for the attention, but regrets the distance this whirlwind carried him from his other projects. "It was terribly disappointing," he said. "Still, I don't have any ideal of what I want to do. If people tell me they like quiet songs, I'll make quiet songs. I feel a bit like a servant."
But he chafes when people compare him to confessional songwriters like Nick Drake or Elliott Smith, and he uses the name Coldplay almost as a curse. "I think self-expression and catharsis makes bad music," he said. "There are potholes in people's perceptions, and you want to steer around some and totally dive into others."
One label he happily invites, with his video game and sword-and-sorcery references, is nerd, which he considers overdue for romanticization. Mixing it with gay sexuality seems like one of the freshest aspects of Final Fantasy - a byproduct of liberal Canadian attitudes that relieve Mr. Pallett of any pressure to assert or defend his identity.
And it only gets nerdier. He plans to put some songs out purely as sheet music - "an album you have to perform yourself" - in indie Toronto's participatory spirit. But his next CD, due in spring, is a song cycle based on "the eight schools of magic" in the ultimate geek game, Dungeons and Dragons. "I'm quite a grounded atheist in every way," he said, "but I enjoy that kind of codification of whimsy."
He previewed the suite once with a live string quartet, which will tour with him and his harpsichord next year. The group liberates Mr. Pallett from the repetitive structure of the loop pedal, unleashing a riot of notes and timbres that make his music seem far evolved from most indie-rock. It uses the mythical stuff of divination and transmutation as cover for more potent real-life matters, namely the horrors of change, loss and death.
"The best fantasies, like Narnia," he said, "hint at an entire developed world you're only being given a glimpse of. There's an element of concealment. You don't show the whole palm."
And so it is with Mr. Pallett's Final Fantasy, of which it seems safe to say even his fans have barely heard the beginning.