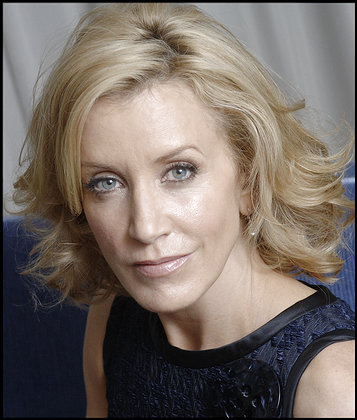 "I had years of not working," says Huffman. " . . . I can't quite get it into my head that I'm gainfully employed for at least another year."

Photo Credit: By Helayne Seidman For The Washington Post Photo
The Wife Next Door
Felicity Huffman Has a TV Hit and a New Movie, but She Keeps It Real
By Jennifer Frey
Washington Post Staff Writer
Sunday, December 18, 2005; N01
NEW YORK So Felicity Huffman is a bit giddy about the gorgeous dress she's got on ("Dolce & Gabbana!" she says, with a little hand flourish), but her feet are bare and tucked up on the couch, and she's just admitted that she missed her own show -- the wildly popular "Desperate Housewives" -- the night before because, well, since she has kids she needs toothpicks to keep her eyes open after 8:30. (She TiVos.)
Anyway, she's about to turn 43, and she's on her first real press tour, complete with morning-show and late-night appearances, and interviews and photographs (hence the dress) in the requisite hotel suite overlooking Central Park. Other actors might disdain this stuff; she's having a blast. She won an Emmy earlier this year and last week got Golden Globe nods for her performances in "Desperate Housewives" and the independent film "Transamerica," for which she already has significant Oscar buzz. And that's why she's here, of course -- film promotion. But let's get to that in a minute.
The truth is, sitting around with Huffman makes you think she could walk right into your kitchen on Friday night, when the moms are drinking too much wine and the kids are running wild in the yard, and she'd be right at home. In fact, hanging out with her is probably a lot like being neighbors with the woman who plays Lynette Scavo. So, yeah, it would be a little freaky living next door to anal-retentive Bree (Marcia Cross), and you'd have to hide your husband from Gabrielle (Eva Longoria), but Lynette? She seems so funny, so honest, so down-to-earth. And so, too, we happily report, is Felicity Huffman. She's witty and warm, she tells hilarious stories about things we unfortunately can't print in a family newspaper, and she's prone to saying things like "I've got to say, if men were the primary caregivers, there would be groups called 'Boy Does This Suck Anonymous.' "
Sure, she's married to a Famous Actor, but it turns out she's even got a husband to like. The talented William H. Macy -- known for shrewdly playing the odd bird -- is almost dorkily sweet when he calls about a week later from their home in California to put in a plug for his wife and her new film, which he's executive-produced. Parents of girls ages 3 and 5, the Macys have been together for 20 years now, but he can still relate, in detail, how nervous he was the first time they kissed. How he misses her during filming. How he knew he was a goner the first time they met. He's just in the middle of talking about how "gobsmacked" he was by her performance in "Transamerica" when there's a beep in his office and then the familiar, slightly nasal voice of his wife breaks in:
"Hi. I'm sorry," she says. "Dinner's ready when you are."
You can't help but wonder if it's been made in a microwave, and you are absolutely certain Huffman would be entirely unapologetic if that indeed is the case.
* * *
She went Oscar-ugly for "Transamerica," (see Charlize Theron in "Monster," Hilary Swank in "Boys Don't Cry" and Nicole Kidman's nose in "The Hours"). Her character, Stanley "Bree" Osbourne, is a transsexual on the verge of a sex-change operation when she discovers she long ago fathered a son. (As Huffman puts it: "I was a woman playing a man becoming a woman.") In the film, she looks older, with bad hair and intentionally awful makeup. Her hands seem enormous.
"It really was something of a relief not having to try and be glamorous," says Huffman, arguably the least glam of the housewives, but in the Dolce & Gabbana she has on now, she sure ain't no slouch. Then again, unlike most of the big-time actresses who occasionally allow mere mortals to dip their toes into their lives, she doesn't make you feel like a total slouch, either. Which is yet another reason it would be okay if she moved in next door. It's entirely possible to imagine her with jam smears on her shirt.
"As Anthony Edwards once told me when I was complaining about not being pretty enough and not being something enough," she continues (referring to the actor best known for his role on "ER"), " 'Oh, baby, that's not your gig.' I mean, I'm fine-looking enough, but I'm not a beauty, so it's not like I was risking."
And it's not like she was about to turn down an opportunity for her first starring movie role 20-plus years into her career. When writer-director Duncan Tucker cast her in his film debut, Huffman wasn't even a Desperate Housewife yet. For those who don't follow theater -- Huffman started her career onstage -- she was just that woman who always had the bit parts in TV shows or movies, save for one small-screen lead turn in Aaron Sorkin's "Sports Night."
She was at the first table-reading for the "Desperate Housewives" pilot when she got word that Tucker had chosen her to play Bree. (An odd coincidence that the character name matches that of one of her TV co-stars.) In the film, she seeks out her teenage son (Toby, played by Kevin Zegers) and ends up bailing him out of jail. The two embark on a cross-country road trip where Toby slowly gets to know the awkward, conservative "church lady" he believes has come to help him and, eventually, the secrets she keeps.
"I spent the whole second half of the pilot-reading nauseous," says Huffman. "And I was scared. I was scared the whole preparation. I was scared the whole shoot."
It was what Tucker calls a "transformative role," one in which Huffman had to completely change her appearance, her mannerisms, her voice -- even her undergarments -- to truly inhabit the character. To do so, Huffman immersed herself in the world of transsexuals, reading about them, getting coached by them, going to their conventions, experiencing their world. It took an hour each day for her to lower her voice into the "Bree" pitch -- deep, but with awkward hints of femininity. She wore the restrictive girdles that pre-op transsexuals wear, even though it wasn't necessary for filming. She even wore an anatomically correct prosthesis, if you catch our drift.
At one point Macy brought the kids to visit the set. Little Georgia, then age 2, took one look at her mother in full makeup and freaked out.
"It was the very best it could be," Tucker says of her performance. "I knew she was going to try anything and never hesitate, and that's what you have to do. This is not a safe performance."
It's a little film -- released in New York and Los Angeles earlier this month, opening nationwide on Friday -- but Huffman's performance is generating very large Oscar buzz (Entertainment Weekly has touted her as a likely Best Actress nominee).
She's already won the National Board of Review award for best actress, and Tucker happily compares her role in "Transamerica" to Oscar-winning turns by Theron and Swank. (Huffman's response: "I'm writing Duncan huge checks. I'm fully funding that spin.")
Did we mention that when asked to describe Huffman, Tucker immediately said, "Bubbly and funny, with lots of energy and a sharp sense of humor"? Oh, and that he called her "somebody you just want to hang out with"?
See, we're not the only ones who wouldn't mind having her for a neighbor.
* * *
Speaking of desperate housewives, Huffman was raised in and around Aspen, Colo., the youngest of eight kids -- seven of them girls -- with a father who worked in investment banking and a mother who ran the house.
"My mother had eight children, so she worked harder than a Fortune 500 CEO," she says.
(She personally cringes at the idea of having even four -- the number her character has on the show -- saying, "God bless those who do.")
She was always into acting, and attended the Interlochen Arts Academy in Michigan to study theater in high school, then took drama at New York University. She studied under David Mamet and was part of a group of upstart performers who helped form the Atlantic Theatre Company -- under the auspices of Mamet and Macy -- in 1985.
Macy had already made his mark on the stage when "Flicka" Huffman -- her nickname, after the book "My Friend Flicka" -- enrolled in one of his acting classes. The first day, she stood up to do a scene, and he just knew.
"It's daunting," he says, "when you see someone who you've always had in the back of your mind."
But he couldn't do anything about it -- not while he was her teacher. And, he admits, she really was the one who finally took the initiative (the woman's not shy). They were both doing summer theater in Vermont, and there was a house party. Huffman invited him out to see the barn, then just started taking a walk through a nearby field, obviously expecting him to follow. He followed.
"Just like most guys, all I was thinking was, 'Grab her hand, kiss her, do it, she's going to walk away, do it now! ' " Macy says. "So I screwed up my courage, grabbed her hand and planted a big one on her."
They've been together ever since, though he moved to Los Angeles to pursue film and television work in the late 1980s and Huffman, who had built a small but steady and successful career in theater work, tried to commute from New York. She got her first big break when Mamet cast her as Madonna's replacement in "Speed-the-Plow" on Broadway in 1988. That performance brought a new round of scripts and auditions, but, she says with brutal honesty, "I tanked everything."
Eventually Huffman followed Macy west, where, she jokes, "I couldn't get arrested." She was 32, and seriously considered applying to beauty school to become a hairstylist.
"I aim high," she says of that moment. "I wasn't applying for law school. I wasn't trying to be a doctor."
Eventually Sorkin came along and gave her a regular role. "Sports Night" earned critical acclaim and a loyal cult following, but lasted only two seasons. By then, Macy and Huffman had wed (they married in 1997 and she later gave birth to daughters Sofia and Georgia). While Macy's career was flourishing, she took care of the kids and got bit parts in films and guest appearances on television shows like "Frasier."
"I had years of not working," she says. "Even now, I can't quite get it into my head that I'm gainfully employed for at least another year."
Of course she is a little bit confused as to why, with all this "buzz," that she doesn't have a project lined up for when "Desperate Housewives" goes on hiatus.
"I get scripts to read," she says. "I get scripts to audition for. But I don't get offers yet.
"Work on that for me, would you?"
Ah, but little does she know it's Macy's fault.
"One of the reasons she doesn't have a job," Macy says, "is that I stand at the front gate and wait for the scripts to come and throw them in the garbage. I don't want her to work on the hiatus. I've barely gotten a chance to see her. I miss her.
"So I've told her," he continues, "that unless it's Martin Scorsese or Clint Eastwood, I don't want you to work on this hiatus. It has to be nothing less than extraordinary."
* * *
Macy is used to people approaching him on the street to compliment his work, and Huffman is used to being "the wife." She hilariously explains that whenever she's out with Macy, people recognize him then stare at her with that weird look of faint recognition, then say things like "And isn't she on that show or something?"
He totally calls her on this.
"In the last month or two, I'm working, and I see these people from across the soundstage and they have this grin and I'm waiting for them to say, 'I just love you in "Boogie Nights" ' and instead they say, 'I just love your wife!' And all I can say is, 'I don't blame you -- I do too.' "
Originally, Macy advised Huffman against taking the role in "Transamerica" -- he wasn't thrilled with the initial script -- but once he saw the dailies, he signed on as a producer and, as Huffman puts it, "Bill made the calls." One went to Harvey Weinstein, who decided to distribute. "That's some good boyfriending," Huffman says.
And there will likely be more boyfriending in Macy's future -- as celebrity spouse on the red carpet.
"I think I'd better get used to it," Macy says. "Her career is about to explode, if it could explode anymore. She's really earned her way, and I think it's just a little more delicious when after such a long and sometimes torturous journey you get this kind of recognition."
The truth is, while she was all glam at the Emmys, what viewers connect to is the realism of her "Housewives" character; she's easily the most "normal," if there is such a thing on Wisteria Lane. Lynette is the highly educated, overstressed mom of "I Don't Know How She Does It" and "Perfect Madness" -- the novel by Allison Pearson and the nonfiction tome by Judith Warner, respectively, both bestsellers about the pressurized universe of upper-middle-class motherhood. In the first season, Lynette played a stay-at-home mom who found full-time motherhood much more insane than her previously high-powered career. In Season 2, she returns to work (her husband stays home) and experiences the ever-present work-home tradeoffs and plenty of ensuing guilt to boot.
Macy says he sees a lot of his wife's personal style in her character. She admits that's true (though she never had that pesky Ritalin addiction).
"Lynette's voice of motherhood -- and it's one of the reasons why I wanted the part so badly -- is one I connect with," Huffman says.
"And that's not just going, 'Oh, honey, did you forget the milk again?' and 'Geez, I wish you'd remembered to do your homework.' It's that 'I'm going to lose my mind! This is not fun! This is overwhelming! This is not the best thing I've ever done with my life! This is insanity!' "
Then she starts to explain that yes, yes, she adores her children ("Look, even I'm doing it," she says, referring to how mothers always apologize before they admit, out loud, that motherhood can make them nuts), but sometimes, yes, "motherhood can be a nightmare." This is clearly a subject she could talk about for hours, and suddenly you feel like kicking off your own shoes and tucking up your feet and taking full advantage of every working mother's dream scenario -- a hotel room without the kids. Some wine, some cheese, we could just stay here all night.
Before you know it, though, time is up, and she's asking if you want to use her bathroom (which is blissfully scattered with makeup) before taking a cab to the airport, and comparing baby rings. She has two gorgeous rocks Macy gave her after the birth of each daughter.
"I told him I wanted jewelry," she says conspiratorially, "and he said, 'Fine, fine.' And I said, 'No, you don't understand, I mean serious jewelry.' "
Then she laughs for maybe the 30th time, and you laugh too, and inside you wonder if her kitchen looks like all those pictures they always have of celebrity houses in the pages of InStyle magazine, or if there's peanut butter smeared across the counter by the sink.
You hope for the peanut butter.