Quiet pink revolution in dark before dawn?
By Liu Yunyun (Beijing Review)
Updated: 2005-12-26 11:42 China Daily
Being gay in China is beginning to lose its stigma, but it's still not easy coming out for them.
Little over four years ago, homosexuality was still officially classified as a mental disorder in China. On December 16, 2005, China's gays and lesbians celebrated their first national festival.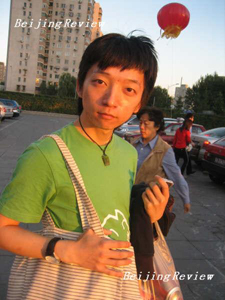 BEING MYSELF: Conan Liu, like many gays in big cities, doesn't conceal his sexual orientation.
It's a huge leap forward in a country long associated with closed attitudes toward alternative lifestyles.
Despite the stigma and public admonishments, China's gay community is taking its first tentative steps out of a closet that was, until recently, firmly bolted.
In 1997, the word "hooligan" was deleted from China's criminal code in reference to gays arrested for soliciting in public places.
The move is considered by many as the de facto decriminalization of homosexual acts and was followed in April 2001 by the deletion of homosexuality from the Chinese Classification of Mental Disorders.
Now, marking gay-awareness month June 12 by flying kites in Beijing, Shenyang and Fuzhou, and turning out in numbers for the country;s first national gay and lesbian festival December 16 in Beijing, organized by Cui Zi' en, a gay associate professor at the Beijing Film Academy, are acts that illustrate changing attitudes toward the pink revolution.
The word tongzhi, literally meaning comrade (people with the same ideals), is now widely accepted by gays and lesbians as a self-reference in this country. Googling the Chinese character for tongzhi produces some astonishing results.
There are many gay activities taking place on the mainland. Gay bars, spas, meetings, bathhouses and a thriving online community are allowing open venues for gatherings that not long ago were restricted to public toilets and parks.
Sociologist and gay novelist Tong Ge's impassioned call for "comrades to melt the frozen land with our body heat" galvanized Chinese professionals into lobbying the government for the approval of same-sex marriage, regardless of the very real obstacles lying ahead.
Zhang Beichuan, China's leading scholar in the field of homosexual study and winner of 2000 Barry & Martin Prize awarded to individuals making outstanding contributions to the AIDS awareness campaign, estimates there are 40 million homosexuals on the Chinese mainland, far more than the official figure of between 5 and 10 million released by the Ministry of Health in December 2004. This huge number, equal to the population of Spain, can no longer be ignored by society.
'I Like the Way I Am'
Conan Liu, 24, a tax consultant with one of the Big Four accounting firms, told Beijing Review that he has never tried to conceal his sexual orientation since finding out he is gay.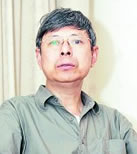 Zhang Beichuan, China's leading expert in homosexuality [chsa.org]
Unlike the older generation, Conan's age group is more willing to talk about their lives and love experiences. Fashionably dressed and charming, Conan is proud of who he is. "My friends usually say that I need to be protected," he smiled, saying that he seldom has difficulties either at work or in his life.
"Most people around me understand and accept my homosexual orientation," Conan said. As for those who don't like men behaving in a feminine manner, he's defiant. "I like the way I am and I will stay away from those who dislike me. It's no big deal."
In spite of his carefree attitude, Conan has not been able to admit his sexual orientation to his parents. It's a common situation throughout the Chinese gay community.
In interviews conducted with gay people, Beijing Review found that family members were always the last to know and the most difficult to tell. A Confucius saying may best explain the Chinese difficulty in accepting homosexuality: There are three things that are unfilial--disobeying one's parents, not supporting one's parents and, the most important, not continuing the family line.
Hao Ting, a 17-year-old sophomore at Peking University, said that most of his friends know he is gay. But he still felt uneasy telling his parents. Chinese homosexuals do not want to disappoint their families by not being able to produce heirs.
As Zhang Beichuan noted, homosexuals in China mostly feel guilty and sorry for their family. Homosexuality can be tolerated as long as they still give birth to the next generation, as the Chinese have a strong sense of family ties, said Zhang Beichuan. "But it is too painful to marry a person that you don't really love."
Being Entertained
An Yi, Beijing's 10BAR owner, shared his experience with opening the first lesbian bar in Beijing in 1998. A bar operated by one of his friends was losing money due to poor management and inconvenient location.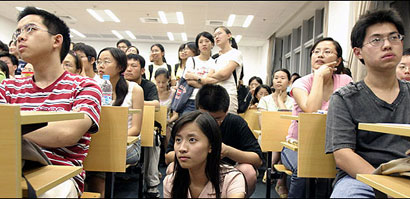 A class on gay and lesbian studies at Fudan University in Shanghai has attracted an overflow crowd. The class is the first ever of its kind in China. [The New York Times]
Being part of the gay circle, An suggested the owner re-design the bar for lesbians only. "At that time, we dared not advertise openly in the streets or through publications. Word of mouth was the only way to get people in," he recalled.
In just two months, the city's first lesbian bar was a popular venue on weekends. However, it eventually shut down due to lack of sustained spending power and a relatively small group of lesbians in the city.
A survey released by psychologists in Nanjing, Jiangsu Province, finds more homosexuals in coastal cities than in inland cities, with more gays than lesbians.
The survey also reports an above average IQ and 93 percent of respondents having senior high school education or above. Because of the more diversified education, Zhang Beichuan said homosexuals are more aware of their emotional and physical needs.
China's gays who are open about their sexual orientation are mostly young people with higher education and a relatively free working and living environment. Apart from an uneasiness to tell parents, they live a good life in bigger cities.
"If you asked to have an interview with me two or three years ago, I would reply with an absolute 'no' as the social environment was not as tolerant as it is today," said An.
He believes the gay scene is in the "dark before dawn" phase, and predicts the government will legalize same-sex relationships and marriage in the near future.
It is also his belief that China will never ban homosexuality. "Many of my guests and customers are high-ranking government officials and executives of big companies," explained An. "Do you think those people will shut their eyes to a law that will prohibit or punish themselves? Things are destined to change for the better."
Decorated with classical Chinese lanterns, lively rockeries and green artificial bamboo, 10BAR now sees a weekly income of around 80,000 yuan ($10,000), up from about 8,000 yuan ($1,000) a year ago.
Currently, there are more than 10 bars catering to gays and lesbians across urban Beijing, according to An. Moreover, hundreds of websites are devoted to the gay scene in China, with almost every city having a dedicated site.
"People are busier making money now," said Tony Li, owner of Shanghai's Vogue gay bar. "They don't have time to bother other people, and they are getting more and more information from abroad, so there is a higher degree of tolerance toward gays."
China's prestigious Fudan University in Shanghai this year began offering a course focusing on sociological aspects of homosexuality. "The previous course mainly focused on how to prevent AIDS in homosexuals. But now, we will pay more attention to the development of a proper view about homosexuals," said Gao Yanning, who lectures students in the class. "We will give students equitable information on homosexuals and help eliminate students' prejudice."
Same-Sex Marriage
Ma Lu, a dropout of the University of Science and Technology of China, would have never thought his classmates or roommates would understand his sexual orientation before he admitted he was gay.
At first, his roommates were shocked and even tried to introduce him to girls. But their effort was in vain. Gradually they accepted him. He was surprised that he was not discriminated against and the attitude of his peers has given him the courage to speak openly about his sexual orientation. "I am proud of being a gay," said Ma.
Most of those who choose to "come out" about their homosexuality are the only child in the family, said Fudan University Professor Gao Yanning, adding that Chinese parents prefer to tolerate their children's sexual orientation rather than lose them.
For homosexuals, their great expectation is the legalization of gay and lesbian marriages. They need a certificate to show to others that they do want to take responsibility for a family.
"Neither society nor the law gives us the right to take responsibility," complained Li Yan, a bisexual, who spoke to Beijing Review at the Rainbow Bar, a lesbian bar in Beijing.
"Nobody knows how much I want to take responsibility for my 'wife'," said another patron named Ba Jian (pseudonym)."I want to stay with her, but there is no chance for us getting married due to social pressure."
Zhang Beichuan told Beijing Review that according to his research, same-sex relationship usually lasts for 30 months. The average time span for a heterosexual relationship is about 36 months, after which they either break up or get married.
"If there is no marriage option and support, what will happen to heterosexual lovers? Who knows?" Zhang argued. About 75 percent of homosexuals are hoping to find a life-long same-sex partner, but the proportion of those who do is less than 5 percent.
"We gays or lesbians will not bear children. I think that is good news for our society, which is overloaded by the huge population," joked Ma Lu.
His view is surprisingly reflected by Li Yinhe's proposal to legalize homosexual marriage. Li, who submitted the same-sex marriage proposal to China's top legislature twice, in 2000 and in 2004, said from historical data and cross-culture study, countries that are burdened with a fast-growing population normally adopt a relatively tolerant policy toward homosexuals; while countries with small populations are strict with same-sex marriage, because the homosexual population will directly influence the whole population of a country.
"Statistics show that homosexuals account for 3 to 4 percent of the total population. In China, the homosexual population is between 39 million and 52 million. As there is no law permitting same-sex marriage, those people will finally form a family with a heterosexual and bear children. If they can form a family with a homosexual, then it will be conducive to the population control of our country," said Li who has suggested an amendment to the Marriage Law that "changes the wife and husband expression into spouse and the enactment of a new same-sex marriage law. Although her proposals have not met with success, she remains optimistic about the future of the same-sex marriage.
There is also a need by the gay community to have more coverage in the media about same-sex relationships so they can keep in touch with happenings within the community.
Currently only the Netherlands, Belgium, Spain and Canada have laws legalizing same-sex marriage. South Africa's highest court recognized a lesbian marriage December 1, and gave the country's parliament a year to extend legal marital rights to all same-sex couples.
Other countries offer gay people a form of partnership with more restricted rights than heterosexual marriage. In 1999, France introduced a civil contract for cohabiting couples irrespective of gender, and Germany has enacted legislation for "life partnership" for gay people.
"It is a legislative trend across the world," said Li Yinhe. "China will definitely catch up with this trend, in spite of obstacles we are confronted with now."
"Ultimately, people will accept the idea that everyone has the right and freedom to love and marry, whether it is homosexual or heterosexual," concluded Zhang Beichuan. "Love is, after all, the most beautiful thing in this world."
Pocket Dictionary of China's Homosexuals

Tongzhi (comrade): used by Chinese gays and lesbians to refer to themselves

Rainbow flag: recognized colors of gay and lesbian pride since the 1980s, with red standing for light, orange for healing, yellow for sun, green for calmness, blue for art, and violet for spirit

1: refers to the male role in a gay relationship

0: refers to the female role in a gay relationship

T: refers to tomboy, or the male role in a lesbian relationship

P: stands for the Chinese Pinyin po, or the female role in a lesbian relationship

419: used to indicate a one night stand

MB: money boy, normally known as male prostitute

Uncle: a respectful title for older tomboy