Issue: Vol. 36 / No. 1 / 5 January 2006Serving the gay, lesbian, bisexual, and transgender communities since 1971
NEWS by Zak Szymanski
z.szymanski@ebar.com
New law seeks to level insurance for TGs - Bay Area Reporter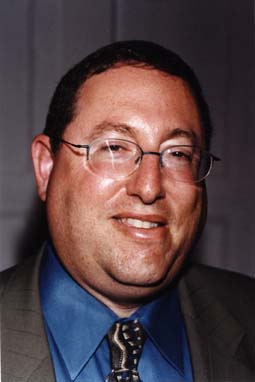 Assemblyman Paul Koretz. Photo: Rick Gerharter
Healthcare access has long been a concern for transgender people, many of whom either can't disclose their status in order to secure the treatment they need, or avoid going to the doctor altogether. Some trans people have anatomy traditionally associated with the opposite sex, making coverage for certain procedures – a woman's prostate exam, for instance – difficult to obtain. Others who do not have insurance may fear that their previously diagnosed gender identity disorder will show up in their records and keep them from securing future insurance policies.
So it was good news when AB1586 passed the California legislature and was signed by Governor Arnold Schwarzenegger in 2005; the law, by Assemblyman Paul Koretz (D-West Hollywood), went into effect January 1 and prohibits insurance companies – including health insurance companies – from discriminating against people on the basis of their transgender status. But in an industry centered around discriminatory criteria for who and what is covered, what exactly does this new law mean?
It's complicated. Though rumors circulated about the law's effect, the reality is that AB1586 does not require health insurance companies to cover sex change procedures, nor was it ever intended to do so. It doesn't even require that transgenders be given policies if there is actuary data to show that they are in a higher risk category for certain diseases or cost more than the average patient to insure, as that is the same criteria for anyone seeking insurance.
"The nature of nondiscrimination law is that there is uncertainty about its scope. With AB1586 we could not enumerate the thousands of ways discrimination may occur and then expressly prohibit them one by one," said Koretz in a statement to the Bay Area Reporter . "Instead, we have said that transgender people should be treated no better or worse than others. This is basic principle that my colleagues in the Legislature supported. The unfortunate reality is that current insurance law permits unfairness for everyone, and AB1586 didn't change that."
But what AB1586 does state is that without actuary data and evidence proving otherwise, there is no reason to deny coverage or certain procedures for people based upon their transgender status alone.
"We have added gender identity and gender related appearance to the nondiscrimination provisions of California's insurance laws," said Koretz. "It is an incremental step and does not mandate coverage for specific benefits, but it will provide protection from blatant discrimination based solely on prejudice."
There are two general areas in which transgenders tend to experience health insurance discrimination: one is through trying to access care through their policies. The other is in trying to get an insurance policy in the first place, a scenario encountered mostly in the individual – rather than group or employer – insurance market.
People are denied individual policies when their particular histories or backgrounds are perceived as costlier to insure than the average individual. Under "pre-existing condition" exclusions, it is common for individuals to be denied coverage based upon previous health conditions that a new insurer deems too costly to treat, from heart disease to depression to cancer, even if such conditions have since been brought under control.
Transgenders make the equation a bit trickier. Gender dysphoria is considered a medical diagnosis, while the more controversial gender identity disorder is the psychological counterpart and is often a necessary label for transgenders to pursue their gender transitions.
But there is no actuary data, and thus no legal reason, said advocates, for trans people in particular to be considered more of a risk to insure. Sexual reassignment procedures are already specifically excluded from most insurance policies, and the general rule is that a policy must cover the treatment of a condition in order for that condition to be a reason for policy denial.
Still, there are certain trans-related procedures that may fall into a general pool of what is considered higher risk to insure. Some companies may claim that the health costs are higher for all people who have undergone certain surgeries, for instance, while others may believe that a gender identity disorder diagnosis is accompanied by higher than average psychological bills.
"What we're saying is you can have that concern, but it has to be backed up by actuary data. You can't assume that just because a person is transgender that they are more costly to insure," said Chris Daley, director of San Francisco's Transgender Law Center, in reference to AB1586.
Koretz's law was necessary, he said, because of how assumptions, rather than evidence, were dictating insurance companies' decisions about transgenders.
"Our belief is a lot of these coverage denials have been based on stereotypes," he said, adding that insurance companies now "have to find sound actuary data that people with GID cost more to insure on average if they are going to exclude them based solely upon their transgender status."
Considering that most people have some kind of condition in need of monitoring, it is believed that data will not be able to show that transgender people as a whole have more health costs than other populations.
Meanwhile, biases that affect transgender people who already have insurance usually reveal themselves in the form of policies denying specific medical procedures. Sometimes this denial is because policies often assume an anatomy based upon someone's gender, other times the policy claims that the conditions in need of treatment were caused by a person's transgender status and therefore not covered.
The fact that trans people are routinely denied necessary medical procedures based upon insurance company bias has been known throughout the community for decades; there are stories upon stories of such incidents: FTMs with pelvic pain, for instance, being denied hysterectomies because their policy did not cover transgender surgeries and there otherwise was "no such thing" as a man with a uterus and ovaries.
Such discrimination was the impetus for San Francisco's landmark decision to cover sex change procedures for city employees; by removing that exclusion, companies could no longer deny basic healthcare to people by claiming that such care violated their policies. The city law went a step further to declare that transgender specific procedures were medically necessary as dictated by the gender dysphoria diagnosis.
Unlike San Francisco's law, AB1586 did not require companies to drop their exclusions or cover transgender specific procedures, and in many areas the new state law will remain uncertain until specific situations arise. But like San Francisco's law, state law now says that there will be no more denial of procedures to people based solely upon their transgender status or perceived gender incongruence.
"Health insurance is an incredibly complicated field. It's impossible to say exactly what the parameters of this law are going to be," said Bart Broome, former legislative aide to Koretz. "But what is clear is that there can now be an end to some very real situations that transgender people have encountered. There can no longer be denials of prostate care for someone just because she is legally a woman, or denial of gynecological care just because he is a transgender man."
The law also "gives a little bit more security to transgender people so they feel more comfortable being themselves with their providers," said Broome. Such a comfort is necessary not only for health maintenance and check-ups, but for providers to be able to communicate with insurance companies why certain procedures are necessary.
The law itself is a major victory and provides a foundation upon which other steps can be built, said advocates, who also cautioned that transgender patients and insurance seekers act cautiously when pursuing complaints and challenges, so that judges unfamiliar with transgenders don't wind up narrowly interpreting the law and limiting access for the majority of transgenders in need of basic care. Now would not be the time, for instance, to pursue a court ruling to get sexual reassignment surgeries covered and jeopardize the future and potential of the law, advocates said.
"Our hope is that people will be patient so that we can be strategic in getting the courts to interpret this law," said Daley, advising people with complaints or potential challenges to approach community organizations such as TLC before any legal action is taken "to make sure we're not making bad case law through the courts."
Broome said transgender people who believe their insurance companies discriminated against them should seek remedy through the state agencies set up to handle complaints; the state Department of Insurance can be called at (1-800-927-4357) while the Department of Managed Care is at 1-888-HMO-2219. The agencies report already having handled cases – transgender and non-transgender alike – that could be applied to this new law, and in the past have ordered insurance companies to cover remedies for medical complications due to faulty genital surgeries and ruptured breast implants.
"For the first time, a state has said explicitly that transgender people cannot be discriminated against in health insurance, which we know is major issue in the community. But this is a cutting edge issue and as situations come up we'll figure out how the law will be applied," said Broome, who added that the each of the many possible procedures and scenarios faced by transgenders has yet to be tested under this law. "The victory may be in each of those smaller procedures that we win along the way."